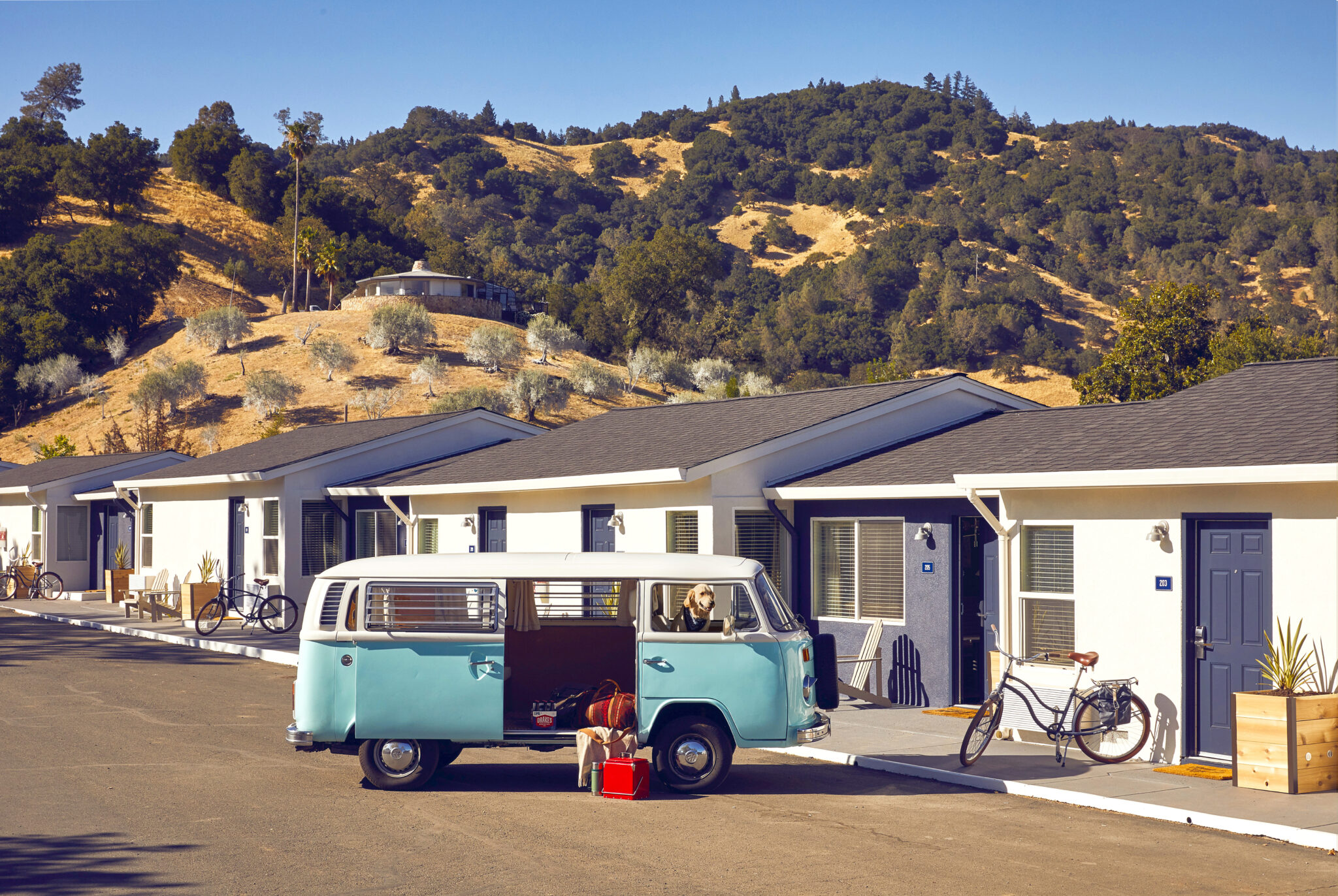 Hyatt Hotels Corporation is delighted to announce the opening of Calistoga Motor Lodge and Spa, a retro-inspired property that captures the essence of California's wine country. As the first Independent Collection hotel in Napa Valley, this hidden gem offers 97 guestrooms and suites, combining adventure, nostalgia, and the pleasures of wine. Discover the perfect retreat for wine enthusiasts and explore the rich flavors of the region.
Immerse Yourself in Wine Country Charm
Nestled at the head of the Silverado Trail, Calistoga Motor Lodge and Spa embraces the spirit of California's vibrant wine region. Designed by AvroKo, a renowned New York-based design firm, the property redefines the classic roadside motel experience, transporting guests to a bygone era filled with exploration and nostalgia. Surrounded by picturesque vineyards, natural hot springs, and scenic bike trails, this unique retreat is conveniently located just 50 miles north of San Francisco, making it an ideal destination for road trip warriors and backyard explorers.
Calistoga Motor Lodge and Spa recently expanded its offerings with 34 all-new Deluxe King and Deluxe Queen guestrooms. Each room features a private terrace or balcony, offering elevated California comfort with thoughtful design, locally sourced furnishings, and breathtaking views of the Mayacamas Mountains. The hotel plans to further enhance its accommodations with the addition of five new villa units in 2024, complete with expansive outdoor terraces and fire pits, increasing the total room count to 102.
Indulge in the Geothermal Wonders and Wine-Inspired Delights
As a destination renowned for its geothermal hot springs, mineral baths, and mud baths, Calistoga Motor Lodge and Spa offers a truly rejuvenating experience. Unwind in two natural mineral water pools, a mineral water hot tub, and the full-service MoonAcre spa. Here, guests can enjoy signature treatments like the mud bake, a modern twist on Calistoga's historic mud bath ritual, which combines geothermal salt soaks, mineral-rich baths, and a chance to paint the skin with mineral-rich mud. Relax in the spa garden, soak in the sun, and rinse off under the outdoor shower before embarking on your next treatment.
A Culinary Journey with Fleetwood and Vibrant Gatherings
Calistoga Motor Lodge and Spa is a haven for celebrations, meetings, and retreats, offering an inviting space to gather in the heart of California's wine country. Savor the flavors of Napa Valley at Fleetwood, the on-site restaurant that blends hyper-local produce with an Italian and Mediterranean ambiance. Led by Chef Edgar Zecua, the restaurant features a rotating, locally inspired menu, with an emphasis on seasonality and wood-fired delicacies. Enjoy the vibrant community-focused dining space with indoor-outdoor seating, private dining rooms, and engaging lawn games. Experience live music, trivia nights, and other captivating events that bring the local culture to life.
Book Your Wine Country Getaway at Calistoga Motor Lodge and Spa
As part of the JdV by Hyatt brand collection, Calistoga Motor Lodge and Spa adds to the portfolio of over 50 vibrant, independent hotels. Hyatt Hotels Corporation continues to prioritize growth and expansion in key markets that matter most to guests and World of Hyatt members. Experience the charm of Calistoga Motor Lodge and Spa and enjoy an exclusive offer of 15% off stays, with an additional 2% discount for World of Hyatt members. Book your unforgettable wine country retreat from July 14, 2023, through March 31, 2024, using the special offer code 15OFF by September 1, 2023. Earn valuable World of Hyatt points on your stay, redeemable for free nights, dining experiences, spa treatments, and more.
Discover Calistoga Motor Lodge and Spa at 1880 Lincoln Ave, Calistoga, California. Book your reservation now