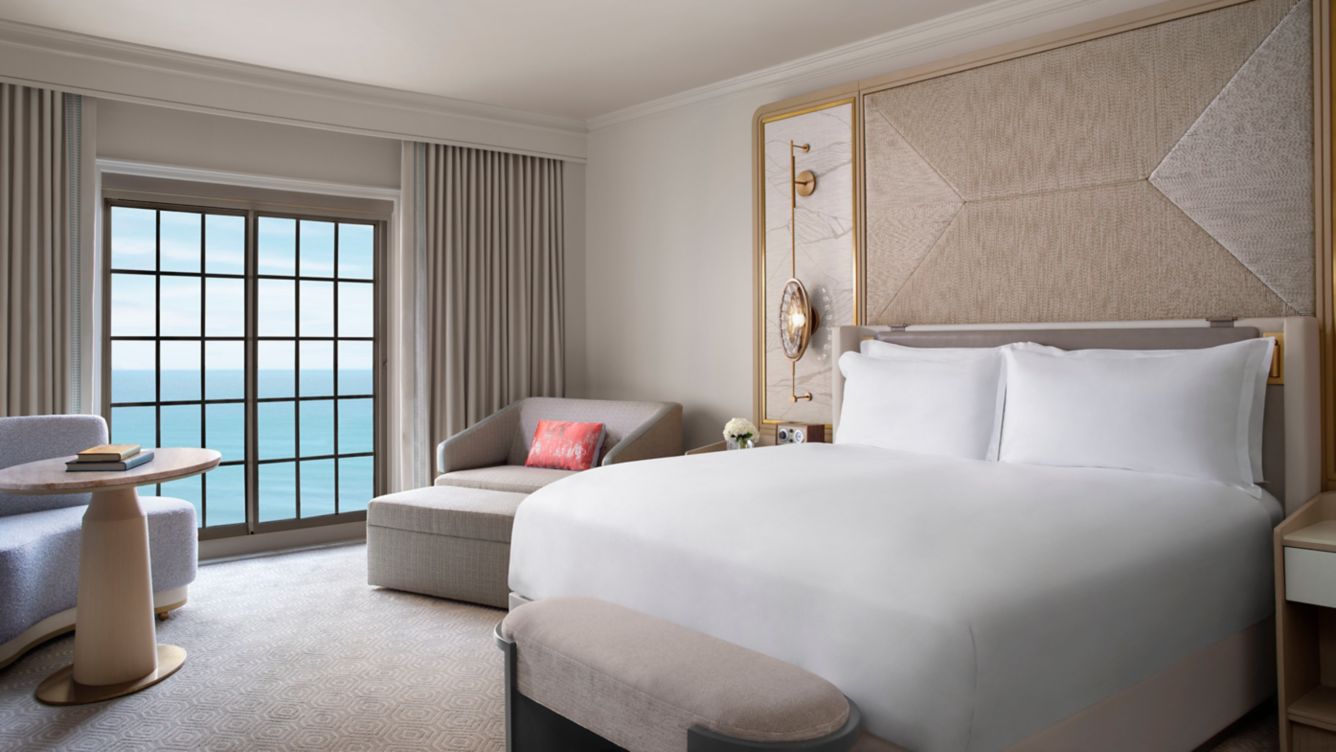 The Ritz-Carlton, Naples invites you to embark on an extraordinary retreat at its Florida luxury resort. After a breathtaking transformation, including the addition of the magnificent Vanderbilt Tower, this legendary beachfront haven is ready to welcome cherished guests, and the vibrant Naples community. Immerse yourself in grandeur and indulge in unparalleled luxury as you discover the remarkable enhancements that make this resort truly extraordinary.
Unveiling Unparalleled Luxury at The Ritz-Carlton, Naples
The Ritz-Carlton, Naples has undergone a stunning transformation, embracing a new chapter in its illustrious history. The Vanderbilt Tower, a magnificent 14-floor expansion, stands as a testament to the resort's commitment to delivering unmatched luxury. Featuring over seventy club-level guestrooms, an expansive Ritz-Carlton Club Lounge, and a redesigned resort lobby, the Vanderbilt Tower is a pinnacle of elegance. Immerse yourself in the captivating ambiance and experience three exceptional dining venues, as well as exquisite outdoor spaces that include captivating pools, luxurious bungalows, and inviting cabanas. Every detail, from the meticulously redesigned 474 guest rooms and suites to the timeless coastal elegance, has been thoughtfully crafted to create an unforgettable experience.
Mark Ferland, Ritz-Carlton Area General Manager, expresses his pride and excitement, saying, "We are proud to welcome our Ladies and Gentlemen, loyal guests, and new visitors, as well as the incredibly supportive local community to The Ritz-Carlton, Naples once more. It is an honor to bring this incredible transformation to life at our iconic resort. The stunning redesign coupled with new experiences invites guests to celebrate their memories and create new traditions."
The Florida luxury resort 's interiors, designed by Cooper Carry and Parker Torres Design, draw inspiration from the allure of travel and the coastal elegance that defines the destination. Classic elements of the Gulf Coast and the area's rich history are skillfully captured, creating a timeless luxury experience for guests at The Ritz-Carlton, Naples.
Welcome Home to The Ritz-Carlton, Naples: A Florida Luxury Resort
As you approach the resort's new front drive, the anticipation builds, and the magnificent sight of The Ritz-Carlton, Naples unfolds before your eyes. Step inside and be enveloped in an elevated ambiance that showcases the resort's remarkable redesign. The stylish and exquisitely appointed atmosphere evokes a profound appreciation for the rich history that thrives within this pristine haven, igniting a sense of curiosity and wonder for the new experiences that await your discovery.
Paying homage to its role as Naples' social epicenter, the new Lobby Bar serves as a testament to decades of celebrations. Indulge in the signature champagne menu, a true delight for the senses. Modern and elegant lounge seating, accentuated by a striking sculptural light installation adorned with crystal pendants, immediately captivate attention upon arrival. This exceptional first impression sets the stage for the transformative enhancements and exciting new experiences that lie ahead.
Each of the resort's 474 guestrooms and suites, including the newly introduced Club accommodations, has been thoughtfully updated to exude casual elegance and timeless appeal. Designed to pay tribute to the coastal sophistication that defines the resort's legacy, the enhanced layouts offer additional options for families, groups, and extended stays, ensuring unparalleled comfort and luxury for every guest.
An Unmatched Club Level Experience: The Vanderbilt Tower
The Vanderbilt Tower stands as one of the most notable additions to the resort, offering a remarkable 14-floor expansion that introduces more than 70 Club-Level rooms. Designed exclusively for Club Level guests, the tower provides a dedicated check-in, spacious and meticulously appointed guestrooms, and an elevated Ritz-Carlton Club Lounge experience. Spanning an impressive 4,000 square feet, this innovative Ritz-Carlton Club Lounge sets a new standard within the brand. Guests can enjoy private spaces for dining and entertainment, as well as curated programming that connects them with unique resort and local experiences.
Floor-to-ceiling windows flood the sun-drenched space with natural light, creating an inviting setting for morning breakfasts or sunset drinks. The Club Lounge seamlessly blends elements of the sea into its design, reflecting the ebb and flow of tides with its carpeting. Vintage postcards depicting the evolution of Naples adorn the walls, showcasing the destination's rich history. A dedicated full-service bar, adorned with a captivating light installation, provides an exclusive space for enjoying aperitifs and nightcaps. A dedicated play area entertains and engages the resort's youngest guests. Beyond the exceptional service and culinary presentations expected at a Ritz-Carlton Club Lounge, guests will also have the opportunity to enjoy interactive experiences, such as cooking demos and visits from local farms, adding an extra layer of delight to their stay.
Introducing Unforgettable Culinary Journeys
The Ritz-Carlton, Naples promises a captivating culinary journey with a total of eight distinctive dining destinations. Innovative concepts bring modern flair and flavors that complement the resort's already extensive offerings. The newly unveiled Lobby Bar offers a tantalizing introduction to the resort's enticing culinary and cocktail experiences. With a menu designed by a Master Sommelier, featuring an array of champagnes and elevated pairings, the Lobby Bar celebrates its heritage as a renowned gathering point in the Naples community. Anchored by a Signature Champagne Tasting Menu, the bar presents