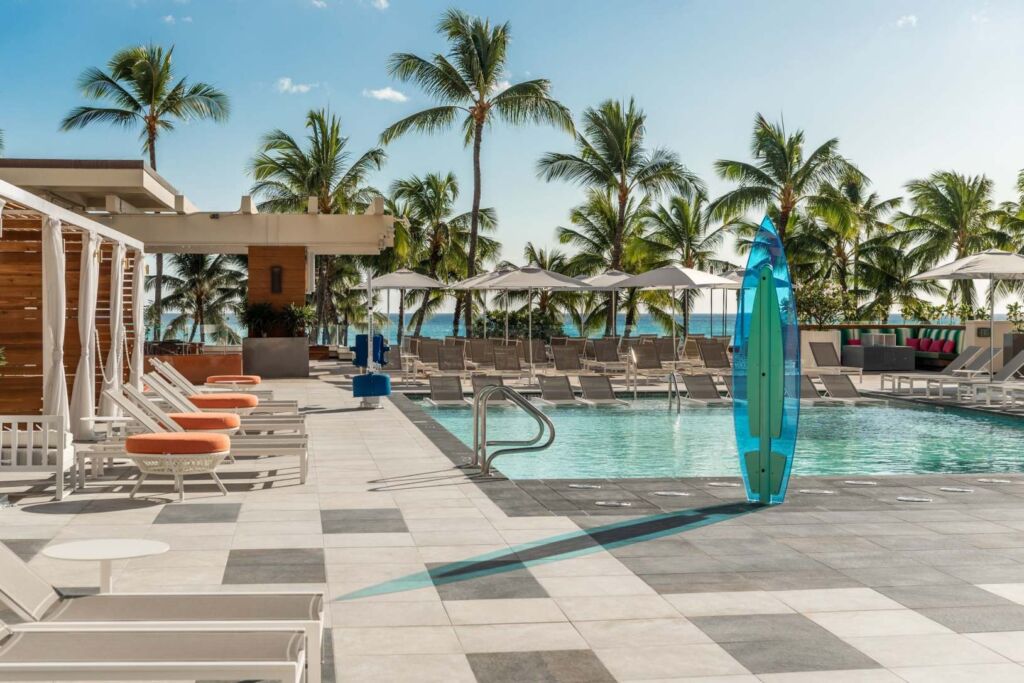 Queensbreak Pool and Amenity Deck
Marriott International is doubling down on its long-term commitment to Türkiye, unveiling 13 major deal signings totaling over 2,000 rooms. This strategic move is set to significantly expand Marriott International's presence in the country, which already boasts a portfolio of 48 properties and nearly 8,000 rooms across 21 distinct brands.
Türkiye, renowned for its rich history, stunning landscapes, and vibrant culture, has long been a coveted destination for travelers. The country's allure has not only captured the hearts of tourists but also the attention of hoteliers, making it a prime location for Marriott International to diversify its offerings across primary, secondary, and tertiary markets.
Jerome Briet, Chief Development Officer – Europe, Middle East & Africa at Marriott International, emphasized the attractiveness of Türkiye, stating, "As one of the most sought-after tourist destinations in the world, Türkiye continues to provide the company with opportunities to further diversify its portfolio across primary, secondary, and tertiary markets in the country. These deal signings are a testament to the trust owners and franchisees have in Marriott International and the strong demand for our captivating portfolio of brands in the Turkish market."
The projects announced by Marriott International encompass a wide range of brands and experiences. Among them is the introduction of Fairfield Inn by Marriott in Türkiye, with the signing of the 192-room Fairfield by Marriott Istanbul Yenibosna. This property will offer an effortlessly relaxed and efficient hotel design paired with a contemporary aesthetic, forming part of a mixed-use development in the Yenibosna district. Accompanying it is the 90-room Residence Inn by Marriott Istanbul Yenibosna. Both properties are slated to open their doors to guests in 2025.
Residence Inn by Marriott, catering to the growing demand for extended-stay accommodations, will also make its mark with the signing of Residence Inn by Marriott Istanbul Piyalepasa. Situated within the 450,000-square-meter mixed-use development of Piyalepaşa Istanbul in downtown Istanbul, this property will offer guests an extended stay experience. The development also includes the Courtyard by Marriott Istanbul Piyalepasa. Together, these properties will provide 329 rooms upon their anticipated opening in 2026.
Marriott Executive Apartments, which recently made its debut in Türkiye with the Marriott Executive Apartments Istanbul Fulya, is set to expand its footprint in response to the growing demand for upscale residential apartments in Istanbul. Marriott Executive Apartments Vadistanbul and Marriott Executive Apartments Istanbul Tema are expected to open in 2024, offering 202 and 208 rooms, respectively.
Marriott's flagship brand, Marriott Hotels & Resorts, is also set to expand following the signing of the Istanbul Marriott Hotel Pendik, which recently opened after a conversion from an existing property. Additionally, Sheraton Hotels & Resorts, one of the company's largest brand portfolios in Türkiye, will continue its growth with the signing of Sheraton Hotel & Thermal Spa Usak, set to open its doors in 2024, marking Marriott International's entry into Usak.
The expansion doesn't stop there. Marriott International is also bringing Delta Hotels by Marriott, Aloft Hotels, and Moxy Hotels to Türkiye. The 78-room Delta Hotels by Marriott Istanbul Karakoy is scheduled to open in 2024, offering a seamless travel experience in downtown Karakoy. Aloft Istanbul Karakoy will add 100 rooms to the market by 2024 as the second Aloft property in Türkiye. Moxy Izmir Turan will bring its bold, spirited hotel experience to Izmir by 2025.
Marriott International is also set to expand its Collection brands in Türkiye, with Tribute Portfolio in Taksim Square expected to offer 61 rooms by the end of this year. In 2024, an Autograph Collection Hotel in Cappadocia will join the brand's collection of independent hotels, featuring 153 rooms.
With the inclusion of these new developments, Türkiye is now home to 21 of Marriott International's distinctive brands, each offering differentiated experiences catering to various traveler segments. These brands range from luxury options such as St. Regis Hotels & Resorts, The Ritz-Carlton, W Hotels, The Luxury Collection, EDITION, and JW Marriott, to premium selections including Marriott Hotels, Sheraton, Renaissance Hotels, Le Meridien, Westin Hotels, Tribute Portfolio, Autograph Collection, Delta Hotels by Marriott, Marriott Executive Apartments, and Design Hotels. The select-service segment is represented by Courtyard by Marriott, Four Points by Sheraton, Aloft Hotels, Residence Inn by Marriott, and AC Hotels by Marriott.
Marriott International's continued investment in Türkiye underscores its commitment to providing an array of world-class accommodation options to cater to the diverse preferences of travelers visiting this culturally rich and historically significant country.