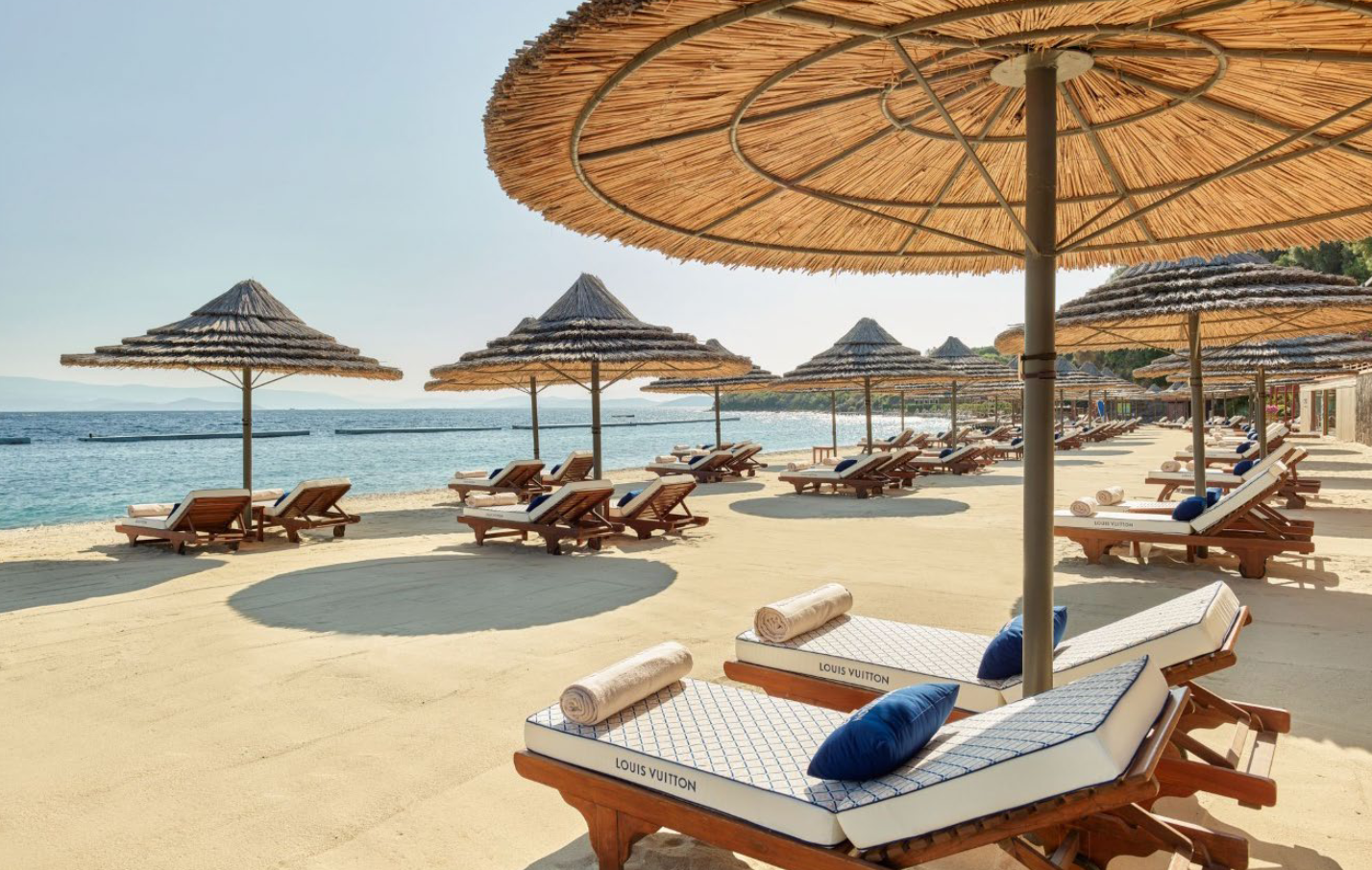 Mandarin Oriental Bodrum collaborate with Louis Vuitton for the summer of 2023. The collaboration entails the opening of a pop-up store, a revamp of the renowned Blue Beach Club & Bar, and the introduction of a new edition of the Louis Vuitton City Guide, focusing on Bodrum as a summer resort.
LV By The Pool, the second Louis Vuitton pop-up store in Bodrum, is inspired by the Maison's exquisite By The Pool collection. Guests will have the opportunity to explore this beach project throughout the summer season. The interior redesign incorporates natural elements and light, refreshing hues from the collection's color palette, paying homage to both the local architecture and the elegance of leisurely days. The patterns featured in the collection draw inspiration from the white wooden parquet floor tiles at the store entrance.
The pop-up store offers dedicated areas for men's and women's ready-to-wear clothing, footwear, bags, accessories, sunglasses, and perfumes, all adorned with Louis Vuitton's signature detailing and LV By The Pool designs. After perusing the meticulously crafted collection, guests can unwind on sun loungers outside the store, indulging in refreshing beverages. The venue, boasting indoor and outdoor seating options, provides picturesque views of Bodrum's azure bay, allowing guests to savor breathtaking vistas during the day and enchanting sunsets in the evening.
Louis Vuitton's latest addition to the Summer Resorts Louis Vuitton City Guide series is the eagerly anticipated City Guide Bodrum, which will be launched at the resort's Louis Vuitton pop-up store. Renowned as essential companions for discerning travelers, the City Guide series comprises both print and digital editions, covering 30 distinct destinations. For over two decades, Louis Vuitton has been infusing its signature "spirit of travel" into these guides, continually expanding the selection of cities and providing fresh and personal perspectives on global destinations.
Each City Guide, featuring contributions from freelance writers and diverse backgrounds, presents current trends and a multitude of viewpoints, ranging from opulent luxury hotels to charming boutique accommodations, from world-class restaurants to local bistros, and from antique emporiums to quaint boutiques. In addition to iconic landmarks and must-visit locations, the guides also highlight hidden gems, enabling travelers to uncover lesser-known treasures along their journey.
Louis Vuitton opened a beach and set up a pop-up boutique on the island of Xiamen in the Taiwan Strait. Have you heard about this?