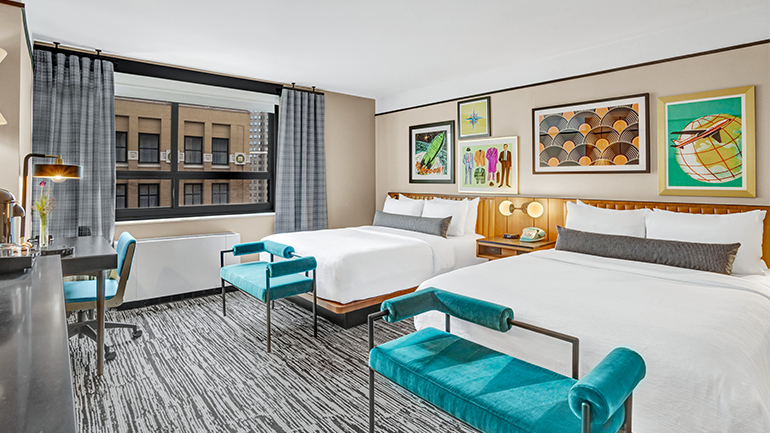 IHG Hotels & Resorts recently signed a new hotel in Satu Mare – Hotel Indigo Satu Mare, marking the brand's entrance into Romania. This significant development not only introduces the brand to the Balkan nation but also strengthens its presence in Eastern Europe.
Situated in a well-known Art Nouveau building in Satu Mare, the hotel will beautifully showcase the distinctiveness of the neighborhood through a reimagined upscale boutique design. Guests will have the opportunity to immerse themselves in the local culture and discover the city's unique charm.
Satu Mare, located in the northern borderlands of Romania, is renowned for its breathtaking landscapes, making it a gateway to some of the country's most picturesque sights. The city boasts some of the region's oldest architecture and excellent rail connections to other parts of Romania. Its Old Town is particularly famous for its enchanting "village-like" atmosphere and archaeological heritage dating back to the Bronze and Middle Ages. The hotel's facade, dating back to 1902, is an iconic feature of the city's skyline.
Scheduled to open in 2025, Hotel Indigo Satu Mare will join IHG's three other properties in Romania: Intercontinental Athénée Palace Bucharest, Crowne Plaza Bucharest, and Holiday Inn Bucharest-Times. Additionally, IHG has plans for the upcoming Crowne Plaza Constanta Mamaia Beach, further expanding its presence in the emerging market and showcasing its overall growth momentum in Europe. Romania, known for its rapidly growing economy in the CEE region, presents abundant opportunities for hotel development and investment.
The hotel will feature 62 beautifully designed rooms and suites, reflecting the brand's signature style. Guests can indulge in a locally inspired restaurant, an elegant cocktail bar, and a relaxing spa. Under a franchise agreement with Dacia SRL, a subsidiary of Manevi ZRT, this collaboration between IHG and an ambitious new owner group marks a new era of partnership. Hotel & More, a Hungarian hotel operator with extensive experience in the region, will be responsible for the hotel's operation, ensuring a seamless guest experience.
With the introduction of a new hotel in Satu Mare, IHG continues to expand its portfolio and provide travelers with exceptional experiences that celebrate the local culture and heritage of each destination.