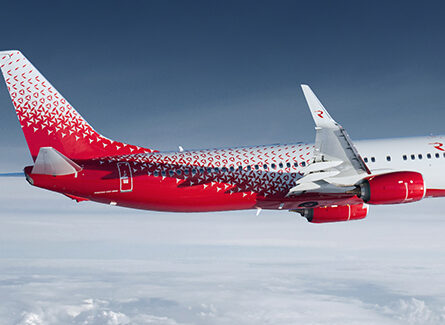 Rossiya Airlines (Aeroflot Group) has upgraded meals on scheduled flights from St.Petersburg as part of unifying and improving in-flight service. Passengers can now enjoy meals from the "A Thousand and One Spices" menu, specially developed for Rossiya Airlines by chefs from the Transpit in-flight catering facility.
Rossiya passengers can both fly to their destination planned for their vacation or business trip, and undertake a true gastronomic journey onboard.
The new in-flight meal menu from Transpit on Rossiya flights depends on the class of service and flight duration. All "A Thousand and One Spices" meals are distinguished by the wide variety of dishes, use of healthy ingredients in their preparation, emphasizing the addition of fragrant fresh and dried herbs, as well as natural sauces that enhance taste qualities. In developing the menu, the most interesting recipes for meals best representing world cuisines were carefully selected and interpreted.
The airline's flight attendants offer tasty and healthy hot and cold in-flight meals of meat, fish and poultry to any taste, fruits and vegetables, as well as a variety of desserts and snacks. The new menu was previously introduced on Rossiya flights from Moscow's Sheremetyevo Airport, and the meals were highly rated by passengers.
For the hot breakfast, there is a choice of porridge, e.g. milky oat, millet, or rice cooked with coconut milk (served with mango-maracuja sauce). A vegetable scrambled eggs or salmon omelet are also available. For breakfast, you can try pancakes with salted caramel, cheesecakes with cranberry sauce, pancakes, or toast with spinach, tomato, and cream cheese. Cold snacks include an assortment of cheeses, fresh fruit and vegetables, meat, poultry and fish delicacies. For lunch and dinner, passengers can try steamed halibut with nutmeg, gravlax or salmon in smoked paprika, baked red fish with saffron rice, or trout kebab with cream sauce and mashed new potatoes. Also served on board are veal tenderloin with demiglace sauce, tender medallions with baked pumpkin, and grilled chicken fillet in citrus sauce or honey glaze. Wild mushroom julienne is complemented with fragrant thyme. For dessert, Rossiya flight attendants are happy to offer brownies and tender panna cotta with strawberry sauce. Several kinds of chocolate mousses are served with passion fruit, cranberry, raspberry jelly or homemade granola.
Russian beverages are now also available on flights from St.Petersburg, including passenger favorites Baikal soda and Tarragon soda from Chernogolovka.
Rossiya flight attendants offer Economy class passengers soft drinks on flights up to 2 hours, a light snack on flights from 2 to 3 hours, and a sandwich on flights from 3 to 4 hours. On flights of 4 to 6 hours, a dessert and a choice of two hot meals are served. On flights of 6 to 9 hours, a hot meal (as on flights of 4 to 6 hours) and a snack are served. On flights over 9 hours, passengers are offered two hot meals.
On all Rossiya flights, passengers travelling on the Comfort fare are offered a light snack on flights less than 2 hours, a sandwich on flights from 2 to 3 hours, and a hot meal on flights from 3 to 6 hours. A range of soft and hot drinks are available, and alcoholic beverages are also served on flights over 3 hours.
Rossiya Business Class passengers on flights under 1 hour will be offered a cold snack and a dessert, and on flights from 1 to 2 hours, a cold and hot snack and a dessert. On flights over 2 and up to 6 hours, 2 types of cold snack, and a choice of 3 hot dishes and dessert are served. On flights from 8 to 11 hours, flight attendants offer two hot in-flight meals, and a snack (nuts or confectionery) is complemented with the two meals on flights over 11 hours. Also, a range of soft and hot drinks is offered on all flights, and alcoholic beverages are available on flights over 1 hour.
Rossiya Airlines reminds passengers that they have the opportunity to select a special in-flight meal at least 24 hours in advance, taking into account age, medical conditions and religious requirements. Orders are available for Economy Class flights over 4 hours, and for Business Class flights over 1 hour.
Rossiya Airlines is part of the Aeroflot Group and is the second largest carrier in the Russian Federation by number of aircraft and the largest operator of domestically produced airliners. The airline's current fleet includes 130 aircraft, of which 73 are type Superjet 100 (RRJ-95). Rossiya has more than 7,000 employees. The airline's technical unit in St. Petersburg uses the latest equipment and can perform even very serious maintenance on aircraft. The airline is a key carrier at Pulkovo (Saint Petersburg), Sheremetyevo (Moscow), Krasnoyarsk and Sochi airports. In 2022, Rossiya won the national Brand No. 1 in Russia award, receiving the maximum number of passenger votes in the Airline category. Rossiya Airlines was named one of the Top 100 employers in the country in 2021 by online recruiting platform HeadHunter.