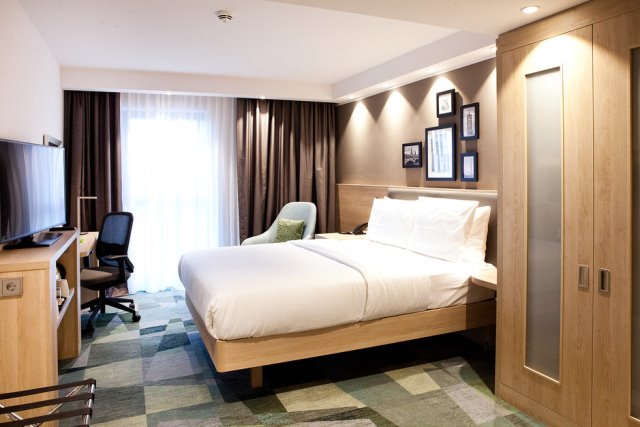 Hilton today announced plans to open two new Hampton by Hilton hotels in Poland, following the signing of two franchise agreements. Hampton by Hilton Bialystok will be developed by Rogowski Development and managed by VHM Hotel Management and will include 122 guest rooms when it is expected to open later this year. The 135-guest room Hampton by Hilton Tarnowo Podgórne is expected to open in late 2023. The hotel is owned by Grupa Konkret S.A., and will be managed by City Park Hotel Management.
Patrick Fitzgibbon, senior vice president, development, for Europe, Middle East and Africa, Hilton, said: "The opening of these two hotels in Poland will allow us to fulfil unmet demand in two key commercial districts, whilst furthering the rapid growth of Hilton in Poland, which now has 23 properties trading and a further 16 planned. This double signing illustrates our continued momentum across Central and Eastern Europe and will help us to capture pent-up demand as travel resumes."
Hampton by Hilton Bialystok
Radosław Rogowski, vice president of Rogowski Development, said: "As the largest residential developer group in the Bialystok and Podlaskie region, we saw a great opportunity in Bialystok, with the need for internationally branded hotels. We are excited to embark on our first hotel project with Hilton, bringing over 30 years of residential development knowledge in Poland. We look forward to welcoming guests to the hotel later this year."
As the largest city in north-eastern Poland, Bialystok is perfectly located to discover the natural wonders of the Podlachia region. It is both a regional tourism hub and home to multi-segmented industries including machinery, food processing and textiles. Its geographical position makes it a major transportation hub between Poland and the East (Belarus, Russia and the Baltic States) via train and car.
Hampton by Hilton Bialystok will be a new-build, six-story property and will feature facilities including a Hampton Hub, fitness center, flexible meeting spaces and parking.
Hampton by Hilton Bialystok will be located at Ul. Lipowa 41, 15-424 Bialystok, Poland. The historic Lipowa Street is a short walk from the University of Bialystok campus, the Podlaska Opera and Orchestra and the famous Puppet Theatre of Bialystok.
Hampton by Hilton Tarnowo Podgórne
Wieslaw Jan Prusiecki, founder and owner of Grupa Konkret S.A., said: "Hampton by Hilton Tarnowo Podgórne will be our first partnership with Hilton. We are already well entrenched in the hospitality business with our existing four hotels and have plans for several more hospitality projects in the future. We cannot wait to welcome guests to the hotel from late 2023."
Tarnowo Podgórne is a picturesque village in west-central Poland, which is bordered by the city of Poznań. Poznań is home to an active business community, with thriving companies including Lidl and Coca Cola located nearby.
Hampton by Hilton Tarnowo Podgórne will be a new-build property and will feature facilities including a Hampton Hub, fitness center and flexible meeting spaces.
Hampton by Hilton Tarnowo Podgórne will be located on is Poznańska 40 Street. It joins more than 180 Hampton by Hilton properties trading or under development across Europe.
As Hampton by Hilton responds to the COVID-19 pandemic, some services and amenities have been adjusted in order to adhere to health and safety guidance from local government. To emphasize our commitment to the health and safety of guests, Hampton by Hilton properties are participating in the Hilton CleanStay Program to deliver an industry-defining standard of cleanliness and disinfection. Hilton's processes and Team Member training have been developed with RB, maker of Lysol and Dettol, to help guests enjoy an even cleaner and safer stay from check-in to check-out. New standards for Hilton CleanStay that have been rolled out include a Hilton CleanStay Room Seal to indicate that a room has not been accessed since being thoroughly cleaned and disinfected and flexible housekeeping options.