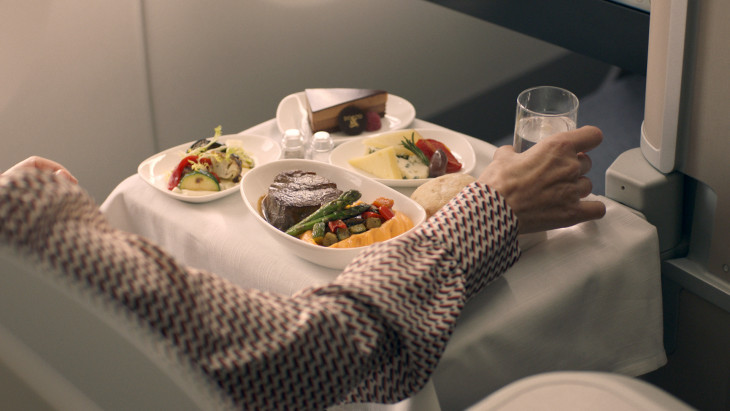 Iberia is continuing to restore the inflight dining services that ensure a great flying experience for its customers whilst ensuring maximum hygiene and safety.
Iberia's new catering provider DO&CO adheres to the strictest health and safety protocols in preparing meals to be served to the airline's customers.
Freshly Made with Seasonal Ingredients
In designing its new menu offerings, Iberia has focused on the tastiest dishes of Mediterranean cuisine, using local and seasonal products where possible.
The new food service is also presented exquisitely, with new tableware and linen in all short, medium and long haul USA flights. This new equipment will be gradually implemented in the remaining destinations.
Short and Medium haul Flights
In Business Class on short- and medium-haul routes, Iberia serves hot breakfasts, which may include an omelette served with salted spinach, or a Spanish-style omelette accompanied by fresh tomato concassé and roasted green peppers, or an omelette with avocado and red onion accompanied by oven-baked tomatoes. Freshly made butter croissants are also served alongside fresh seasonal fruit, a superfood bowl of craft yoghurt with seeds and berries plus coffee, tea and fruit juices. On longer flights, a plate of Spanish cheese and cold cuts is included.
After 10:30 a.m., Business customers on flights within Spain or to/from Portugal will be served a gourmet cold snack and a main dish (such as a smoked salmon tartlet with Japanese rice served on a light cream of wasabi, or a dressed cherry tomato salad with authentic buffalo mozzarella and mint, or roast beef with hummus, baked courgettes and black olives) plus fresh fruit.
On flights longer than one and a half hours departing after 10:30hrs, Business customers can enjoy a hot lunch or dinner, which includes a fresh salad starter, and a choice of main dishes that will always include a vegetarian option. Examples of the main dishes include – veal sirloin with string beans and crispy bacon served with baked potatoes, or Rigatoni with home-made tomato sauce and fried aubergines, or grilled cod with a mild celery mousseline served together with garden vegetable ratatouille. Plus an exquisite home-made dessert, such as double chocolate cake, almond and orange cake, or white chocolate mousse with berries. On longer flights an additional plate of Spanish cheese is included as appetizer.
On medium-haul flights longer than four and a half hours, Iberia will also introduce a new proposal for Economy class, a selection of healthy wraps and a sweet treat (for example spinach wrap with chicken and green peppers or a beetroot wrap filled with egg, couscous and mushrooms served alongside a lemon or orange muffin) served with cold or hot drinks, including freshly made tea and coffee.
Long-haul Flights
Business customers on long-haul flights can enjoy a main meal which includes a cold starter, for example roast beef carpaccio served with grilled vegetables and Cipriani sauce followed by a choice of three hot dishes, which include roast lamb with smoked roast peppers on a bed of pea and edamame mousseline, or Langostines with homemade tomato and Parmesan sauce served with grilled broccolini and rice. The vegetarian option in November is a spinach quiche with Manchegan cheese and a mild Romescu sauce. November desserts include a passion fruit pannacotta and a Spanish cheese plate (Mahon, Manchegan with paprika and goats cheese).
Depending on the time of day and destination, before landing there is a second service of either a breakfast or afternoon snack and on the longest flights, there is an additional service between meals including salads, fresh fruit and sweet or salty snacks.
On long-haul flights Economy customers will have the choice of two hot main dishes, such as baked chicken and seasonal vegetables with home-made tomato sauce served with rice or rigatoni with home-made tomato sauce, topped with roasted aubergines. The new Economy class desserts for long-haul flights includes a chocolate mousse, which is one of DO & CO's flagship products.
As the flight approaches its destination, a second service of a breakfast or afternoon snack is served in Economy with a selection of juices and hot drinks. On longer flights the service between-meals in Economy, depending on the destination, features tapas boxes, sandwiches, sweet or salty snacks, water and juices.
Premium Lounge Dalí
Iberia has reopened the Dalí lounge at its T4 hub in the Madrid airport, now with rigorous protocols to ensure the health and safety of its customers and staff, using barriers, separating traffic flows, enhancing cleaning and disinfection, deploying hand sanitiser dispensers, reducing seating capacity, and offering special zones for family "bubbles" travelling together.
The lounge, which is open from 6:30 a.m. until 11 p.m., also offers:
• Two large "food islands" with an all-new culinary offering –including hot dishes– which changes throughout the day. Food is served in individual portions or containers.
• Four coffee and tea corners.
• Showers fully-equipped with all single-use amenities.
• Children's area with 65" video consoles and television with children's programmes.
• Wi-Fi, furniture with USB ports and lockers with power points for charging electronic devices.