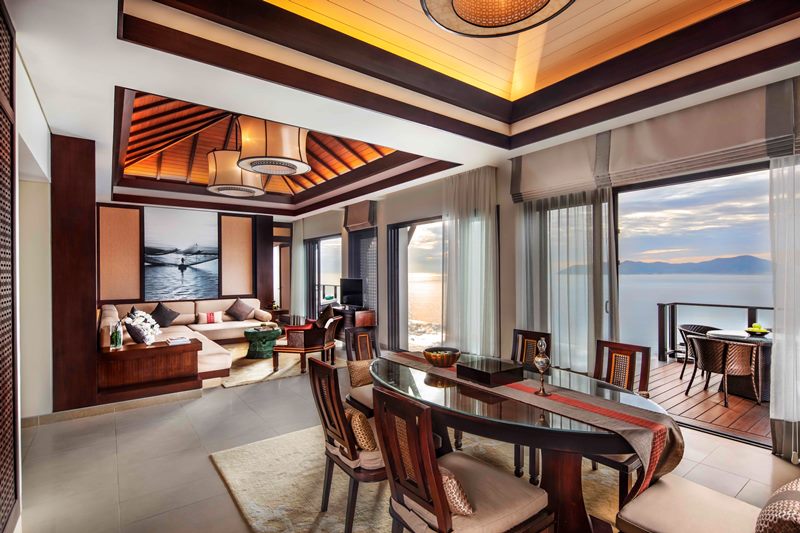 Ennismore and Banyan Tree Group, two global hospitality leaders under the Accor Group umbrella, have signed a groundbreaking agreement with Dubai Holding, a diversified global investment company with a substantial asset portfolio worth AED 130 billion. The collaboration aims to bring a unique luxury lifestyle experience to Dubai, with the multi-stage project set to unfold on Bluewaters Island. The venture kicks off with the anticipated opening of Banyan Tree Dubai in November 2023.
The agreement was formally sealed on September 13, 2023, with Sébastien Bazin, Chairman & Chief Executive Officer of Accor, and Amit Kaushal, Group Chief Executive Officer of Dubai Holding, signing the partnership deal.
Banyan Tree Dubai will replace the existing Caesars Palace Dubai and undergo a phased rebranding and upscale transformation. The repositioned resort will offer a total of 179 rooms, including 30 suites, and will introduce a new four-bedroom villa with a private entrance, pool, and beach access. A highlight of the resort will be its wellness offerings, featuring the renowned Banyan Tree Spa with a dedicated reception, relaxation area, gym, indoor and outdoor yoga spaces, F&B facilities, private mini rainforests, hydrotherapy pools, and treatment rooms. The resort will also boast five carefully curated restaurants and bars, a collaboration between Ennismore's in-house F&B concept studio, Carte Blanched, and the Banyan Tree Group, providing guests with a diverse culinary experience. Additionally, Banyan Tree Dubai will include 96 private residences, offering one-, two-, three-, and four-bedroom units with a dedicated lobby, outdoor swimming pool, and access to the hotel's amenities. This operation will follow the operational model established in Banyan Tree La Cigale Doha, Qatar, and Banyan Tree AlUla, Saudi Arabia, as part of a long-term strategic partnership agreement between Accor and Banyan Tree Group, signed in 2016.
Sébastien Bazin, Chairman & Chief Executive Officer of Accor, expressed his enthusiasm, stating, "We are thrilled to embark on a promising development partnership between Accor and Dubai Holding. The announcement of the opening of Banyan Tree Dubai on Bluewaters is the first of many projects involving our brands in the pipeline to further develop and grow our presence in Dubai and globally."
The resort is strategically located at the heart of Bluewaters Dubai, a vibrant waterfront lifestyle destination that combines the charm and exclusivity of island living with the energy of a sophisticated urban retreat. Bluewaters, under the management of Dubai Holding, offers a wide array of hospitality, lifestyle, residential, leisure, and entertainment opportunities, boasting over 150 retail and dining concepts.
Amit Kaushal, Group Chief Executive Officer of Dubai Holding, commented, "Bluewaters has always been a destination for major projects that redefine luxury and cement Dubai as a global beacon of the tourism industry. Our collaboration with market leaders like Accor, Ennismore, and Banyan Tree Group marks an important milestone in our ongoing journey of elevating the rich hospitality landscape in Dubai. The breadth and excellence of hospitality experiences in the Emirate is an inspiration for the industry worldwide, and we are confident that the relaunch of this unique resort will enrich that even further. In line with our vision of operating For the Good of Tomorrow, we will continue to unlock opportunities that strengthen the position of Dubai as a leader in the global hospitality sector and a major tourism hub."
Dubai Holding has been at the forefront of delivering ultimate hospitality and entertainment experiences in Dubai and around the world through the Group's leading companies, which own and manage an extensive portfolio of iconic hospitality assets, a diverse collection of unique F&B concepts, and landmark leisure attractions.
Ennismore, a key player in the lifestyle and leisure segments of the global hospitality industry, boasts 18 brands, representing over 140 operational hotels, 160 in the pipeline, and more than 300 restaurants and bars. In 2023, Ennismore is set to open nearly 20 hotels, including Maison Delano Paris, France; SO/ Uptown Dubai, UAE; 21C Museum Hotel St. Louis, USA; The Hoxton, Charlottenburg, Germany; and Heritage Grand Perast by Rixos. With eight branded residences, including Hyde Beach Miami and SLS Puerto Madero Mexico, and 20 more in the pipeline worldwide, including SLS Cancun, Mama Shelter Dubai, and Mondrian Gold Coast, Australia, Ennismore continues to expand across the Middle East. The company already operates 28 properties in the region, with an additional 38 properties set to launch across various brands, including 25hours, SLS, Mondrian, and Rixos.
Ennismore is a global collective of entrepreneurial and founder-built brands with creativity and purpose at their core. Established as a joint venture in 2021, with Accor holding the majority shareholding, the partnership with Dubai Holding promises to unlock a host of future opportunities and collaborations in the evolving hospitality industry.