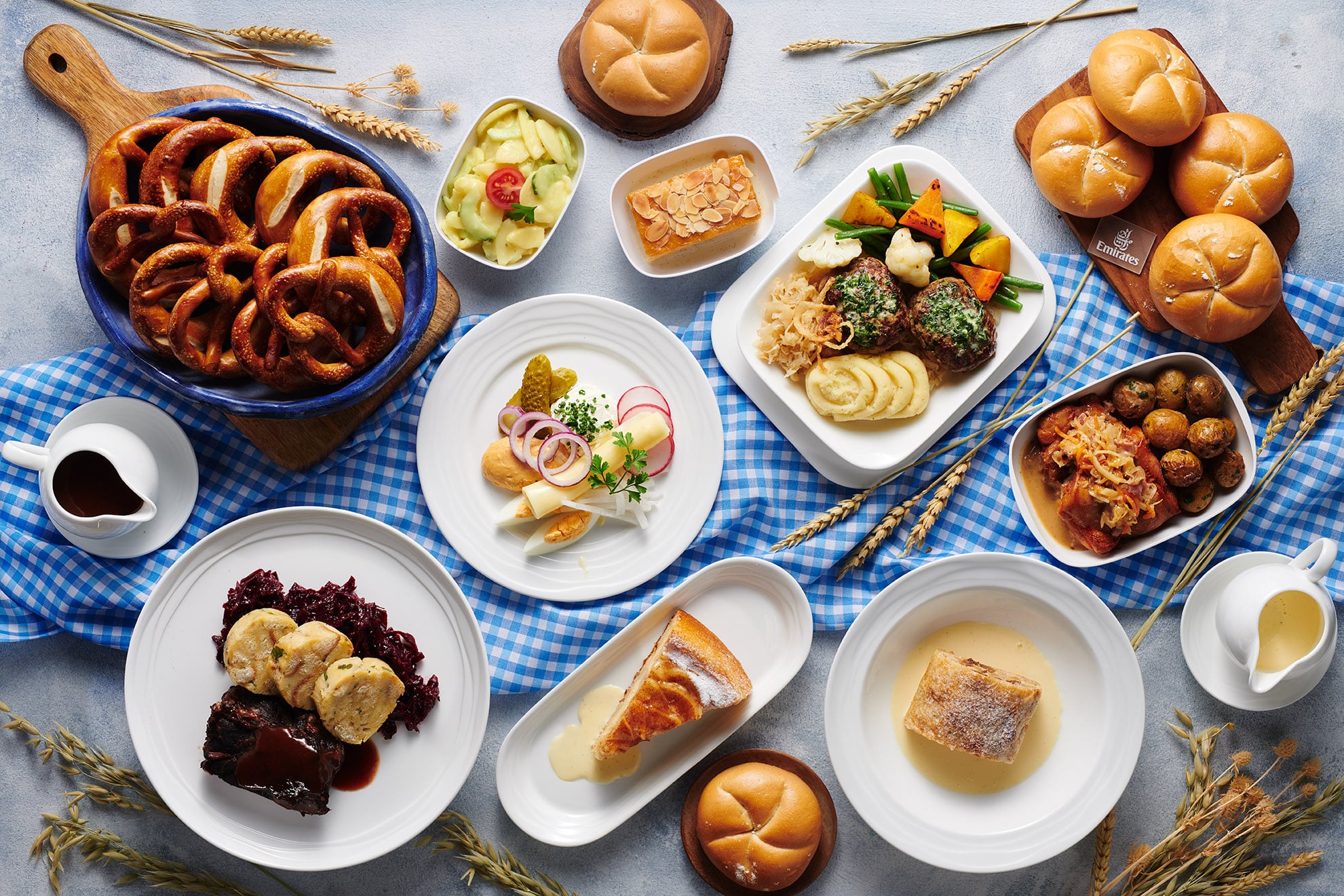 Emirates is set to bring the festive spirit of Oktoberfest to the skies with a delightful blend of traditional Bavarian cuisine and beloved German entertainment. Passengers traveling to and from Munich, Hamburg, Düsseldorf, and Frankfurt, as well as select airport lounges, will have the chance to immerse themselves in this iconic German festival experience from September 16th to October 3rd.
The vibrant Oktoberfest celebration on Emirates flights will feature authentic Bavarian dishes that include a Bavarian starter, main course, and dessert served for both lunch and dinner in Economy class for outbound flights and in Business and First Class for inbound and outbound flights. Passengers can also indulge in bistro bites at the iconic onboard A380 lounge. World-class airport lounges will offer a variety of classic Oktoberfest dishes to savor, all complemented by Loewenbrau beer.
Emirates' First and Business Class passengers will have the privilege of starting their culinary journey with appetizers like Obatzda, Emmental and cream cheese with radishes, hard-boiled egg, and cornichons. The main courses include slow-cooked veal cheeks with braised red cabbage and bread dumplings or succulent minced beef steak served with butter, veal jus, mashed potatoes, and more. A choice of classic Kaiser roll, Austrian roll, and garlic bread swirls will accompany these delectable meals. First Class passengers can enjoy Apfelstrudel for dessert, while Business Class passengers will delight in German Apple Cake drizzled with crème anglaise. In Economy class, passengers can feast on roasted chicken with paprika, potato wedges, and braised red cabbage, followed by moist apple cake with almonds and vanilla sauce.
Onboard the A380, passengers can savor bite-sized Oktoberfest sandwiches such as cream cheese with chives, roasted beef with horseradish, grilled chicken with sundried tomato olive spread, Emmental with gherkins, and irresistible pretzels flavored with rock salt and butter. Complimentary pastries include lebkuchenherzen, pistachio maamoul, cashew and pine nut boukage, chocolate and raspberry brownie, rhubarb tart, strawberry cheesecake, and lemon drizzle cake. Passengers will also receive individually wrapped gingerbread hearts with Oktoberfest decorations as a parting gift before landing.
In the airport lounges of Munich and Düsseldorf, customers will be treated to a range of dishes including Käsepätzle, a German version of mac and cheese made with egg noodles, roasted onions, and Emmental cheese. Light bites will include Obazda, a cheese delicacy, potato salad with parsley, pretzels, and flavorsome chicken thighs topped with parsley.
To complete the Oktoberfest experience, Emirates' award-winning inflight entertainment on ice will feature up to 45 German movies, 300+ Hollywood movies dubbed in German, and a collection of 13 classic Bud Spencer and Terence Hill movies available in German, Italian, and English. Music lovers can get into the Oktoberfest mood with 28 playlists and albums of German music, among the extensive library of 6,500 channels.
Emirates will celebrate Oktoberfest on its current operations of triple daily flights from Dubai to Frankfurt and double daily flights to Munich, Dusseldorf, and Hamburg, giving passengers a taste of authentic German culture and cuisine throughout their journey.