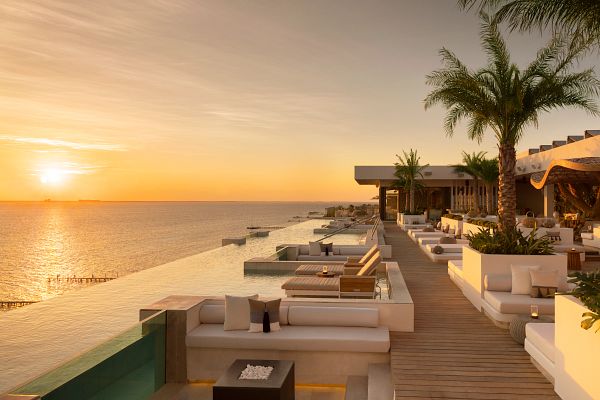 Hyatt Hotels announced the launch of its new Inclusive Collection brand, Impression by Secrets, with the opening of Impression by Secrets Isla Mujeres. Situated in the heart of Mexico's renowned island destination, this luxurious resort marks the debut of the ultra-exclusive, adults-only Impression by Secrets brand, offering the highest level of luxury all-inclusive service. As part of the expansive portfolio of luxury all-inclusive resorts, the Impression by Secrets brand sets a new standard by providing unparalleled personalized service and amenities through its elevated Endless Privileges® concept.
Creating an extraordinary experience from the start, guests of Impression by Secrets Isla Mujeres can enjoy a range of privileged romantic inclusions even before checking in. Upon arrival, butlers welcome guests on the mainland and escort them to a private yacht at Marina Hacienda del Mar, which transports them to the resort's private pier on the island. This seamless arrival experience includes exclusive, complimentary transfers with a full bar and butler service available during the 25-minute sail. Reflecting the brand's commitment to elevated experiential getaways, Impression by Secrets Isla Mujeres boasts tranquil coastal surroundings that provide a serene and romantic backdrop, perfectly complementing the resort's luxurious offerings.
The resort features 125 well-appointed suites, each designed with sophisticated furnishings and a soft neutral color palette that creates a serene and calming atmosphere. With butler service and complimentary laundry services, the suites are equipped with luxury in-room amenities, including exclusive bath amenities by Le Labo, double rain showers, terrace whirlpools, custom-stocked wine fridges, and yoga mats.
Located on the southern end of the island, the resort offers breathtaking views of the Caribbean Sea and Atlantic Ocean, showcasing the picturesque beauty of Isla Mujeres. Natural elements such as bamboo and local wood accentuate the island sanctuary environment, blending harmoniously with the stunning coastal cliff setting. The resort's architecture and interior design, including notable artwork by Mexican artist Cesar López Negrete, are sure to impress guests. Highlights include "The Temple," an expansive wedding gazebo designed by acclaimed architect Javier Uma, as well as a thought-provoking mural inspired by the Saving our Sharks Foundation, painted by renowned marine life artist Wyland.
Guests can indulge in ultimate relaxation at the resort's spa, which offers a range of coveted experiences and unrivaled service. From touchless therapies in the island's only Floatarium to a soothing Hamman and six private spa cabins, the Pure SPA provides a haven of pure pampering. The resort also features a state-of-the-art fitness center with a certified personal trainer, a comprehensive range of cardio-conditioning equipment, invigorating fitness classes, and wellness-focused activities such as SUP yoga, ensuring a holistic wellbeing journey.
With a picturesque white-sand beach ideal for snorkeling, the resort offers remarkable amenities, including four cascading oceanfront infinity pools, Bali beds, and hammocks for relaxation, an over-the-water lounge for observing local sea life, and a four-story waterslide for the more adventurous guests. The resort's daily activities calendar and nightly entertainment are thoughtfully curated to cater to the most discerning travelers, offering options such as cooking classes, coffee and wine tastings, and sunset paddleboarding.