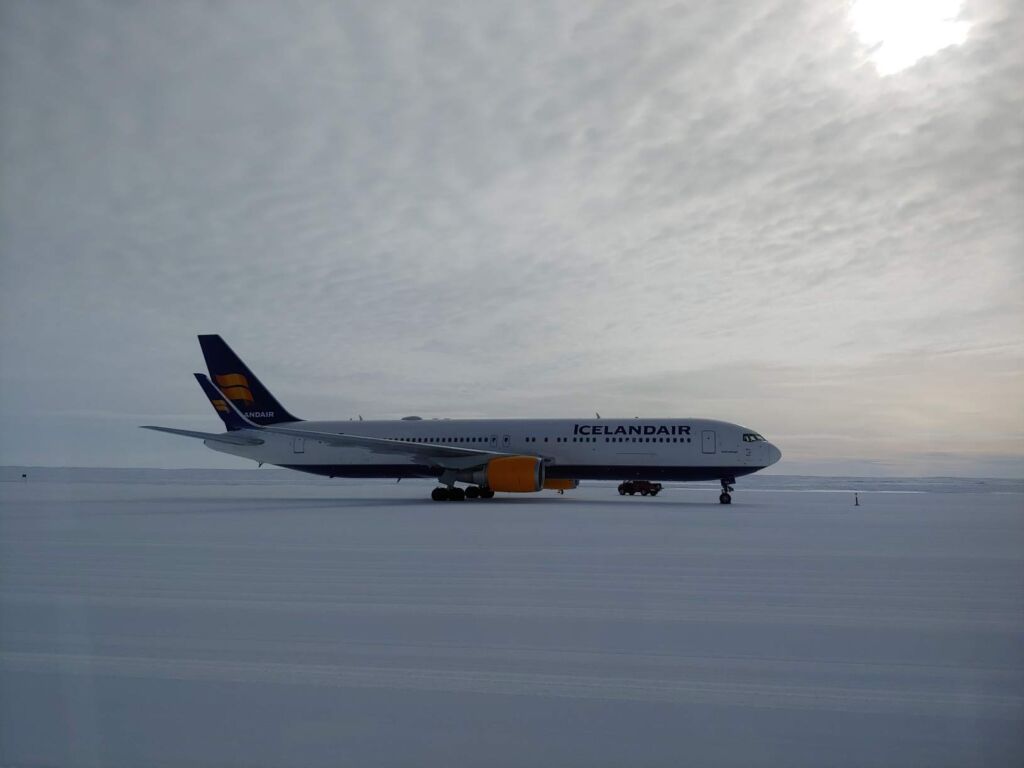 Icelandair's Boeing 767-300 wide-body passenger aircraft made an impressive flight from Reykjavik to Antarctica with an ice landing. The airliner, which normally carries hundreds of passengers between Iceland and America, was sent to the South Pole to pick up researchers from Troll, Norway's Antarctic station.
The journey involved a lot of planning due to the unique conditions, and involved 6 pilots, 13 crew and 1 flight engineer.
From Keflavík airport in Iceland, the plane flew nonstop to Cape Town, South Africa, where it paused for a rest and refueling stop. Some of the team stayed in Cape Town and the remainder flew 4,332km south to Troll in 5 hours and 43 minutes.
After a 2-hour layover at Troll, the aircraft returned with the Norwegian passengers to Cape Town, picked up the fresh crew, and continued on to Oslo, then home to Iceland.
For receiving aircraft at Antarctica ice improvised runway was prepared. For this, irregularities were removed from the surface and roughness was created so that adhesion would arise between the landing gear and the ice, and the plane would not skid.
The Norwegians have built a runway on the blue ice that is special because of its strength and structural nature. It has been beaten down with constant hurricane-force wind that has squeezed the air bubbles out of the ice, and it appears deep blue. And because of its solidness it can hold a massive airplane as the B767 and is really smooth.
The flight route was so unusual that it attracted worldwide attention from aviation fans and media, including over 30,000 followers on Flightradar. And although it might seem crazy, this isn't Icelandair's first time in the Deep South – back in 2015, Icelandair became the first commercial airline to land a plane on a blue-ice runway in Antarctica.