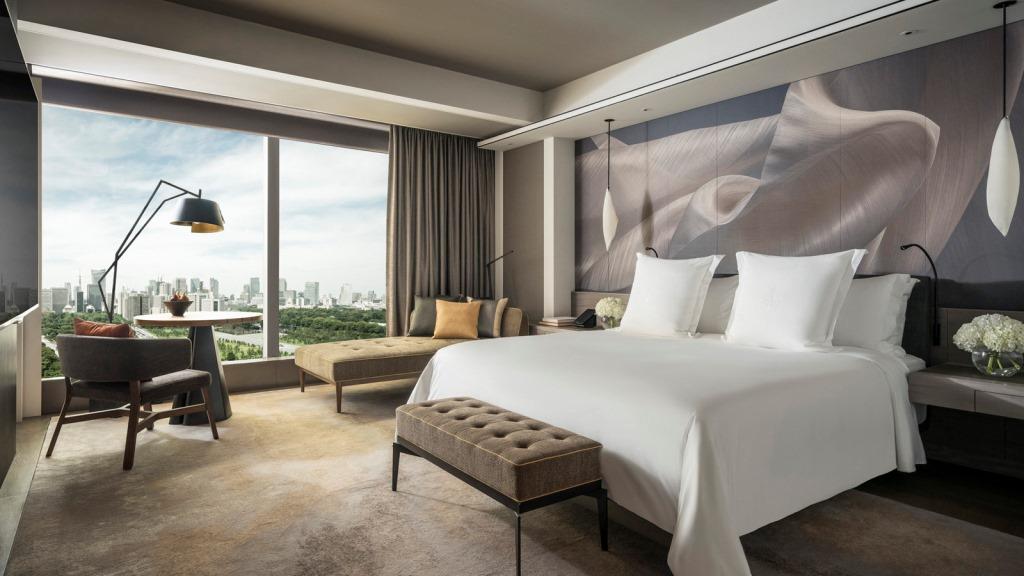 Inspiring backdrops, gourmet meals and energising wellness replenishers: the Stay Above the Clouds package at Four Seasons Hotel Tokyo at Otemachi offers executives a brand-new route to productivity.
While a day at this "office" almost feels like a vacation, the business benefits are significant. A well-deserved change of scenery banishes boredom and resets the brain, while freedom from distractions allows guests to make the most of their valuable time. Soaring high above Otemachi, the Hotel's rooms and suites overlook sweeping views of the Imperial Palace and Tokyo skyline, bringing fresh inspiration and clarity of thought.
"Working remotely can get tedious and even cause burnout. We wanted to offer our local business community an alternative way to be productive as well as to recharge, even in the midst of challenging circumstances," explains Regional Vice President and General Manager Andrew De Brito.
A New Way of Doing Business
Guests can kick off their morning with a gourmet breakfast crafted by Four Seasons chefs, before tending to emails and attending virtual meetings in the comfort and privacy of their own room or suite. Spacious and bright with natural light, the Hotel's stylish accommodations are ideal for everything from brainstorming and conference calls, to deeply focused work.
With 15 percent savings on dining and spa treatments, executives can take energising breaks during the day. Enjoy a nourishing lunch served in-room or at PIGNETO before getting back to the agenda. The menu features handcrafted pizzas by maestro pizzaiolo Alessandro de Leo and housemade tagliatelle al tartufo by Chef Yoshihiro Kigawa.
For an instant pick-me-up, Director of Spa Eriko Mutoh recommends quick replenishers at THE SPA: the Vitality Recharge massage targets back, neck and shoulder tension, while the Head and Foot Release eases eyestrain and fatigue. Return to work feeling wonderfully refreshed.
Relax and Recharge
Once the day's targets have been achieved, it's time to unwind. The Hotel's panoramic heated pool is perfect for a de-stressing swim, followed by a visit to the steam room and ofuro. Guests can also take a stroll in the next-door Imperial Palace gardens, or practice yoga and stretching using the in-room mat and roller.
For those who prefer cocktails to workouts, why not head to THE LOUNGE for a crafted tea cocktail or an authentically-brewed Japanese tea? Diners with a sweet tooth can explore the selection of artistic desserts by award-winning Executive Pastry Chef Yusuke Aoki. Guests can also savour a complimentary special dinner once during their stay.
Don't forget to pick up a Four Seasons wellness gift to take back home. During a year that made the world pause, slow down and reflect, the Hotel team has curated an array of beautiful gifts to brighten the spirits. Browse bespoke products by environment-friendly brands, carefully selected by ADELAIDE.
Ideally Located for Business and Pleasure
Four Seasons Hotel Tokyo at Otemachi is located in the heart of the city's financial district, steps away from the headquarters of several Japanese corporations and multinationals. The Hotel's premium car-service makes it convenient to schedule meetings in and around the neighbourhood, or to explore the city's array of gastronomic options.
Stay Above the Clouds Package
Available from March 1 until December 31, 2021, this special offer includes:
15 percent savings on room rate
Daily breakfast for two, served in-room or at PIGNETO
Special dinner for two, once per stay
15 percent savings on spa treatments and dining (excluding In-Room Dining and MyBar)