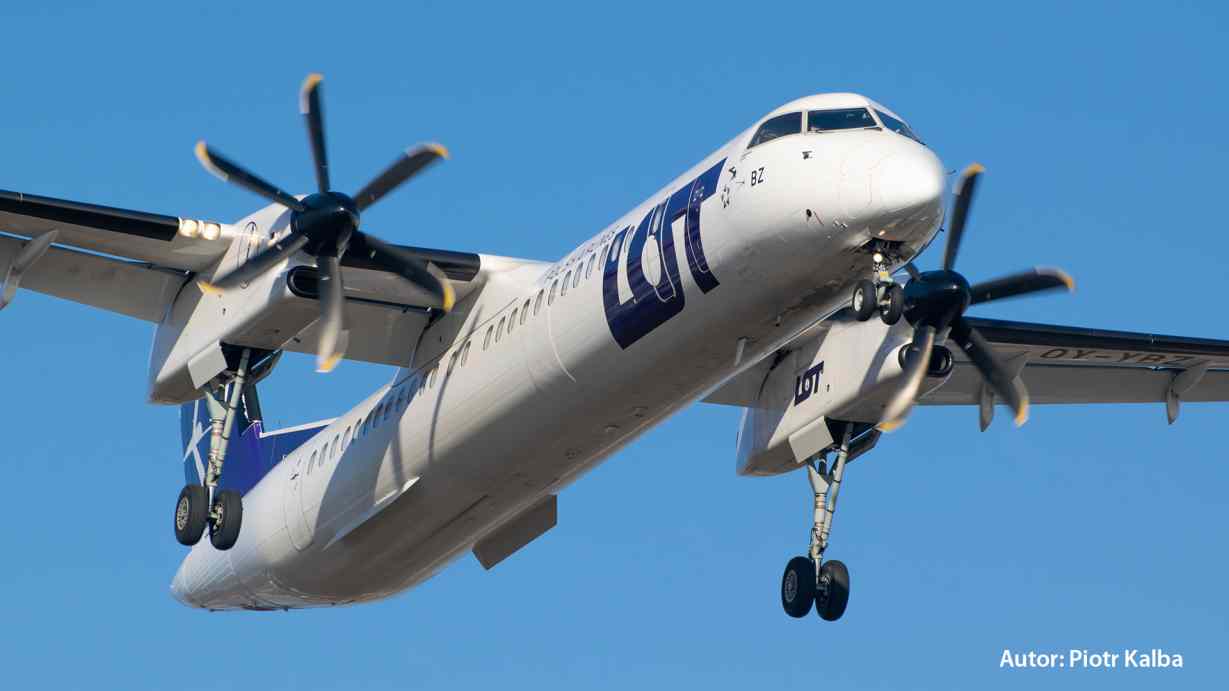 At the beginning of September, LOT will launch direct domestic flights from Warsaw to Bydgoszcz and Lublin. A convenient timetable will allow passengers from the regions to benefit from the wide offer of European connections of LOT Polish Airlines, including particular flights within #SummerWithLOT campaign, which will remain in the carrier's offer also in September.
LOT Polish Airlines gradually re-establish regular flights. At present, the Polish carrier offers 150 connections, and at the beginning of September LOT will broaden the range of domestic flights, returning to the route from Warsaw to Bydgoszcz and Lublin.
"After the harsh period of restrictions caused by the spread of coronavirus, thanks to our staff members' effort and passengers' enormous goodwill, we can consistently widen the offer of flights. Within less than three months from the time of renewal of regular air operations, we successively restore flights from the Warsaw hub to all domestic ports to which we used to fly before outbreak of the pandemic. Reestablishment of direct flights to Bydgoszcz and Lublin is a noteworthy offer for residents of Kujawsko-Pomorskie and Lubelskie Voivodeships, who can benefit from convenient changes again at Warsaw Chopin Airport for a number of attractive flights of LOT," says Krzysztof Moczulski, a Deputy Director of the Corporate Communication Office and Spokesperson of LOT Polish Airlines.
LOT's planes will connect Warsaw and Bydgoszcz again on 1 September this year. The flights will be scheduled to be operated as follows:
LO 3991 WAW-BZG 11:10 p.m.-11:55 p.m.Monday, Tuesday, Wednesday, Thursday, Friday, Sunday
LO 3992 BZG-WAW 05:40 a.m.-06:30 a.m.Monday, Tuesday, Wednesday, Thursday, Friday, Saturday
"Return of the next extremely significant domestic air connection with Warsaw is optimistic. It is not only a direct connection with the capital but it is also a possibility of changing planes during further travel which will be able to be continued by residents of our region. In the current situation, it is also an opportunity to reconstruct our regional economy and tourism quicker," says Tomasz Moraczewski, President of the Management Board of Bydgoszcz Airport S.A.
According to the timetable, there will be 6 flights per week from the capital to Lublin, also since 1 September they will be scheduled as follows:
LO 3969 WAW-LUZ 11:10 p.m.-11:55 p.m.Monday, Tuesday, Wednesday, Thursday, Friday, Sunday
LO 3970 LUZ-WAW 05:40 a.m.-06:30 a.m.Monday, Tuesday, Wednesday, Thursday, Friday, Saturday
"After the several-month break caused by the pandemic, we re-launch the next connection which is particularly important since it enables passengers to travel to the most significant cities of Europe and whole world. Thanks to PLL LOT's offer, we can get to Lublin again – with only one change in Warsaw – among others to Wrocław, Gdansk, Krakow, Milan, Frankfurt or Brussels," says Andrzej Hawryluk, President of Lublin Airport.
As of September this year, LOT will increase the frequency of the flights on regular European routes, offering several flights per week to Larnaca or Nice, as well as a dozen or so flights to, among other destinations, Frankfurt, Amsterdam, Paris and London. At the same time, the frequency of flights to Brussels, Prague, Budapest and Vilnius will increase to nearly twenty per week. As the epidemic situation stabilizes and the administrative regulations become more and more conducive, as of September this year, the Polish carrier plans to return to particular routes in the Far East, e.g.: to Beijing and Delhi. Flights between Warsaw and Dublin as well as Wroclaw and Budapest will already be inaugurated in August.
"We remind passengers about the necessity to verify restrictions in individual countries both at the moment of buying a ticket and before departure. This will allow maintaining full comfort of travel in the current dynamic epidemic situation in the world," adds Krzysztof Moczulski.