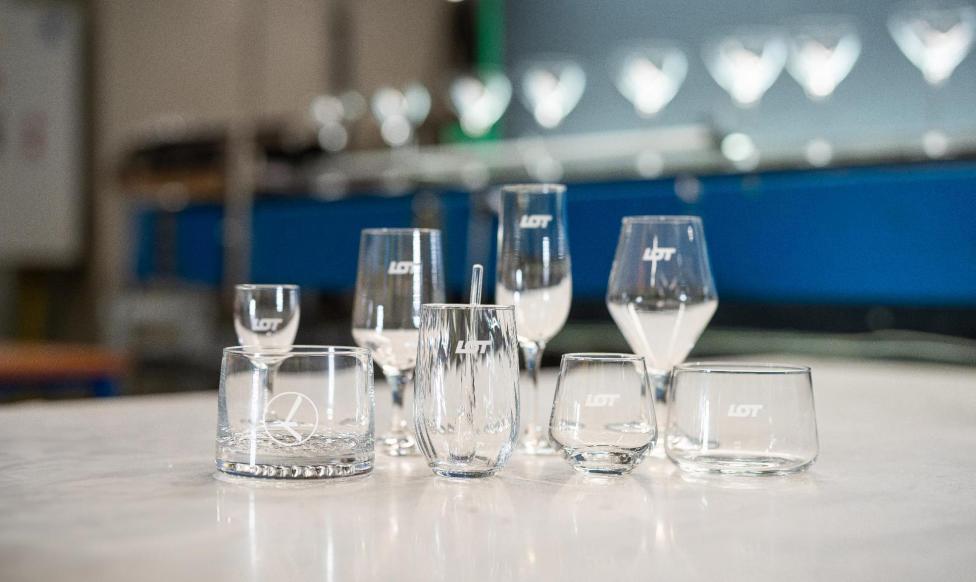 LOT Polish Airlines has announced a collaboration with Krosno Glass, a renowned brand known for its elegant interior products worldwide. In the coming weeks, passengers traveling in PLL LOT's long-haul Business and Premium Economy class flights will have the pleasure of experiencing the Polish manufacturer's exquisite glassware. This partnership signifies the national carrier's commitment to providing a new level of travel quality.
With a rich history spanning 94 years, LOT is a significant symbol of Polish aviation. The iconic crane logo represents not only recognizable branding but also a promise of supreme comfort and exceptional standards. The creations by Krosno Glass serve as a testament to LOT's dedication in fulfilling this promise.
LOT has been searching for glassware that combines modern design and sophistication, ensuring the perfect fit for catering carts and durability. Krosno Glass has successfully met all these requirements, making it the ideal choice for the airline.
This collaboration presents an opportunity to showcase Polish design on a global scale. Krosno Glass products will be featured on LOT aircraft, reaching over 100 airports across Africa, North America, Asia, and Europe. This serves as an excellent platform to highlight Poland's professionalism and innovation within the global market.
"The partnership between Krosno Glass and LOT Polish Airlines, two well-established Polish brands, is truly exceptional. By joining forces with a glass manufacturer boasting a century of history and one of the world's oldest airlines, we not only meet the expectations of even the most discerning passengers but also contribute to promoting the traditions of Polish design and craftsmanship," emphasizes Izabela Leszczynska, Director of the Product Development and Customer Experience Office.
In celebration of Krosno Glass's 100th anniversary, a special glass with a design reminiscent of the 1920s, the era of the company's foundation, will be featured on LOT Polish Airlines flights. This design perfectly blends traditional patterns with contemporary craftsmanship, creating a truly unique experience. This is just the beginning of the anniversary celebrations, as one of LOT Polish Airlines' Boeing 737 MAX planes will soon receive a special livery to commemorate the brand's centenary.
"We are thrilled to see Krosno Glass products on board LOT Polish Airlines. It is a pleasure to witness two beloved Polish brands, cherished for generations, supporting and promoting each other's endeavors. This year, as we celebrate our brand's 100th anniversary, the collaboration with LOT Polish Airlines is undoubtedly a wonderful birthday gift," says Małgorzata Piwowarska-Pinilla, Marketing Director of Krosno Glass.
Krosno Glass is a brand rooted in timeless design and generations of craftsmanship from master artisans, including metallurgical artists, designers, grinders, and decorators. Their dedication and expertise result in the creation of small artistic wonders that enhance interiors worldwide. Throughout the 100-year history of the Krosno brand, its products have graced tables of notable figures such as the Empress of Japan, Arab Sheikhs, Queen Elizabeth II, and even the Olympic Games in Munich. The Krosno decanter has also been a fixture in the Sejm of the Republic of Poland, used by the Marshal of the Sejm.