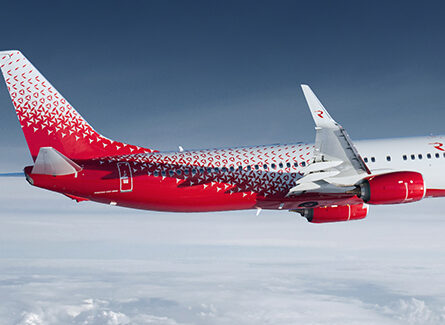 On June 22, Rossiya Airlines, in partnership with Biblio-Globus, starting a program of flights to popular tourist destinations within the country.
Sochi is officially opened for tourists – since June 21, the mandatory observation for Russian citizens arriving to the region and restrictions on movement within the region are cancelled, the epidemiological control regime is partly cancelled.
Rossiya Airlines operated the first tourist flight to the popular Black Sea resort. Flight FV5607 took off on June 22 at 01:05 from terminal B of Sheremetyevo International Airport. The Boeing-737 with 100 percent load – 189 passengers on board – landed at Sochi International Airport exactly on schedule.
«This flight launches the summer season for Russian travellers. Every day our team introduces new solutions, always ensuring safety of our passengers. Today, both airlines and passengers are rediscovering travelling for themselves», – said Sergey Alexandrovsky, CEO of Rossiya Airlines.
After the official departure of the first flight of Rossiya within the framework of the new program, the next flight took off from Sheremetyevo to Sochi in 5 minutes, at 01:10. Its load was also 100 percent. Thus, providing a stable flight schedule on such popular routes as Sochi, Simferopol, Anapa and Kaliningrad, the level of flight production of one of the largest domestic carriers began to return to its previous indicators.
According to the head of the Federal Agency for Tourism Zarina Doguzova: «We hope for further systematic removal of restrictions, depending on the epidemiological situation. By the beginning of July, all of the most popular tourist destinations will be open for interregional trips. That means that we can talk about the start of the summer tourist season. Our main goal for this summer is a safe and affordable vacation for our citizens from Kaliningrad to Vladivostok».
«During the period of restrictions, there was a large deferred demand for a comprehensive tourist product. We see that travellers did not cancel their trips, but rescheduled them, waiting for the main event of this tourist season – the opening of Russian resorts. The growth in demand is also affected by pricing policy – this year, it will cost tourists less than a year earlier. Together with Rossiya Airlines, we are fully prepared to provide our travellers with a safe summer season at the highest level», – noted Irina Kostenko, Managing Director of Biblio-Globus tour operator.