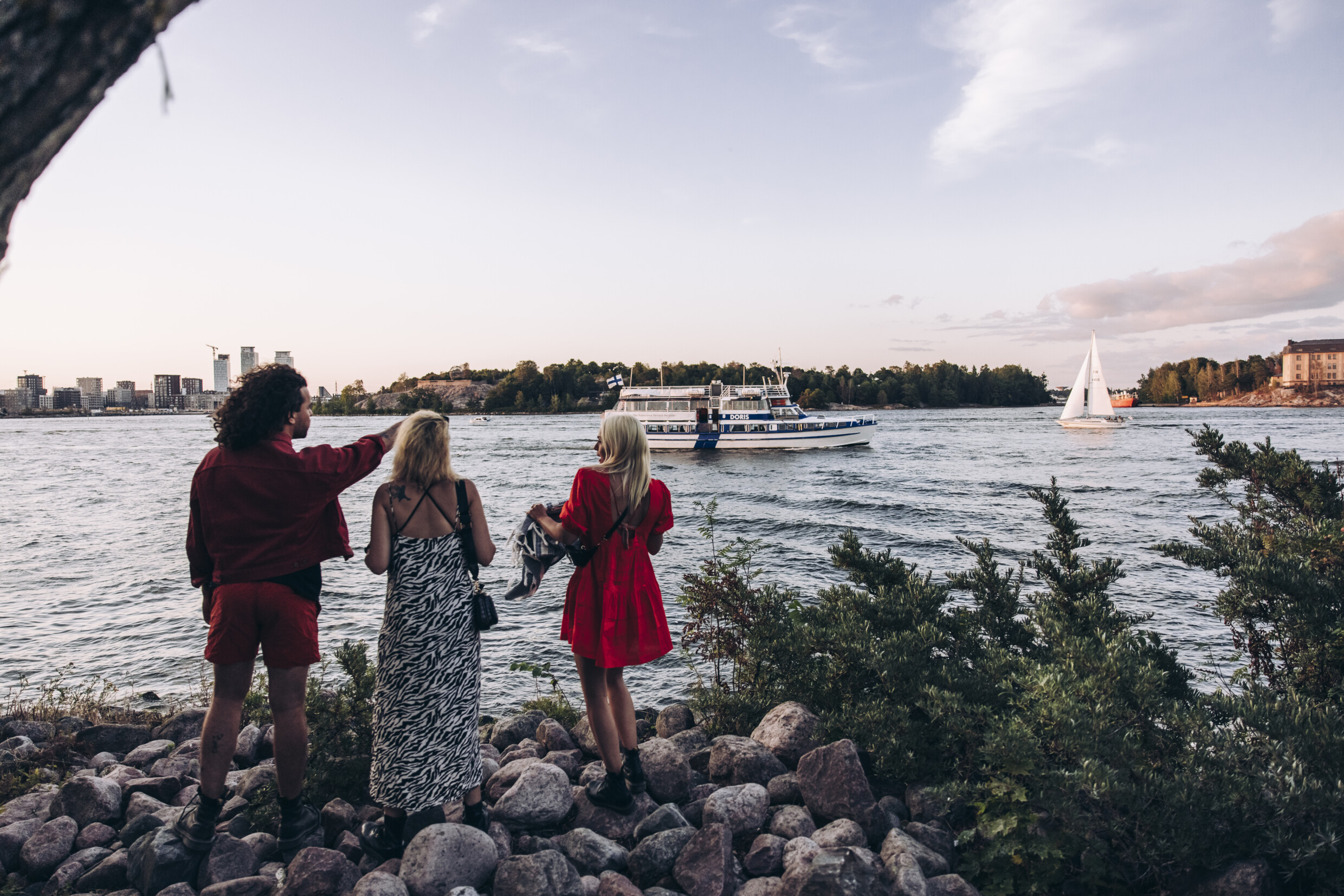 Good ferry connections give residents and visitors easy access to a large number of scenic and historic Helsinki Islands and vicinity. Finland's capital city Helsinki is strongly flavoured by the sea and islands open to the public little by little. Islands contrast with the city's developed, urban shoreline with their splendid nature, and many of them offer visitors excursions to Finland's history.
Helsinki Islands:
Altogether 27 Helsinki islands out of 300 are served by regular ferry connections from the city. 15-40-minute rides allow visitors to view and enjoy the local maritime environment, and ferries also take visitors to island destinations beyond the city limits and as far as the idyllic town of Porvoo east of Helsinki. Fine and casual island dining can be found just minutes away from the city's shoreline.
A 15-minute ferry ride separates Helsinki's bustling Market Square and the city's most popular and an all-year island destination, the Suomenlinna Sea Fortress. The fortress, a UNESCO World Heritage site, dates back to the mid-eighteenth century. In summer, the Suomenlinna islands also serve visitors with restaurants, cafés, museums and magnificent rocky beaches. A public transit ferry to Suomenlinna runs from the Helsinki Market Square 1–4 times an hour. A summertime waterbus to Suomenlinna also departs from the Market Square and takes visitors to the heart of the most historic parts of the islands.
The former military island of Vallisaari to the east of Suomenlinna is home to magnificent nature and hosts HAM Helsinki Art Museum's Helsinki Biennial art event throughout summer 2023. Artworks are dispersed around the island both outdoors and in historic buildings. A ferry to the island runs from the Market Square. More Helsinki Biennial artworks can be found on the mainland.
Saunas offer a fantastic opportunity for a quick deep dive into Finnish culture. You'll find that many islands in Helsinki have saunas of their own. Sauna at the island of Lonna is beloved by locals and visitors alike. However, for the more adventurous souls, hidden gems like Pikku-Leikosaari is just a short paddle away. If you're looking for a private experience, you can even book the entire Island of Saunasaari, – or 'sauna island'. To truly embrace the maritime spirit of Helsinki, you can also enjoy the sauna experience on a sauna ferry.
Pihlajasaari is a popular recreational island for swimming, camping and relaxation on beaches. The island is popular for picnics and has a restaurant. Ferries depart from Merisatama and from Ruoholahti just a few steps from the local Metro stop.
Isosaari is located in Helsinki's outer archipelago. The 40-minute ferry ride to the island departs from the Market Square. The island, which until recent years was occupied by the Finnish Defence Forces, has ample undeveloped areas, a golf course, beaches, good hiking, scenic picnic spots and two restaurants.
Kaunissaari is a large island in the outer Gulf of Finland archipelago an almost two-hour ferry ride away from the eastern Helsinki mainland. The island has sandy and rocky beaches and a nature trail for hiking. The Kaunissaari ferry departs from a pier a short distance from the Vuosaari Metro stop.
In addition to regular ferry connections, eastern Helsinki islands are served in summer 2023 from a pier in Reposaari in Laajasalo by on-demand electric Callboats, which are booked and paid for with a Callboats app. Bout offers "boat taxis" and rideSet featured image shares all across the Helsinki seas.
Those who prefer to enjoy Helsinki water areas and archipelago from aboard only are served by a number of cruises that depart from the Market Square.
Physical activity combines with relaxed movement on local waters on boat-sharing Skipperi row boats. Boats are available on several Helsinki seafronts for three-hour rides. They are free of charge at the Herttoniemi seafront.
Ulko-Tammio is believed to be the world's first phone-free tourist island.