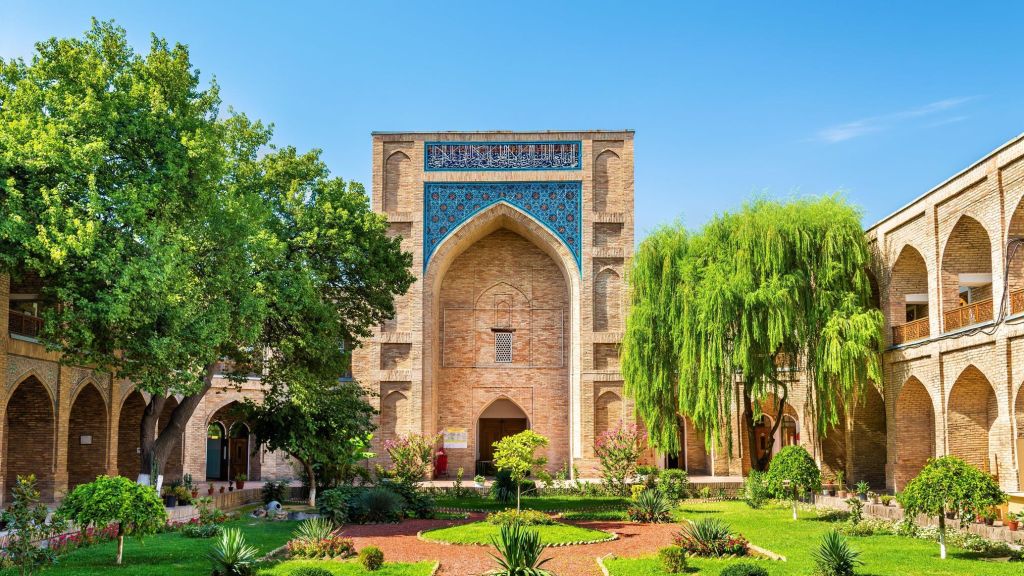 Tashkent has a long and storied history that dates back thousands of years. It has been influenced by different civilizations and empires, including the Persian Empire, the Mongols, and the Russian Empire. The city has faced destruction and reconstruction multiple times due to various historical events, including earthquakes and wars. In recent years, Tashkent has undergone significant development and modernization, including new hotels developing. The cityscape features a mix of architectural styles, ranging from ancient Islamic structures to Soviet-era buildings and contemporary skyscrapers. Tashkent boasts wide boulevards, parks, and green spaces, creating a pleasant and inviting atmosphere for residents and visitors.
Tashkent offers a wide range of attractions and landmarks. Some of the notable places to visit include the Hazrat Imam Complex, which houses the famous Quran of Caliph Uthman, the Chorsu Bazaar, an ancient market offering a variety of goods and traditional Uzbek crafts, and the State Museum of History of Uzbekistan, where you can explore the country's rich heritage.
The city also has a vibrant arts and cultural scene. The Alisher Navoi Opera and Ballet Theatre, named after the renowned Uzbek poet, is a popular venue for classical performances. The Tashkent International Film Festival showcases films from around the world, and there are numerous art galleries and museums that exhibit traditional and contemporary artwork.
Tashkent is well-connected domestically and internationally. It has an international airport, which serves as a major transportation hub for Central Asia. The city also has a reliable public transportation system, including buses, metro lines, and taxis, making it easy to navigate and explore the city.
Best New Hotels in Tashkent 2023: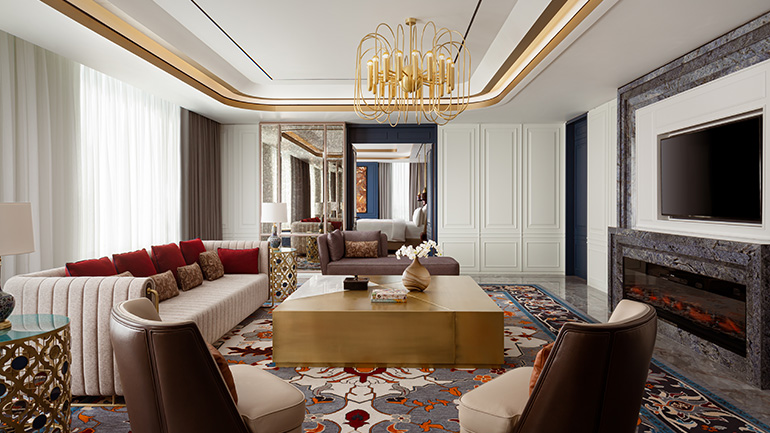 InterContinental Tashkent, situated in the heart of Tashkent, is conveniently located just a five-minute walk away from Amir Temur Square.
This hotel is part of the brand-new Trilliant Business Park development complex.
With 216 rooms, including 38 distinctive suites and two presidential suites, InterContinental Tashkent offers stunning city views from every room.
Guests can indulge in exquisite dining experiences at two restaurants and a trendy rooftop bar. The hotel's signature restaurant, Ember, situated on the top floor, serves fire-grilled dry-aged steaks, sushi, and shellfish. On the same 17th floor, Embar offers a whisky library, specialty cocktails, and panoramic skyline views. No'mad, inspired by the culture and ingredients of Central Asia, and Chach, a lobby lounge and bar, provide additional dining options.
The E'quilibrium Spa and Fitness Club, designed by the renowned spa consultancy Raison d'Etre, spans two floors of the hotel. It boasts a fully equipped gym, an infinity swimming pool overlooking the city, a private Hammam treatment area, a steam room, a sauna, a special couples suite, an open-air terrace, and the 'Pure Bar'.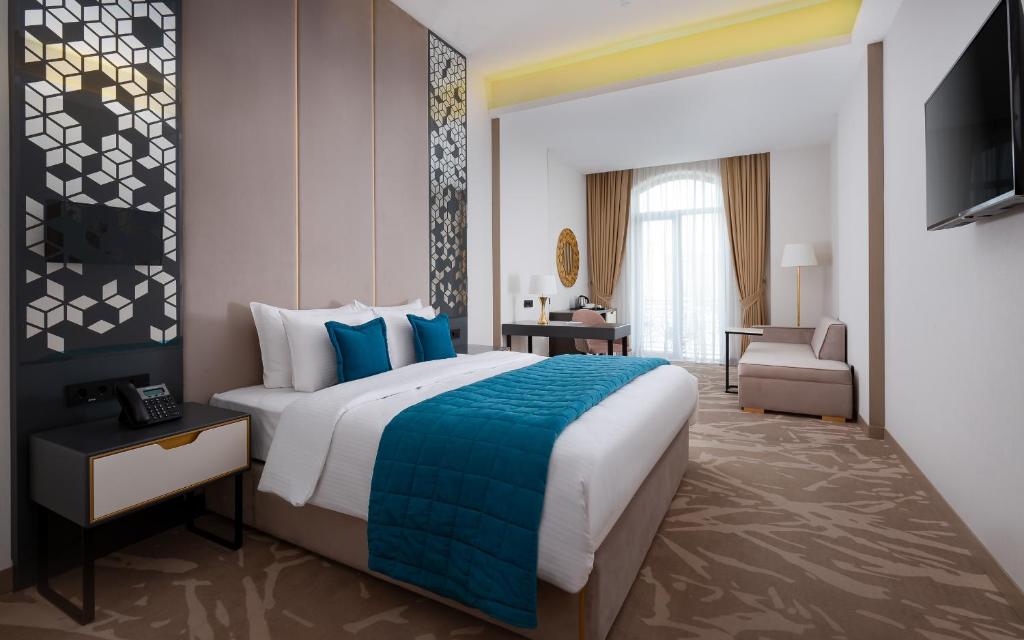 The newly opened Mercure Tashkent offers 126 spacious and stylish rooms of various categories, along with two restaurants serving Turkish and European cuisine. Guests can also enjoy the facilities of the SPA center, as well as utilize the meeting rooms and event venues. With a combination of international standards and local hospitality, Mercure Tashkent aims to attract both travelers and locals with its cozy atmosphere and authentic cuisine.
Strategically situated on Shota Rustaveli Street, Mercure Tashkent serves as an excellent starting point to explore Tashkent, the capital of Uzbekistan and a prominent city in Central Asia. The hotel's location provides easy access to renowned museums, the legendary Chorsu Bazaar, and the historical center of Tashkent. Additionally, Mercure Tashkent is conveniently located just a 10-minute drive away from the International Airport and the railway station.
Guests of Mercure Tashkent can immerse themselves in the vibrant atmosphere of the city, as the Mercure brand is known for supporting guests in discovering local traditions and cultural heritage. Tashkent showcases a blend of exquisite medieval buildings, elegant European architecture, and modern skyscrapers within its business centers.
The hotel offers 126 comfortable and spacious rooms in various categories, including Superior Twin, Superior King, Privilege, stylish Suites, and accessible rooms. The interior design features soothing and light colors, complemented by vibrant textiles and natural wood elements. Each room is thoughtfully designed to provide a cozy and functional space equipped with amenities for both work and relaxation. Guests will find a separate dressing room in each room, adding to the overall feeling of oriental hospitality.
Mercure Tashkent boasts two restaurants. Bahcivan, the Turkish restaurant on the first floor, serves a rich breakfast with healthy and balanced dishes, as well as a variety of appetizers, salads, soups, pide, oriental sweets, and meat dishes throughout the day. Lumiere, the European restaurant, offers an elegant setting for meetings, exquisite lunches, or enjoyable evenings with friends. Both restaurants feature indoor terraces where guests can relax year-round. The hotel also houses a cozy 24-hour lobby bar on the ground floor, providing a perfect spot for informal or business meetings. Guests can enjoy light dishes, snacks, desserts, and a wide selection of beverages.
Located on the basement floor, the Centris Fitness & Spa is a wellness complex known for its elegant interiors and spacious area. The fitness center offers state-of-the-art equipment for cardio and strength training, while the spa area includes a swimming pool, sauna, hammam, and juice bar. Guests can indulge in revitalizing and relaxing spa treatments from an impressive spa menu, offering a chance to recharge or unwind after a busy day.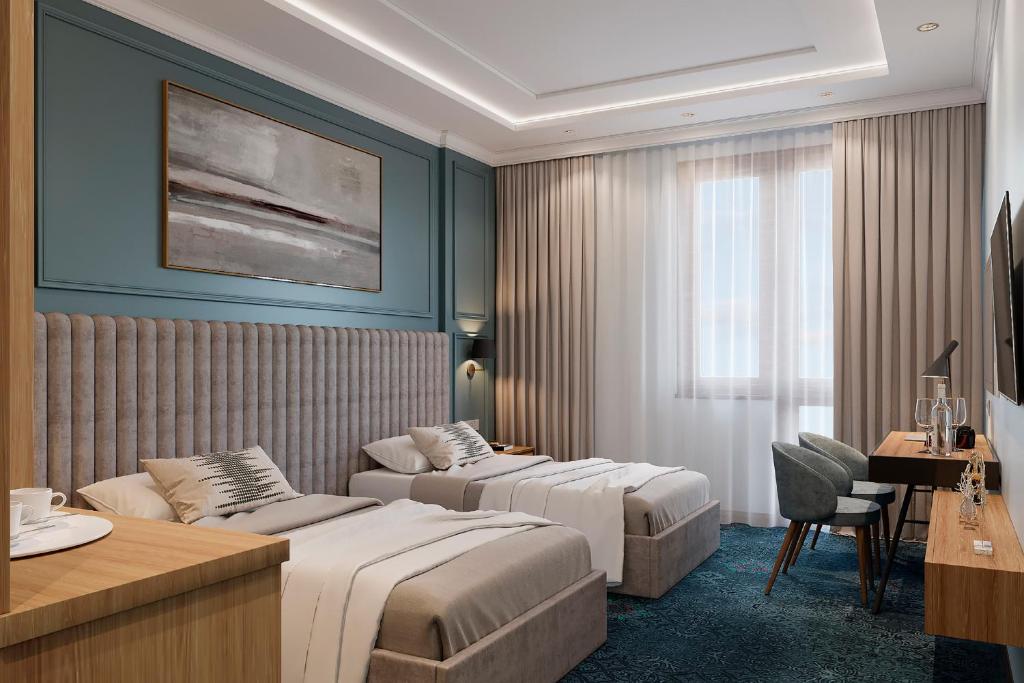 Introducing the Shamsan Airport Hotel, a recent addition to Tashkent's thriving hospitality scene. This hotel offers 60 elegant and tastefully designed rooms, ensuring a comfortable stay for guests. The hotel boasts two restaurants, each offering a distinct culinary experience, with one specializing in fine dining and the other serving authentic cuisine. Additionally, guests can indulge in relaxation at the hotel's SPA center or utilize the conference hall, equipped with extensive banqueting facilities for various events.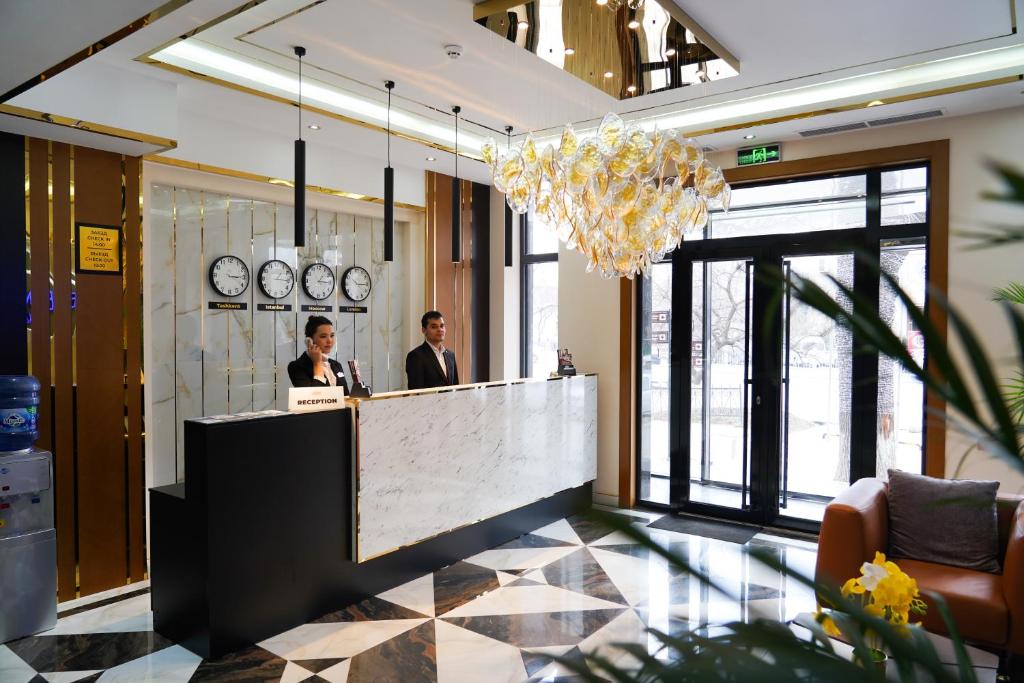 The hotel, one of the new hotels in Tashkent, is conveniently located in one of the bustling districts of Tashkent, just 4 km from the International Airport and 5 km from the Railway Station. Guests can enjoy a comfortable stay in one of the 30 guest rooms, designed in a modern style. The hotel's restaurant offers international cuisine, with a buffet breakfast and à la carte menus available for lunch and dinner. The highlight of the hotel is the "Mina" summer terrace located on the 5th floor, offering breathtaking views of the city along with an exquisite menu that will leave a lasting impression on the hotel guests.