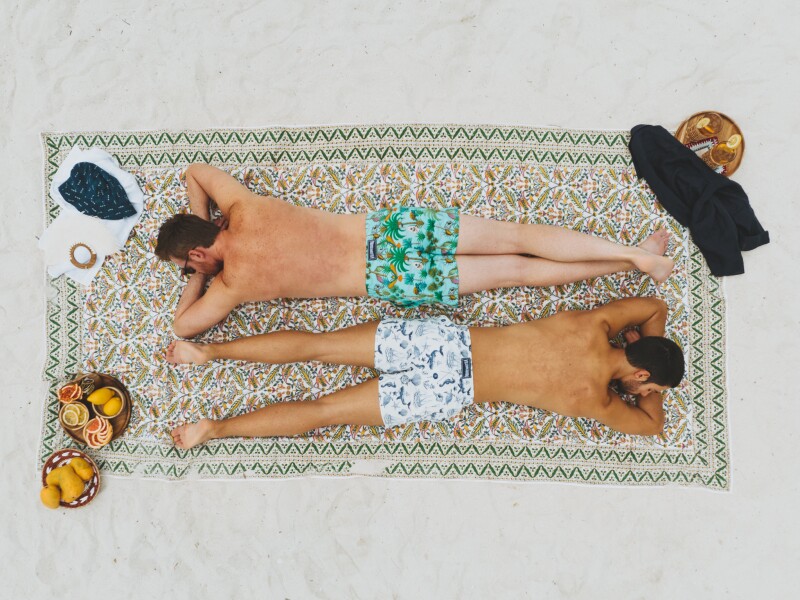 Just in time for summer, St. Regis Hotels & Resorts and renowned French swimwear brand Vilebrequin have announced an exciting collaboration. They are launching a capsule collection of three exclusive prints inspired by three highly anticipated resort openings: The St. Regis Kanai Resort, Riviera Maya; The St. Regis Los Cabos Resort; and The St. Regis Red Sea Resort.
This partnership brings together two iconic brands known for their creation of glamorous leisure experiences. Vilebrequin, widely recognized as the authority on luxury swimwear, embodies casual elegance, humor, originality, impeccable taste, and quality. With a vibrant and colorful aesthetic reminiscent of sandy beaches and sunsets, Vilebrequin represents freedom and elegance. As a like-minded brand that values heritage and quality, Vilebrequin perfectly complements St. Regis Hotels & Resorts, which is part of the Marriott Bonvoy portfolio of 30 extraordinary brands.
The collection's patterns are thoughtfully designed, drawing inspiration from the diverse and spectacular destinations of Riviera Maya, Los Cabos, and the Red Sea, as well as incorporating St. Regis's iconic symbols. The five-piece collection caters to St. Regis guests of all ages and includes men's swim trunks, women's shorts, children's swim trunks, a beach tote, and a travel pouch, all available in each of the three exclusive patterns.
St. Regis Hotels & Resorts continues to expand its resort portfolio, cementing its position as a leader in luxury leisure hospitality. The recently opened St. Regis Kanai Resort, Riviera Maya, situated above a natural mangrove reserve along Mexico's Yucatán Peninsula, features striking architecture and a design narrative rooted in Mayan mysticism. For this resort, Vilebrequin has created a beautiful blue pattern incorporating the St. Regis crest alongside mangrove trees and lush tropical florals. The design also includes symbols of Ancient Mayan culture, such as celestial bodies, butterflies, and more.
Scheduled to debut in late 2023, The St. Regis Red Sea Resort, located on a private island, takes inspiration from the Arabian Riviera. The resort's print features shells, turtles, palm trees, and bold hues of blue and green. The pattern also includes the pear-shaped oud, a prominent string instrument in Arabic music.
Expected to open in 2024, The St. Regis Los Cabos Resort is situated within Quivira Los Cabos, boasting a breathtaking 2.5-mile stretch of virgin beach on the Sea of Cortez. The resort's nautical-inspired pattern combines white and navy tones, featuring sailboats, whales, seahorses, and turtles. The pattern also includes flutes of champagne as a tribute to the St. Regis ritual of champagne sabrage, as well as golf clubs and tees, reflecting the resort's access to the award-winning Quivira Golf Club designed by Jack Nicklaus.
The Vilebrequin collection for St. Regis Hotels & Resorts will be available for purchase at various prices: $310 for men's sizes, $215 for women's sizes, $160 for children's sizes, $75 for the travel pouch, and $95 for the beach tote. In the United States, the collection is available for pre-order at the St. Regis Boutique, and in the Caribbean and Latin America, it can be purchased at The St. Regis Kanai Resort, Riviera Maya.