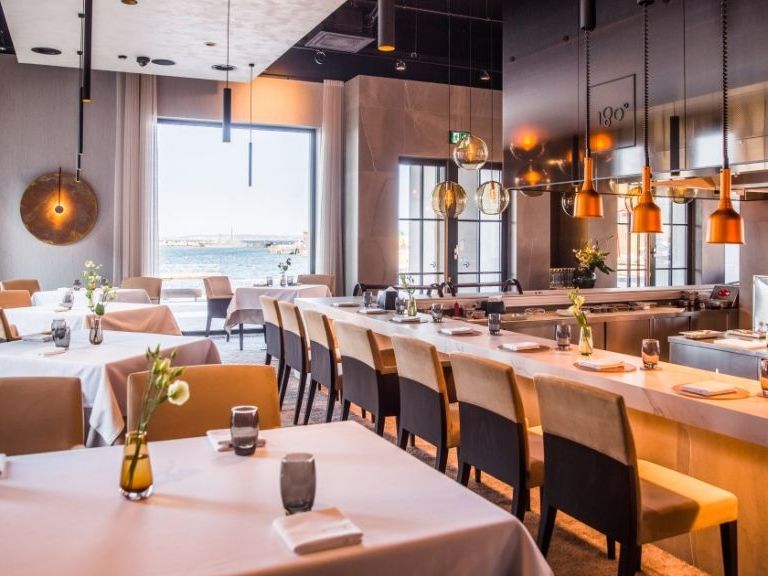 The second edition of the MICHELIN Guide for Estonia was announced today at 8 am, revealing a selection of 34 establishments. This includes Estonia's first Two Michelin Star restaurants, one restaurant awarded One Michelin Star, six restaurants recognized with a Michelin Bib Gourmand for offering great value, and two restaurants commended with a Michelin Green Star for their commitment to sustainability.
The highlight of this year's guide is the promotion of the elegant 180° by Matthias Diether, located in Tallinn, from One to Two Michelin Stars. The Michelin Inspectors were particularly impressed by the intricacy of the cuisine and the flawless harmony of all the elements. Each visually stunning dish showcased exceptional technique, skill, sophistication, and a deep understanding of flavor.
Retaining its One Michelin Star status, NOA Chef's Hall, led by chef-owner Tõnis Siigur and housed in a striking modern waterside building, continues to offer an outstanding dining experience. The Michelin Inspectors were delighted by the accomplished and confident cooking, resulting in expertly balanced and immensely satisfying dishes. Overall, NOA Chef's Hall offers a truly exceptional culinary journey.
Six Bib Gourmands – One Newly Promoted
The Michelin Bib Gourmand award highlights restaurants offering good quality food at a great price. Tuljak, in Tallinn, occupies a lovely spot, with its terrace providing great sea views and its interior sporting a retro look. The cooking comes with a creative element but is rooted in the Baltics and offers lots of enjoyable contrasts in textures and flavours.
It joins the five existing Bib Gourmand restaurants which all maintain their distinction in this year's edition: Fellin in Viljandi, a warm and welcoming café-cum-bistro; and four others in Tallinn: Härg, a fun all-day brasserie; Lore Bistroo, a modern harbourside bistro; Mantel ja Korsten which serves Mediterranean-inspired dishes; and NOA, with its seasonal, modern menus.
Two Michelin Green Stars – One New
The Michelin Green Star is an annual distinction which highlights those restaurants at the forefront of the industry when it comes to their sustainable practices – restaurants which offer dining experiences that combine culinary excellence with outstanding eco-friendly commitments and are a source of inspiration both for keen foodies and the hospitality industry as a whole.
Located in Maidla and run by chef Daanius Aas, restaurant Soo is a new addition to this year's Guide. Here, on an estate currently being transformed into a Nature Reserve, their intimate restaurant champions local produce and is guided by very real ecological considerations. This outstanding sustainable commitment is recognised with a Michelin Green Star.
Fotografiska, in Tallinn, retains its Green Star status for a second year.
Four Restaurants Join The Main Selection
In addition to Soo, 4 other restaurants have been added to the Guide:
Art Priori, in Tallinn, is a brasserie celebrating all the French classics.
Barbarea – housed within an old boot factory in Tallinn – is a bakery by day and a bistro by night.
Rado, in Haapsalu, is a modern, sweetly run bistro to its sister of the same name in Tallinn
Alexander, set on Muhu Island, sees a charming house host ambitious cooking.
These join the 20 restaurants that maintain their place in the selection from last year:
38, Tallinn
Cru, Tallinn
Fii, Tartu
Gianni, Tallinn
Hõlm, Tartu
Horisont, Tallinn
Joyce, Tartu
Lahepere Villa, Kloogaranna
Lee, Tallinn
Mere 38, Võsu
Mon Repos, Tallinn
Moon, Tallinn
Paju Villa, Tallinn
Pull, Tallinn
Puri, Tallinn
R14, Tallinn
Rado, Tallinn
SMAK, Tallinn
Tchaikovsky, Tallinn
Wicca, Laulasmaa