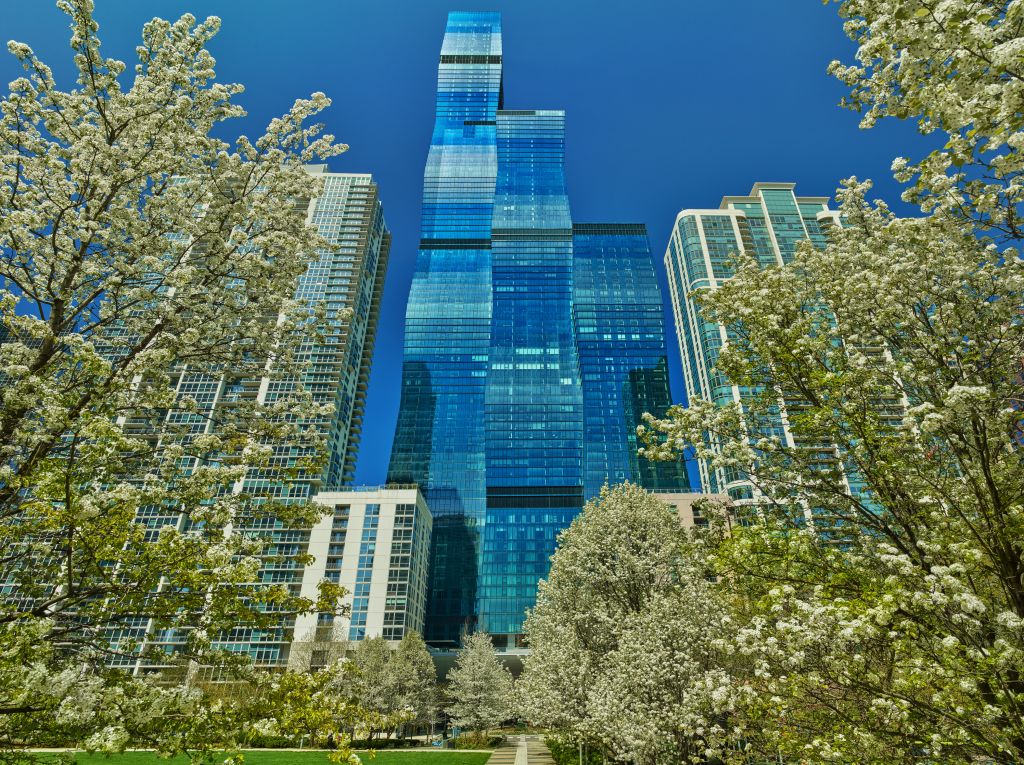 St. Regis Hotels & Resorts has announced the highly anticipated opening of St. Regis Chicago. Developed by Magellan Development Group and designed by the renowned Studio Gang led by Jeanne Gang, the world-renowned architect and urban designer, this 101-story tower stands as the tallest building in the world designed by a female architect. It offers guests and local luminaries a fresh perspective on sophisticated dining, personalized service, and avant-garde design in the heart of downtown Chicago.
George Fleck, Vice President and Global Brand Leader of St. Regis Hotels & Resorts, expressed the significance of The St. Regis Chicago's debut, marking a significant milestone for the St. Regis brand as it expands its presence in the United States and celebrates its first property in the American Midwest. Fleck stated that opening in Chicago, an energetic and dynamic city renowned for its rich history and innovative design, allows them to present a new icon within the city. The hotel showcases an architectural masterpiece that represents the pinnacle of luxury hospitality today.
Situated in the picturesque Lakeshore East neighborhood, The St. Regis Chicago provides convenient access to the Chicago River and is within walking distance of the city's premier luxury retailers, dining establishments, and notable cultural landmarks, including Millennium Park, the Art Institute of Chicago, and the renowned Magnificent Mile. Contributing to the city's cultural landscape, The St. Regis Chicago boasts a unique and distinctive design comprising interconnected stacked frustum shapes that rhythmically move in and out of plane and reach various heights. Inspired by nature, the tower's crystalline form features facets reminiscent of a shimmering gem, with a green-blue glass gradient reflecting the colors of Lake Michigan and the Chicago River.
KTGY Simeone Deary Design Group took charge of the interiors for various public areas of the hotel, including the Presidential Suite and The St. Regis Spa, drawing inspiration from Chicago's rich architectural heritage. Metallic materials and colors such as copper and rust are artfully combined with geometric, angular lines throughout the hotel's public spaces, spa, and Presidential Suite, paying homage to The Great Chicago Fire and the city's interconnected waterways, buildings, and green spaces.
The St. Regis Chicago comprises 159 luxurious guestrooms and 33 exquisite suites spanning across 11 floors. Meticulously designed by Gensler, the guestrooms offer a sanctuary of tranquility and revitalization. A carefully curated palette of natural stone and wood finishes establishes a connection to nature, juxtaposing its minimalist beauty with a captivating urban backdrop of skyline views. Furthermore, all hotel guests will have the privilege of experiencing the signature St. Regis Butler Service, a hallmark of the brand for over a century. This personalized service includes offerings such as garment pressing and packing services, ensuring that every guest's preferences are understood and anticipated at every moment of their stay.