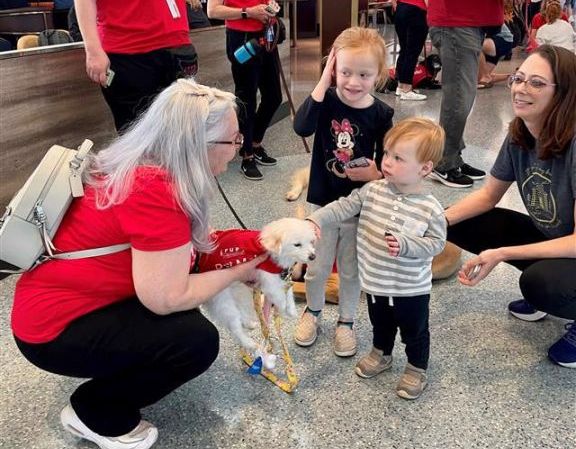 Los Angeles World Airports (LAWA) marked the 10th anniversary of the renowned Pets Unstressing Passengers (PUPs) program at Los Angeles International Airport (LAX) by organizing a pup parade and providing special giveaways for departing passengers.
According to Michael Christensen, Chief of Operations and Maintenance at LAWA, the LAX PUPs are wonderful ambassadors for the airport, as they have helped millions of guests over the years and have made the travel experience more pleasant with their calm and friendly behavior.
The event was held in Terminal 1 in collaboration with Southwest Airlines, whose representatives provided commemorative gifts for passengers. Over a dozen dogs paraded down the red carpet with their handlers, posing for photos and interviews with the pup-arazzi. The dogs then greeted guests in the gate area, spreading smiles and joy to LAX passengers. The LAX PUPs program, which started in April 2013, is a division of LAX Guest Services and has served as a model for more than 90 airports worldwide.
The program started with 30 therapy dogs and has now grown to include 80 canine participants and handlers who volunteer their time to meet and greet passengers in every LAX terminal, easing some of the stress and anxiety associated with flying. Dogs of all breeds and sizes are welcome to apply to join the program as long as they and their handlers meet the program's requirements, including serving at least one year with a recognized pet therapy organization.
All dogs are privately owned, with the majority coming from local shelters or rescue groups. The LAX PUPs Program Director, Heidi Huebner, expressed her gratitude to Southwest Airlines for helping them recognize the benefits of the program and for helping them celebrate the milestone anniversary in a memorable way.