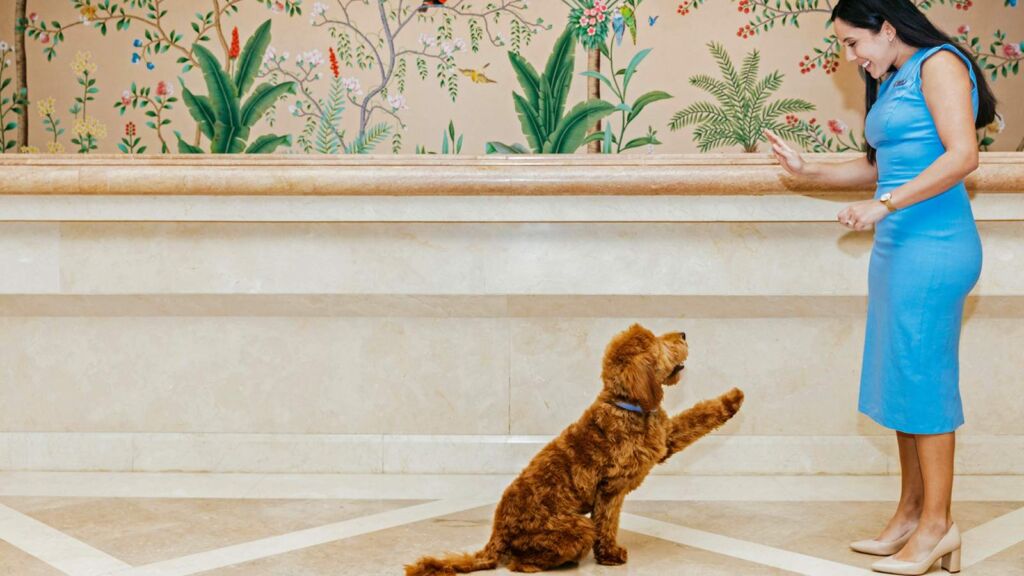 As Four Seasons Resort Palm Beach soon welcomes new reservations beginning April 1, 2021, the Five-Star, Five-Diamond oceanfront Resort will also welcome its newest team member, a four-legged friend named Fort. The 10-month-old Australian Labradoodle will become the Resort's official therapy dog, making moments in Palm Beach paradise even better with an invited nuzzle or gaze of puppy eyes.
Named after Fort Partners, the owner of Four Seasons Resort Palm Beach, Fort will provide an additional sense of connection during a time when so many are seeking a safe and welcome escape to re-connect with their own loved ones. Pet owners make up more than half of the global population and most consider their animals part of the family. From travellers and locals to Four Seasons Resort Palm Beach team members, Fort is a calming and cuddlesome companion when the familiar comfort of their own furry friend may not be by their side.
Julie Case, owner of the award-winning dog training academy Ultimate Canine who was born into a family of dog trainers and has been training dogs for more than 27 years, raised, trained and certified Fort specifically to help people feel at ease. Known for their expertise and authentic care, Fort will undoubtedly continue to receive five-star service in his new oceanfront home.
Fort will also become a member of the local community, visiting organisations from schools to supportive homes to provide human friends with affection and compassion.
"In the few months since we welcomed Fort into our family, I am already in awe of his innate ability to make connections with our team members as well as the children and families of local organisations he recently visited," says Mohamed Elbanna, Regional Vice President and General Manager of Four Seasons Resort Palm Beach. "I know he will continue to bring joy to so many more."