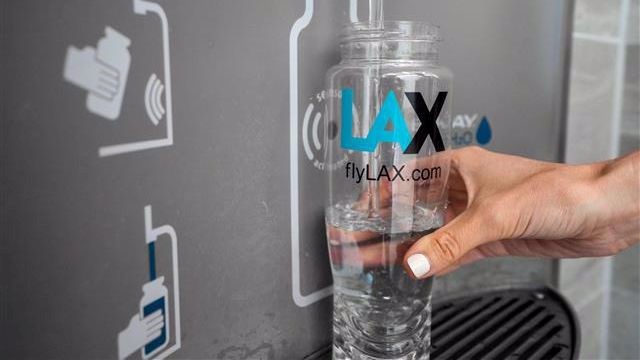 Los Angeles World Airports (LAWA) has implemented a ban on the sale of single-use plastic water bottles at Los Angeles International Airport (LAX) and Van Nuys Airport (VNY) as part of its comprehensive sustainability plan aimed at reducing plastic waste and moving towards zero waste at LAWA facilities.
The decision to phase out single-use plastic water bottles by June 30, 2023, was unanimously approved by the Los Angeles Board of Airport Commissioners (BOAC) in alignment with L.A.'s Green New Deal. This two-year transition period allowed businesses operating within the airports to deplete their existing plastic bottle inventories and modify purchasing contracts to comply with the new policy.
Under the ban, both LAWA and businesses with lease or concession agreements at LAX and VNY are mandated to replace single-use plastic water bottles with containers made from sustainable alternatives, such as recyclable aluminum or glass. This requirement applies to restaurants, concessions, lounges, vending machine providers, and airport events. Pre-packaged single-use plastic bottles of various sizes containing non-carbonated and unflavored water, including purified, spring, mineral, artesian, well, tap, and electrolyte-enhanced water, fall within the scope of the ban. However, bottled water served onboard aircraft remains exempt.
In anticipation of the ban, the Los Angeles Department of Water and Power collaborated with LAWA to install additional hydration stations throughout LAX terminals. These stations provide passengers with convenient access to drinking water and encourage the use of reusable water bottles. The hydration stations are diligently maintained by the LAWA Facilities Management Division, ensuring they are regularly inspected and repaired.
Justin Erbacci, Chief Executive Officer of LAWA, encourages travelers to contribute to the initiative by bringing their reusable water bottles and utilizing the hydration stations available at the airports. Eliminating single-use plastic water bottles is a critical step towards environmental improvement and sustainability enhancement across all airport operations.
The prohibition of single-use plastic water bottles aligns with LAWA's broader Sustainability Action Plan, which sets ambitious targets for LAX and Van Nuys Airport to achieve net-zero goals by 2045. These goals include eliminating the consumption of potable water for non-potable uses, achieving zero carbon emissions from LAWA operations, and transitioning to 100% renewable electricity by 2045. LAWA remains committed to waste reduction, responsible water management, and environmental stewardship to create a more sustainable future for air travel.