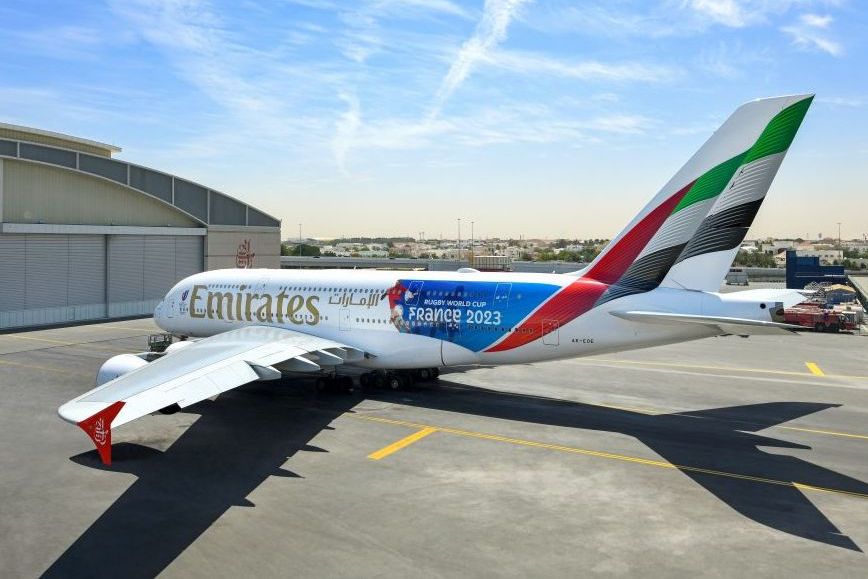 Emirates has unveiled a limited edition livery design on one of its flagship A380 aircraft to celebrate the upcoming Rugby World Cup France 2023.
The new decal was inspired by the fast-running lines of the backs in the game, with delicate lines that run seamlessly through the livery. This marks the fourth consecutive Rugby World Cup that Emirates has participated in as a Worldwide Partner. The airline first unveiled a Rugby World Cup livery in 2011 on an A380, and has continued the tradition for subsequent tournaments in 2015 and 2019.
As the Official Airline of Rugby World Cup France 2023 and Australia 2027, Emirates is committed to supporting the sport's development in both emerging and established markets and bringing its leading expertise in customer experience to the tournament.
About Emirates and rugby
Emirates is one of the world's biggest supporters of the sport of rugby.
In the airline's home base of Dubai, The Sevens tournament has been running for more than 50 years in Dubai and Emirates was instrumental in growing its international status when it first began its support in 1987 in cooperation with World Rugby. Through clear focus and a strong commitment from the airline, the Emirates Dubai 7s has become the largest sports event in the region, with over 100,000 fans joining over the three-day tournament in 2022. It is also an official sponsor of the Cape Town Rugby 7s, which is one of the most popular live sporting events in South Africa's event calendar.
The airline also sponsors the jerseys of World Rugby's Match Officials who take to the field in their Emirates 'Fly Better' kits. Emirates' strong rugby partnerships also extend to the South African Emirates Lions and their home venue, Emirates Airline Park, as well as the Dubai Hurricanes Rugby Football Club.