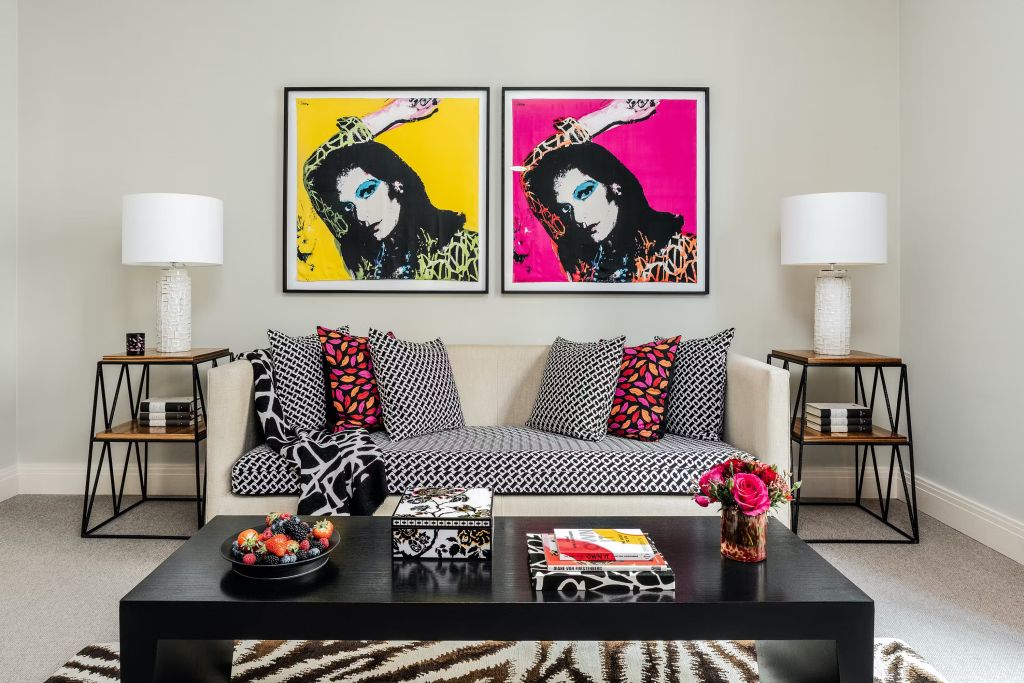 The Hotel Amigo, a Rocco Forte hotel situated in the center of Brussels, has introduced the Diane von Furstenberg Suite in tribute to the well-known Belgian-American fashion designer. Adorned with her signature style, the suite features a striking zebra rug, two large silk scarves created by Andy Warhol, and an impressive collection of artwork that honors her remarkable legacy.
This year marks the 50th anniversary of the iconic wrap dress that brought von Furstenberg to fame, and to commemorate this milestone, the Brussels Fashion & Lace Museum is dedicating its newest exhibit, Woman before Fashion, to her. In conjunction with the exhibit, Hotel Amigo is offering guests a special opportunity to experience the World of Diane von Furstenberg by reserving the DVF suite from April 18, 2023, to January 7, 2024.
The exhibit showcases over 50 models and an extensive range of iconography that illuminates the career, designs, and personality of this remarkable woman. Visitors can learn about the timeless prints that contributed to her fame, the creative freedom that inspires her work and daily life, and the role of art in her creations with works from notable friends like Andy Warhol, Konstantin Kakanias, and François-Marie Banier.
Established by Sir Rocco Forte and his sister, Olga Polizzi in 1996, Rocco Forte Hotels is a collection of 14 individual hotels and resorts. All of the hotels are landmarks, both old and new, occupying magnificent buildings in exceptional locations. Led by a family who has been in hospitality for four generations, the hotels are united by their distinctive approach to service ensuring guests experience the best of the cities and surrounding are Rocco Forte Hotels comprises: Hotel de la Ville, Hotel de Russie and Rocco Forte House, Rome; Hotel Savoy, Florence; Verdura Resort, Rocco Forte Private Villas and Villa Igiea, Sicily; Masseria Torre Maizza, Puglia; The Balmoral, Edinburgh; Brown's Hotel, London; The Charles Hotel, Munich; Hotel de Rome, Berlin; Hotel Amigo, Brussels and Hotel Astoria, St Petersburg. Opening in 2024: The Carlton and Rocco Forte House, Milan and Sardinia.