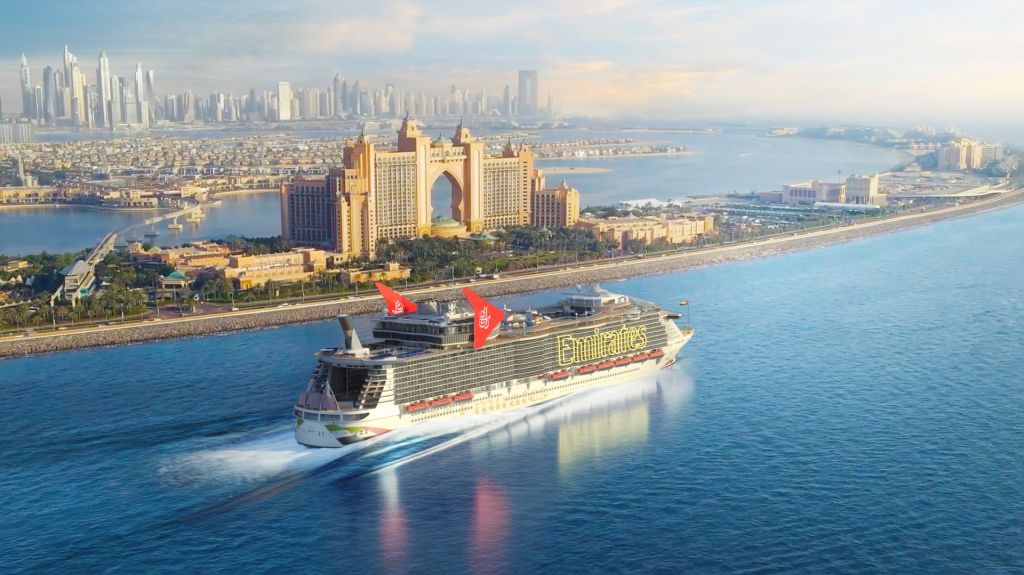 Emirates will now be sailing across seas with its newly-launched maritime arm, Emirates Sealine.
Lucky ship-spotters and cruise aficionados witnessed glimpses of the first liner as it majestically sailed round Dubai's Palm Jumeirah earlier today on its maiden sea trial – click here.
Emirates Sealine is set to revolutionize the cruising experience by offering unparalleled and innovative experiences to travelers as they embark on voyages to rarely explored ports of call. With a multi-billion-dollar investment, the company has ordered 10 state-of-the-art cruise ships that are currently undergoing the latest technological advancements.
Breaking from traditional seasonal schedules, Emirates Sealine will offer a diverse cruise calendar, catering to the demands of the modern traveler. The inaugural cruise is scheduled for April 1, 2024, departing from Dubai Harbour and making Karachi its first port of call, reminiscent of the airline's historic first flight in 1985.
Bookings for the cruises will be open from June 31, with itineraries covering major cruise ports worldwide, from the US to New Zealand, leveraging Emirates' vast transportation network.
Emirates Sealine's newly appointed Chief Maritime Officer, Captain Jack Shallow, notes that the company has significant experience in sea travel, ranging from powerboat racing in Dubai to partnerships with Emirates Team New Zealand and the Emirates Great Britain SailGP Team. With Dubai's outstanding cruise infrastructure and multi-modal transport facilities, Emirates Sealine is set to navigate new horizons in the industry.
"Technology, AI and innovation in developing our future-generation cruise ships mean we can mirror the city's pace and sail at more than 50 knots per hour – nearly double the speed of the fastest ones today. We're working on providing undreamed of luxury onboard, never-before-explored itineraries and once-in-a-lifetime experiences. We'll be running a tight ship to ensure we deliver on our promises to our customers. Right now, it's all hands to the deck as the team prepares for launch."
Emirates Sealine plans to lead the maritime sustainability charge by collaborating with vendors to adopt sustainable maritime fuel (SMF), solar panels, recycling, and waste management. Passengers arriving in Dubai from around the world on Emirates flights will enjoy a seamless transition from air to land to sea with custom-built electric chauffeur-driven cars transporting them from DXB to Dubai Harbour, and then to their luxurious cabins onboard.
The cruise ships will feature four types of cabins, each offering different levels of space, amenities, and luxury, with further details on products and services to be announced later. In the coming months, Emirates Sealine will be hiring thousands of mariners and specialists with various skills and expertise to operate and provide guests with signature hospitality, thereby supporting economies throughout its network. Information on recruitment will be available soon on the Sealine's website.