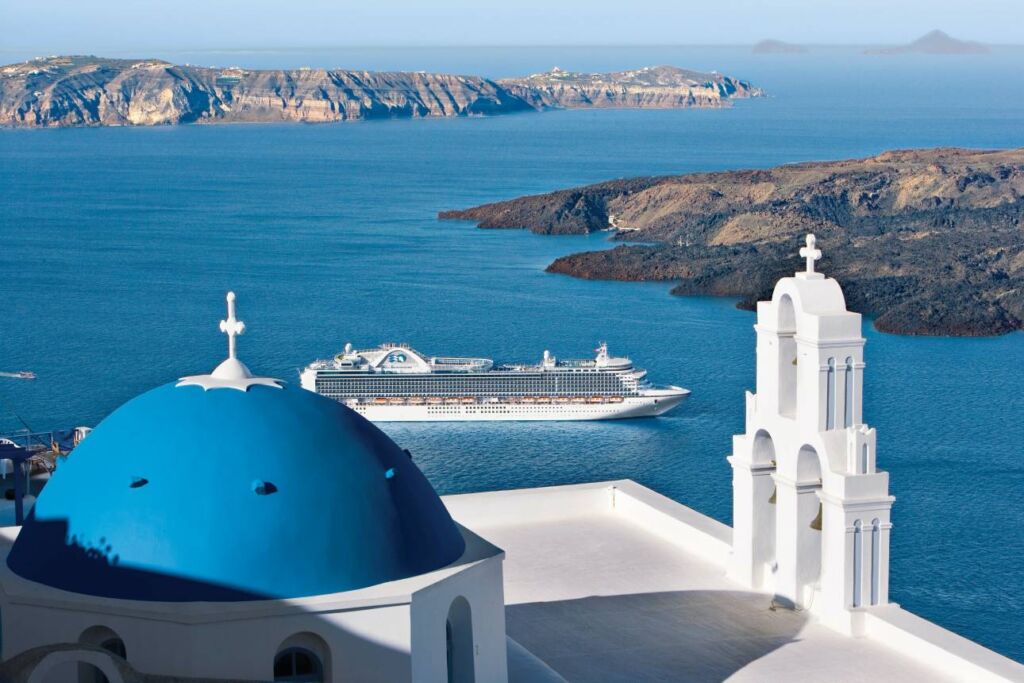 Emerald Princess, Santorini, Greece
Hyatt Hotels Corporation announces today the opening of Magma Resort Santorini, the first property in The Unbound Collection by Hyatt brand in the Greek Islands. The opening signals Hyatt's continued focus on growing its brands within the Independent Collection in key, desirable global destinations for guests. The 59-room hotel delivers the tranquil and soulful essence of Santorini, inviting guests to find inspiration in the island's rich history and spirit.
A secluded sanctuary nestled amid the hilltops of Vourvoulos, Magma Resort Santorini offers a serene Santorini experience with unforgettable views. Striking contemporary design complements the hotel's breathtaking surroundings of lava sand beaches, sweeping vineyards and the endless blue of the Aegean Sea. A commitment to holistic and spiritual wellness is realized through a subterranean Lava Spa and elite gastronomic experience led by chef Arnaud Bignon of the two-Michelin-starred restaurant, Spondi Athens. Stylish features including a stunning sun terrace and infinity pool offer mesmerizing panoramas of the island's dramatic coastline, elevating the hotel's unique atmosphere of relaxed luxury.
Sustainable and Natural Design
Inspired by the traditional Cycladic architecture that Santorini is known for, PEOPLE and ELASTIC Architects' eco-conscious design honors the natural elements of the hotel's landscape. Wood, stone, and volcanic, magma-black tones blend with minimal and sophisticated interiors, meanwhile the hotel architecture follows the curved formations of the lava-made slopes that surround it.
Magma Resort Santorini offers 59 luxurious rooms, including 24 suites, finished with cozy verandas, walk-in showers, relaxed living and dining spaces, as well as private pools, all of which provide desirable, unrestricted views of the island's horizon. For the ultimate luxury experience, guests can retreat into the elegant Magma Suite, where they'll find 828 square feet (77 square meters) of space encompassing an expansive living area, king size bedroom, a private terrace and a pool that overlooks the beautiful azure waters of the ocean.
Signature Dining
Discover a new level of culinary sophistication at Magma by Spondi, the hotel's exclusive dining concept curated by the two-Michelin-starred chef, Arnaud Bignon. Awarded his stars while working as Head Chef of Spondi Athens, Arnaud is one of the youngest chefs to ever hold this distinction. He brings his rare interpretation of local and seasonal ingredients to Magma Resort Santorini, with a signature menu that spotlights the culinary traditions and heritage of the Greek Islands.
Holistic Wellness
Guests can experience holistic and spiritual wellness at the hotel's state-of-the-art Lava Spa and Wellness Center. Descend into the subterranean 4,628-square-foot (430-square-meter) spa, the largest on the island, and uncover its calming, indoor pool and signature treatments designed to revitalize and indulge the senses.
For those looking for more intentional movement, the hotel offers a fully equipped, professional fitness center, as well as a range of activities intended to connect guests to the island's lush natural environment, including hiking, snorkeling, and sun-drenched yoga classes on the terrace.
Inspiring Meeting and Events
For an exceptional private event space, Magma Resort Santorini presents Magma Hall, a 2,454-square-foot (228-square-meter) venue featuring modern design notes and the latest high-spec technology. Suitable for any event, from intimate social gatherings and romantic weddings to inspiring business receptions, the event space at the hotel can welcome up to 250 guests to create story-worthy experiences in a venue like no other.
Once open, Magma Resort Santorini will join the collection of independent properties within The Unbound Collection by Hyatt brand in Europe, including The Wellem in Dusseldorf, Hotel SOFIA Barcelona, Hôtel Reisen in Stockholm, Párisi Udvar Hotel Budapest, Great Scotland Yard Hotel in London, Hôtel du Louvre in Paris, the iconic Hôtel Martinez in Cannes and Hôtel du Palais Biarritz as well as three additional properties in the pipeline: Grand Hansa Hotel Helsinki, La Zambra in Mijas, Spain and Hotel Rhodania Crans Montana in Switzerland.