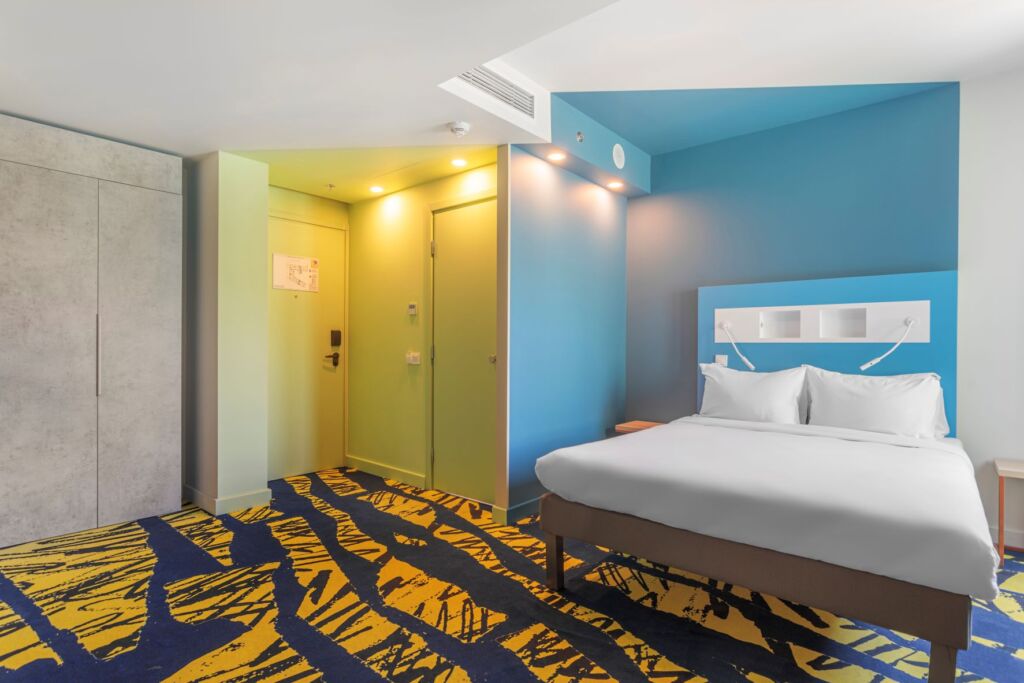 Accor announces the opening of the ibis budget Tbilisi Center, the first hotel of this brand in Georgia and the Group's fourth property in the country. ibis budget in Tbilisi will pleasantly surprise its guests with contemporary design, comfort and affordable prices.
ibis budget is one of Accor's leading economy brands and part of the globally renowned ibis brand family. With an easy-going atmosphere, ibis budget is a perfect base for urban adventurers seeking smart, comfortable rooms, intuitive design, and relaxed social spaces. The team of ibis budget Tbilisi Center welcomes the guests with Georgian hospitality and makes a stay at the hotel pleasant and memorable through friendly and thoughtful service.
"We are pleased to announce the opening of the fourth Accor hotel in Tbilisi, an iconic and especially valuable city for us. The opening of ibis budget Tbilisi Center not only strengthens our presence on the Tbilisi map but also marks the debut of the ibis budget economy brand in Georgia. The ibis family has already earned the love of tourists and residents of the Georgian capital, and we are confident that they will warmly welcome the new opening. It's impossible not to fall in love with Tbilisi, and I have no doubt that after staying here once, guests will come back again and again," – notes Alexis Delaroff, COO of Accor New East Europe.
Trendy and vibrant, the hotel is located in the very heart of the city, next to Rustaveli Avenue, the main street of Tbilisi, in 5 minutes' walk from the First Republic Square, just 20 minutes by car from the Tbilisi International Airport and within walking distance from the metro station. Located near the Tbilisi Concert Hall and the cosy Vera Park, it is surrounded by numerous historical sites, shopping malls, restaurants and bars.
The hotel offers 158 modern rooms of 6 types: Standard Double Room, Standard Twin Room, Standard Triple Room, Smart Double Room, Smart Triple Room, Family Room. Every room is equipped with everything needed for a comfortable stay, including climate control, Sweet Bed by ibis budget, free high-speed Wi-Fi, TV with a wide choice of channels and much more. The ibis budget new bedroom concept merges contemporary style and easy comfort.
Guests are welcome to enjoy a balanced continental breakfast every morning or start a day with a cup of coffee and a crispy croissant in the backyard of the hotel. For those who are always on the move, ibis Market Fridge with healthy food and soft drinks is available in the lobby.
At ibis budget, guests can share a passion for urban sports and active lifestyle. In line with this concept, ibis budget Tbilisi Center provides guests with a running map featuring a route close the hotel and shares training tips, as well as counts calories when they choose stairs – thus inspiring guests to exercise in a fun and easy way. Creative sports-themed design is reflected in all public areas of the hotel.
ibis budget Tbilisi Center is perfectly located for family getaways – 9 km away from Mtatsminda Amusement Park and 10 km away from Gino Paradise, which is the real heaven for kids. On top of that, Turtle and Lisi Lakes are fun places for families to visit.
Reikartz Hotel Group opens a hotel in Tbilisi, which is located 4 km from the railway station, 16 km from Tbilisi International Airport and a 4-minute walk from Avlabari metro station.