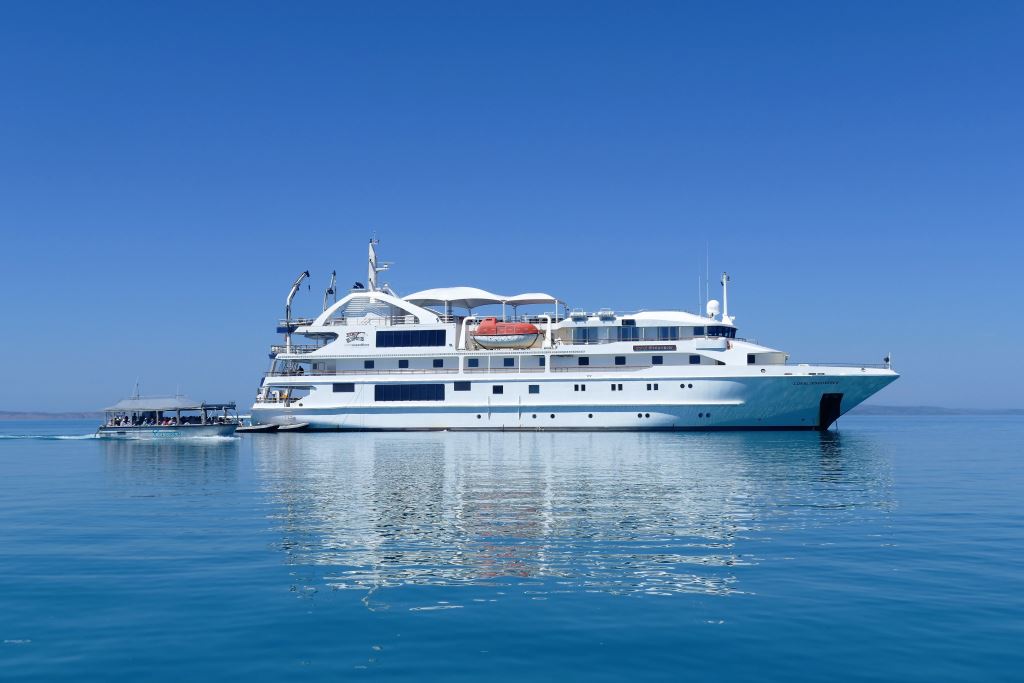 Coral Expeditions, Australia's small ship expedition line, has released a revised expanded sailing schedule for the 2021 Kimberley season, with a series of forty sailings onboard three vessels: Coral Discoverer, Coral Adventurer and the debut season of the new Coral Geographer. All three vessels are Australian flagged and crewed and carry fewer than 100 guests.

The season will start in late March and extend through to October 2021, with 10-night expeditions departing Darwin and Broome. In the company's 25-year history of Kimberley coast expeditions, this will be the largest season of over 40 voyages and will meet demand from our Australian guests who wish to experience this special destination. Guests will have the opportunity to see the Kimberley waterfalls in full flow in the early season and to see more of the whale migration season with departures in September and October.

Coral Expeditions led the Australian cruise industry with the introduction of its SailSAFE Planand health protocols, developed by Australian medical specialists for the current environment. The SailSAFE plan has been approved by all Australian State and Territory governments and is based on the most rigorous safety principles, giving guests and crew confidence and peace of mind to travel. The pre-screening protocols effectively create a "safe travel bubble" for guests and crew, supported by onboard mitigation and authorised response procedures. This plan has been vetted and proven on the company's Great Barrier Reef departures since October.

Jeff Gillies, Commercial Director at Coral Expeditions, comments, "We are pleased at the outstanding guest response we have received over the past 4 weeks since we recommenced our operations on Queensland's Great Barrier Reef. We are proud to have forged a way back and the wonderful feedback from our guests reinforces our feeling that there is no better sanctuary than our expansive Australian coast. After 25 years exploring this vast wilderness, The Kimberley really is our backyard. The expert local guidance and deep knowledge of our Australian crew will ensure you see the region at its best".
All Kimberley expeditions include the following highlights:
Enjoy the thrill of riding the tidal rapids of the Horizontal Falls aboard a zodiac
Take in the spectacle of King George River's majestic cliffs and get up close to the roaring 80m high King George Falls. Get an eagle's eye view of the rugged escarpment landscape on a scenic Helicopter flight over the Mitchell Falls.
Walk with traditional owners and guides to view ancient rock art galleries and learn about the Wandjina and Gwion Gwion art.
Get up close and personal to Montgomery Reef and watch in awe as it emerges from beneath the sea on the descending tide.
Drift through the shallow lagoon and witness juvenile rays and sharks, abundant turtles and rare bird species including Brown Footed Boobies, Eastern Ospreys and White Breasted Sea Eagles of the Lacapede Islands.
Relax with newfound friends and ice-cold sundowners as you sit bare footed on the silica sands watching stunning top end sunsets.