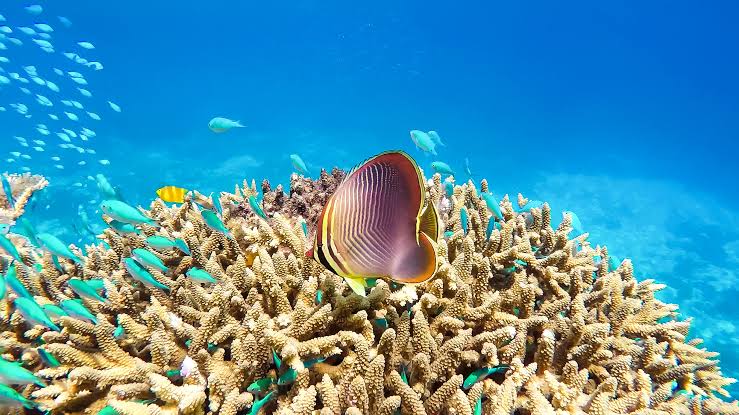 Yesterday marked a significant milestone and the first steps in an important new era for the company and the Australian marine expedition sector with the successful return to operations for Australia's pioneering small ship expedition line, Coral Expeditions.
An excited group of 46 passengers along with 20 crew set off from Cairns on the first of a new series of 7-night voyages to explore the remote islands and reefs of the northern GBR. Most of the guests and crew are Queensland residents, with all eagerly anticipating the opportunity to travel once more and to enjoy the sanctuary and natural wonder of the Great Barrier Reef.
The departure marks the culmination of months of preparation, effort and initiative by the Coral Expeditions team who has worked in partnership with medical expert Dr Ian Norton from Respond Global, to develop the world-class SailSAFE Plan. This program has been approved by all Australian State and Territory governments and outlines principles now being adopted by other global travel sectors. It is based on rigorous safety principles effectively creating a 'safe travel bubble' for guests and crew through pre-boarding screening, onboard mitigation process and authorised response control.
The company's Australian flag status, small guest count and all-Australian guest and crew compliment have been critical elements of the restart success and have given guests peace of mind and confidence in the current environment.
Boarding the yacht-like Coral Discoverer there was a palpable level of excitement and guests were overwhelmingly positive regarding the SailSAFE requirements they completed in preparing for their cruise. As Coral Discoverer dropped her lines and pulled away from the wharf, crew and guests alike could not hold back broad smiles at the feeling of returning to sea. She passed close by the crew onboard the docked Coral Adventurer where a particularly emotional and hope-filled cheer was shared by our seafarers. In the office, Coral Expeditions staff followed with videos and photos and news of the successful departure, and there was a universal feeling of satisfaction and elation, along with a champagne pop, as Coral Discoverer made her way out of Trinity Inlet towards the Great Barrier Reef.
The highly experiential and nature-based Outerknown Adventures of the Great Barrier Reef expeditions will take small groups of guests to explore the pristine outer reefs and lesser-known islands of the Great Barrier Reef, showcasing the extraordinary marine life and the rich natural and cultural history of Far North Queensland. Itinerary highlights include access to remote locations and a connection with Reef conservation efforts.