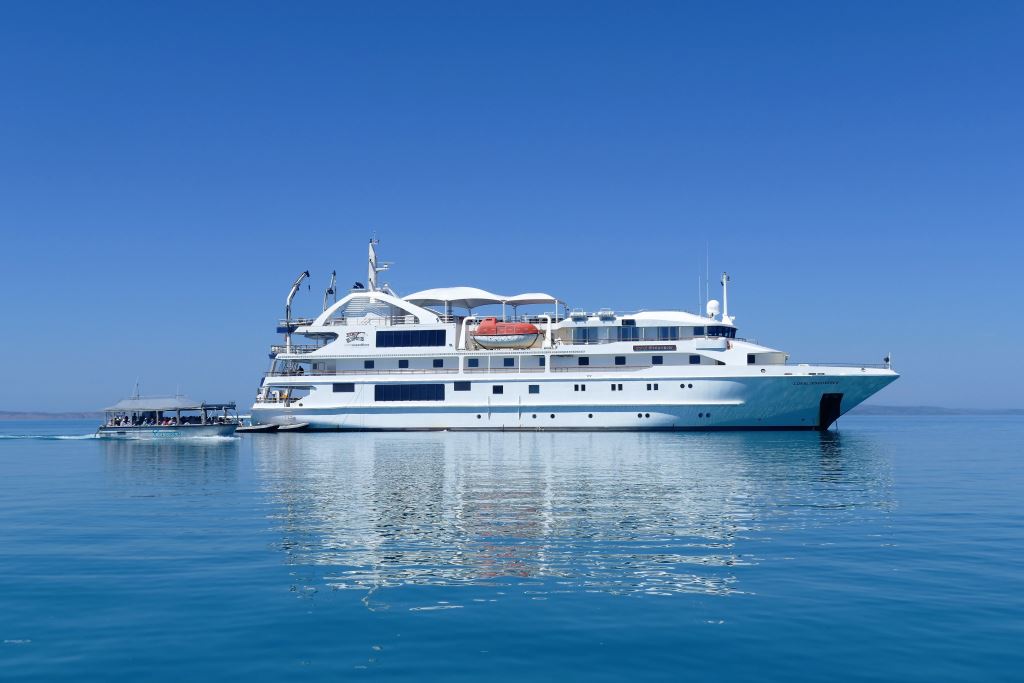 Coral Expeditions confirms operations will restart in Western Australia this month, its 25th year of continuous operations in the state. The company has attained all required state and federal approvals including the endorsement of their travel industry-leading SailSAFE plan. The announcement marks another significant milestone for the Australian expedition cruise industry. Coral Expeditions has been continuously operating incident-free in the Great Barrier Reef and Tasmania since October 2020 and have just completed a very successful inaugural voyage in South Australian waters last week.
The company's 2021 voyages include new itineraries exploring the coastline and rarely visited islands off WA, as well as its celebrated Kimberley voyage between Broome and Darwin – a slice of classic Australian heritage.
Coral Adventurer, the company's state-of-the-art expedition ship delivered in 2019, is currently en route from Adelaide to Fremantle. On 10 March 2021, she will sail from Fremantle to Broome calling on the Houtman Abrolhos group, Ningaloo and Shark Bay, the Muiron and Montebello Islands and the Dampier Archipelagos. In another milestone for the company, the brand-new vessel Coral Geographer (to be delivered March 2021) will depart on her sold-out Maiden Voyage on 31st March. The expedition "Across the Top of Australia', a 19-night expedition exploring remote regions of WA including Ashmore Reef, Scott Reef, Adele Island and the Lacepedes.
Coral Adventurer and Coral Geographer have been designed and built specifically for extended expeditions along the rugged Australian coast.
The resumption of the companies' cruise schedule in Western Australia will involve more than forty-five departures in 2021 with expected passenger numbers to exceed 4000 guests. It is anticipated that it will create a positive contribution to regional tourism at a time of great challenge, without compromising health outcomes.
Coral Expeditions complete expedition series in Western Australia involves over 45 varied departures in 2021 and includes:
Abrolhos Islands & the Coral Coast
12-nights | Fremantle to Broome departing 20 March 2021, 1 March 2022
Departing Fremantle, this expedition explores Western Australia's wild and largely untouched coast, with its contrasting coastal palette of rich red sands and turquoise sea. With a fascinating maritime and Indigenous history – from the Malgana people of Shark Bay to the exploratory journeys of William Dampier, Dirk Hartog, Baudin and Freycinet – this region is layered with stories. The natural coastal reserves harbour an abundance of birdlife and fascinating marine species. Our guides will help guests explore the renowned Houtman Abrolhos Islands, Shark Bay World Heritage Area, Ningaloo Reef, Cape Range National Park, Montebello Islands, Muiron Islands and Dampier Archipelago.
Staterooms from $9,290 per person twin share, all-inclusive
Ningaloo & the Bluewater Wonders of Australia's West
10-nights | Broome to Broome departing 7 May 2021 > 28 May 2021 > 16 May 2022 > 27 May 2022
Join this pioneering voyage down Western Australia's Coral coast onboard Coral Discoverer. Departing Broome, we will visit the spectacular Rowley Shoals Marine Park, the Dampier Archipelago, and the historic Montebello Islands. An exploration of the renowned Ningaloo Reef completes our voyage. Our marine experts and guides lead our discovery of this pristine coastal habitat.
Staterooms from $11,990 per person twin share, all-inclusive
The Definitive Kimberley
10-nights | Broome – Darwin or v.v. departing April to September annually
In 2021, Coral Expeditions announces increased capacity on our Definitive Kimberley itineraries with the fleet of three purpose-built expedition vessels operating in the region. Representing our classic 10-day voyage, this voyage is an immersion into an ancient land covering more than 400,000 square kilometres, yet home to just 30,000 people the Kimberley Region is acknowledged as one of the world's most beautiful wilderness areas. Witness magnificent coastal vistas created by towering rock ridges, silent secluded gorges, plunging waterfalls, abundant wildlife, and massive tidal movements.
Staterooms from $10,990 per person twin share, all-inclusive
The Kimberley Icons, Ashmore Reef and Rowley Shoals
12-nights | Darwin – Broome departing 15 October 2021
This new itinerary onboard brand-new Coral Geographer combines our classic 10-day Kimberley itinerary with a visit to the spectacular Rowley Shoals Marine Park and Ashmore Reef. Witness magnificent coastal vistas created by towering rock ridges, silent secluded gorges, abundant wildlife, and massive tidal movements. Finish off the voyage at a chain of coral atolls offering some of the best snorkelling and diving opportunities in the world. Their shallow lagoons are inhabited by myriad coral species and marine life, including giant potato cod, Maori wrasse, at least 233 species of coral and 688 species of fish – many of which are not found on other coral reefs.