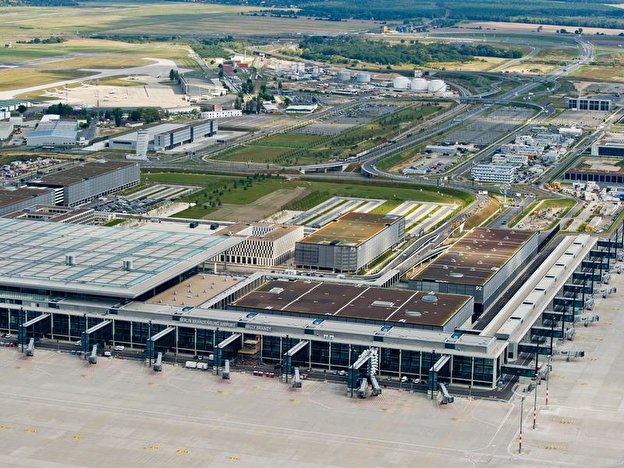 On the evening of 31 October 2020, Terminal 1 of Berlin Brandenburg Airport will open with the arrival of the first scheduled flights. One week later, on 7 November 2020, regular flight operations at Tegel will cease. In between the commissioning of Terminal 1 and the closing of Tegel, the airlines shall relocate to Berlin Brandenburg Airport in three stages; either into Terminal 1 or Terminal 5. Moreover, the airlines currently located in T5 (formerly SXF) shall move into T1. Travellers should therefore find out well before their flight from which airport and terminal they shall depart and where they should arrive. This information can be found directly from the airline or via the BER website.
BER is now connected to the railway network. The airport is well connected to the public transport network, allowing for convenient, fast and environmentally friendly access.
The new station is located directly under Terminal 1 on level U2. Thanks to this unique design and the particularly short walking distances, passengers arriving and departing at BER benefit from direct access to trains and S-Bahn services under the terminal. The six-track station with three platforms is designed to handle up to 125,000 passengers per day and ensures the smooth arrival and departure for passengers and employees. It is expected that a total of two out of three travellers will arrive at the new airport by public transport.
Engelbert Lütke Daldrup, CEO of Flughafen Berlin Brandenburg GmbH: "We are delighted that the airport railway station is going into operation today and would like to take this opportunity to thank our partners for close, constructive and solution-oriented collaboration even in difficult times. With its efficient railway station directly under Terminal 1, BER boast an important unique selling point compared to all other major German airports. The ability to take a lift from the platform directly to the check-in hall is a unique feature in Germany. BER is a train-friendly airport that sets a benchmark for environmentally conscious travel."