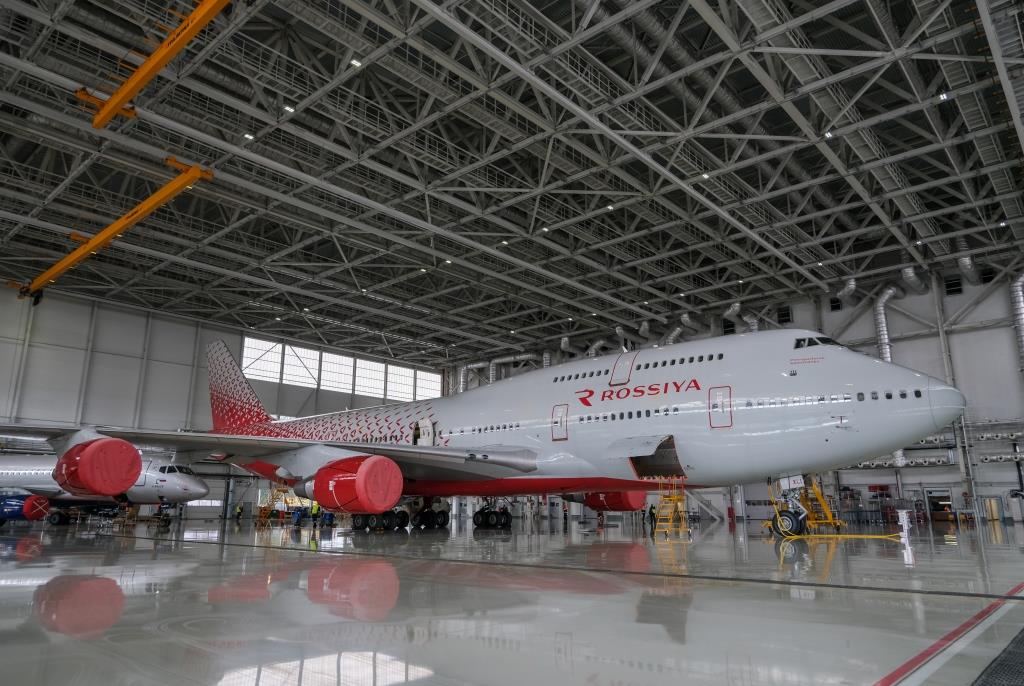 Sheremetyevo International Airport completed the construction of a hangar complex in 12 months. That is a record for the construction of complex technical buildings of this type in Russia. The commissioning of the modern hangar complex is one of the stages of the long-term development programme of the airport. JSC Sheremetyevo International Airport invested over $ 57 million in the project.
The complex' total area of 16 760 sq. m. includes hangar for aircraft maintenance with 5-storey industrial building and 2-storey annexe of hazardous facilities, compressor station, fire pump station with storage tanks, transformer station with diesel-generator set. There is also a pre-hangar area for aircraft parking and transporting to the hangar with roads and technological platforms for driving and maneuvering of special vehicles on the territory of the complex.
The complex is equipped with modern engineering equipment for a comprehensive check of the technical condition of an aircraft, which is performed once a month or every 500 flight-hours. Special attention is paid to compliance with environmental standards during production processes: local wastewater treatment facilities are installed on the territory of the complex. Sheremetyevo provides airlines with a high level of services due to the high-tech efficient infrastructure, high capacity of the airport complex and the airfield.
Participants of the presentation of the hangar complex were able to get acquainted with the periodic maintenance of one of the largest aircraft of domestic airlines – Boeing 747-400, which belongs to Rossiya Airlines (with the tail number EI-XLI). The carrier is a world leader in the number of operating passenger liners of this type. The company has 9 aircraft in its fleet. In total, in 2019, Boeing 747-400 operated 4989 flights of Rossiya. The new technical complex also provides maintenance of Boeing-777 and Boeing-737 of Rossiya Airlines.
Safety of Rossiya Airlines' passengers is the key priority in transportation. Due to cooperation with such modern maintenance centers, the company maintains a high level of flight safety. The airline is annually included in the rating of the German research center Jet Airliner Crash Data Evaluation Centre (JACDEC). In 2020, Rossiya secured the 32nd place, significantly improving its result (47th place at the end of 2019) compared to the last year's rating. Thus, the airline has secured the first place among representatives of domestic civil aviation.
Rossiya has been the holder of the IOSA (IATA Operational Safety Audit) certificate since 2007, which is annually confirmed by the results of successful completion of the operational safety audit of the International Air Transport Association (IATA). Auditors of the international organization check the airline for more than a thousand operational safety requirements. One of the main aspects studied is the maintenance of airworthiness and maintenance of aircraft, ground handling and aviation security.