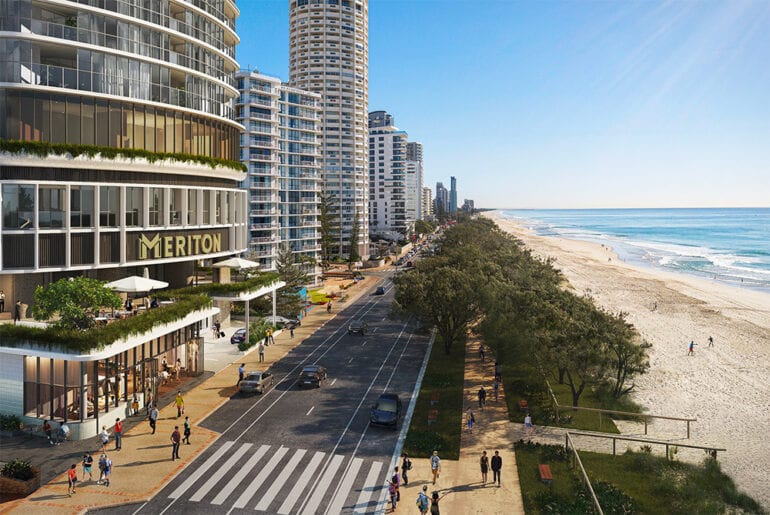 Meriton Suites continues to strengthen its position as Australia's largest owner of hotel suites with the successful opening of two hotels in 2019; Carter Street, Lidcombe and Sussex Street, Sydney, and is accelerating its expansion plans throughout Australia by welcoming guests to seven new hotels: Eastgardens, Surfers Paradise, Melbourne, George Street, Parramatta, Canberra, Uhrig Road, Lidcombe and Liverpool by 2022.
Meriton Suites Eastgardens is set to be the first to open in mid-2020 and will boast 200 spacious one, two- and three-bedroom suites, ideal for both corporate and leisure travellers. The location is renowned for its easy connectivity to an array of iconic Sydney lifestyle destinations like Sydney's most pristine coastlines, the city centre and both the Sydney Domestic and International Airports.
In 2021 we plan to open an additional four hotels in Surfers Paradise, Melbourne, George Street Parramatta and Canberra. Meriton Suites Surfers Paradise will comprise of 332 beautifully appointed studio, one, two- and three-bedroom suites. This stunning beachfront accommodation option on the Gold Coast will be located directly on The Esplanade and given its absolute beachfront location, most suites will boast unobstructed views of the beach and the Pacific Ocean.
Meriton Suites Melbourne is the first to open in the state of Victoria and will be centrally located in the heart of Melbourne city. It will offer guests an accommodation experience that is second to none with a selection of 298 stylish studio, one, two- and three-bedroom suites and will also feature two luxury three-bedroom penthouse suites. Next to open its doors will be George Street, Parramatta, located on the edge of Parramatta River, it will be surrounded by an abundance of entertainment venues, delicious eats, and leading sporting grounds, as well as corporate head offices and government departments. George Street, Parramatta hotel will offer a modern, luxurious way to stay for both corporate and recreational guests alike.
In line with the brand's national expansion vision, Canberra will also be a first for Meriton Suites and will introduce 213 brand new luxury hotel suites to the nation's capital at the end of 2021. Comprising of one, two and three-bedroom suites, plus two grand three-bedroom penthouse suites, this location will be perfect for every traveller choosing to visit Australia's capital city.
Meriton Suites Liverpool is the last location in the current pipeline which is set to open in 2022. Featuring 163 brand new studio, one, two- and three-bedroom suites, this location will become an essential hub for the surrounding universities, hospitals and impending construction of Western Sydney's brand-new international airport at Badgerys Creek, drawing on visitors who need both short and medium-term accommodation.
"We are delighted to see the continuing growth of the Meriton Suites brand across Australia with our new hotel openings." Said Matthew Thomas, Group General Manager of Meriton Suites.
"As the industry evolves to the changing needs of tourists and the growing success of our brand, we are firmly committed to expanding our offering into even more great locations around Australia and we will continue to actively acquire more sites to fulfil our national expansion vision and bring a new level of accommodation to Australia." He continues.
Meriton Suites currently operates 19 properties across Sydney, Brisbane and on the Gold Coast.