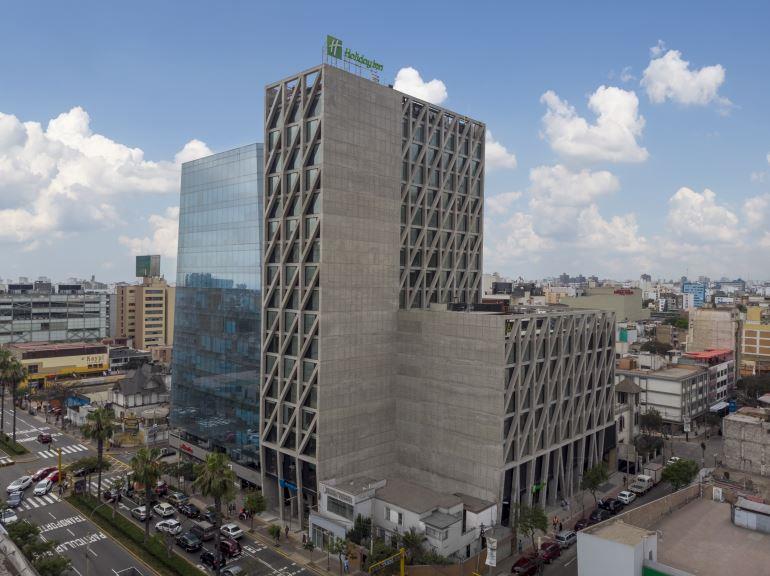 IHG announces the opening of the Holiday Inn Lima Miraflores hotel, a new development located in the capital city's vibrant, seaside neighborhood of Miraflores. This hotel marks IHG's fifth property in Peru. It is owned by Grucaba S.A.C. and managed by IHG.
Just steps from Kennedy Park, the 17-story Holiday Inn Lima Miraflores hotel is centrally located at Av Ricardo Palma 355 and surrounded by Lima's finest dining, entertainment and shopping venues as well as several cultural attractions, such as the Amano, Pre-Columbian Textile Museum and Huaca Huallamarcam, a renowned archeological site in Lima.
While the hotel is a sleek, modern building, the interiors pay homage to the country's pre-Incan culture, known as the Lima culture. While the hotel's interior minimalist and geometric design was inspired by the Lima culture, the archaeological site of Puruchucos serves as the main architectural reference for the building. Rene Poggione led the architectural designs for the emblematic hotel, while the revered architect Germán Margozzini spearheaded the hotel's interior design. Additional elements adorning the guest rooms and public areas are photographs and artwork by the talented Maco Vargas, Giham Tubeh and Isabel Rejtman, Peruvian artists renowned for their series of works inspired by pre-Inca architecture.
With its central location and fresh design, Holiday Inn Lima Miraflores has 200 stylish guest rooms, including a penthouse suite, which offers amazing city views; the Lima Restaurant and Lounge, serving favorite local cuisine; a fully equipped business center; an outdoor swimming pool on the hotel's eighth floor; and a 24-hour fitness center. The property also boasts more than 3,000 square feet of meeting and event space.
Peru continues to be one of South America's fastest growing emerging markets, providing a strong economic environment for IHG's diverse portfolio of brands. IHG currently has four hotels open in Peru's capital city – Holiday Inn Lima Airport, Holiday Inn Express Lima San Isidro, the new Holiday Inn Lima Miraflores and Crowne Plaza Lima. In June of 2019, IHG also celebrated the opening of Holiday Inn Piura located in the northern part of the country.