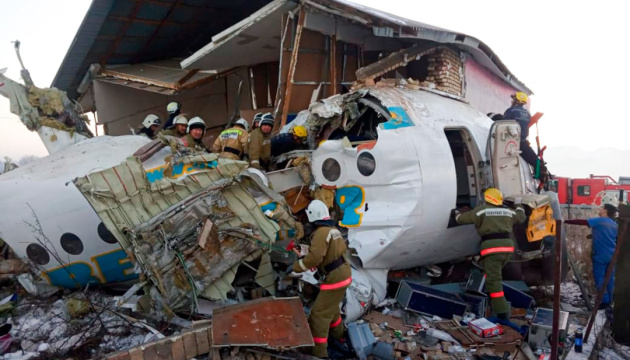 A Kazakhstan plane with 93 passengers and 5 cabin crew members aboard crashed shortly after takeoff early Friday, killing at least 15 people, while 49 were hospitalized with injuries.
The Bek Air aircraft hit a concrete fence and a two-story building after takeoff from Almaty, Kazakhstan. Bek Air Flight 2100 was heading for the capital, Nur-Sultan.
The authorities were investigating pilot error or technical problems as possible causes of the plane crash in Kazakhstan. The aircraft was identified as a Fokker-100, a medium-sized, twin-turbofan jet airliner. It was reported to be 23 years old and was most recently certified to operate in May.
The last major commercial plane crash in Kazakhstan was in 2013 when a SCAT Airlines Canadair CRJ-200 regional jet went down outside Almaty killing all 21 onboard.
"All the guilty will be punished severely in accordance with the law," said Kazakhstan's president, Kassym-Jomart Tokayev on Twitter.