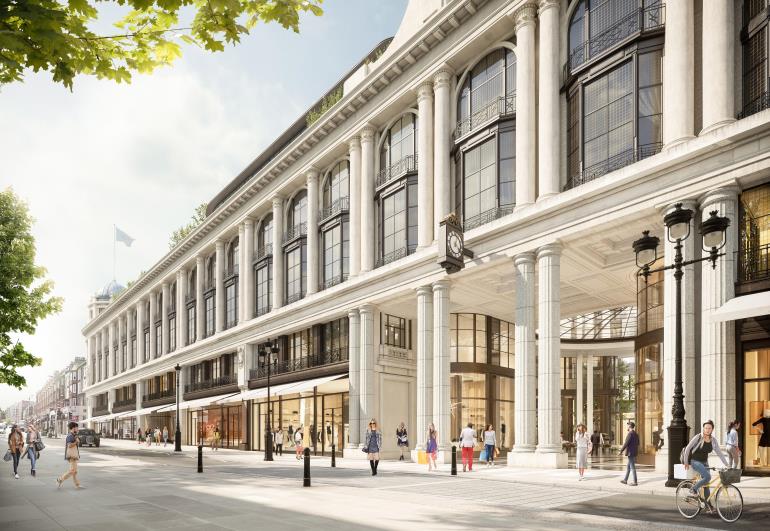 With its proximity to Hyde Park and Kensington Palace, Bayswater in West London is recognized for its streets lined with grand terraces of white stucco houses and garden squares. Among them is an iconic building and former department store – Whiteleys – soon to become home to Six Senses London.
The hotel, wellness club and spa mark the brand's entry into the UK and will open with 110 guest rooms and suites, starting from 355 square feet (33 square meters) and celebrating the building's origins, while making space for modern living. There will also be 14 branded residences, with owners able to tap into all the privileges that come with a Six Senses home, including bespoke interior design, concierge service, dining, housekeeping and wellness programming.
Sustainable heritage preservation
Whiteleys takes its name from visionary entrepreneur, William Whiteley, who opened his first drapery shop in Westbourne Grove in 1863. A little over a decade later, the shop had grown to a department store described as "an immense symposium of the arts and industries of the nation and of the world". Once a vibrant destination that formed the focus for the surrounding residential neighborhood, Whiteleys was then redeveloped in the 1980s into a shopping center with a cinema and bowling alley. It subsequently closed its doors in December 2018 as its popularity diminished.
The redevelopment of Whiteleys is headed by a Meyer Bergman-advised fund, with the preeminent residential real estate developer Finchatton as development manager. In collaboration with the British architectural firm, Foster + Partners, renowned for its eco credentials and responsible design approach, this historic landmark will become a sensitively restored mixed-use development. The original Grade II façade, central courtyard and dome will all be preserved, as will the majestic internal staircase (modeled on the La Scala opera house in Milan), which features as the centerpiece on the ground floor of the hotel.
Design inspired by connectivity
Inspired by the building's origins, the interiors of Six Senses London are designed by internationally celebrated AvroKO in conjunction with executive architects EPR, and combine nostalgic nods to classical detailing and art deco along with modern streamlining. To add a touch of local culture to the preserved Great Exhibition mood, contemporary art from British artists will be showcased throughout the hotel.
The Six Senses brand philosophy of connection to people and nature is central to the convivial and biophilic tone of the ground floor. It features a cozy lobby bar and lounge (for talking to friends or the plants), all-day dining restaurant with an open kitchen and seating area in the courtyard. Much of the lobby's character derives from its verdant, elegant and eclectic style. Imaginative planting, textured fabrics, bespoke flooring, reclaimed wood furniture and upholstery in natural tones with glass display cabinets flanking its walls cleverly bring about coziness in 14,000 square feet (1,300 square meters) of public space which encourages guests to socialize, eat, play or simply be.
Six Senses London is slated to open in 2023.