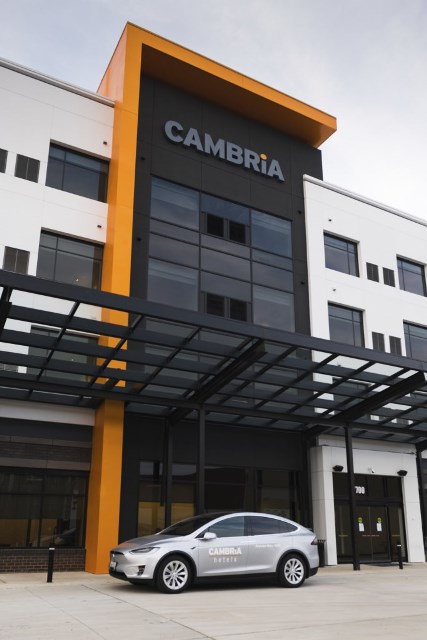 The Lone Star State is already home to six Cambria hotels and there are 10 more in the pipeline in top locations such as Dallas, downtown Austin, The Domain in Austin, Irving and Waco. For its part, New York City offers four open Cambria Hotels in the metropolitan area, while the Niagara Falls hotel will be the first upstate location.
Cambria Hotel Austin Airport: Slated to open in 2021 and developed by W2 SF Airport Hospitality Business LP, an affiliate of W2 Real Estate Partners, the 127-room hotel will be situated at 7800 E. Ben White Blvd. near the Austin Bergstrom International Airport and just minutes from downtown

Austin

. The hotel's location will place it near "Silicon Hills," where many high-tech companies operate, including Apple, Google, Facebook, Dell, Oracle and Silicon Laboratories. Guests will also have access to the popular South by Southwest (SXSW) festival each year, a conglomerate of film, interactive media, music and conferences. Additional points of interest near the future hotel include the Circuit of the Americas raceway, the Austin360 Amphitheater, the

University of Texas at Austin

and the Texas State Capitol.
Cambria Hotel Niagara Falls: The 120-room hotel is expected to open in 2022 at 311 Rainbow Blvd. in downtown

Niagara Falls

, just two blocks from the world-famous Niagara Falls State Park, which welcomes over 9 million visitors annually. Guests will be able to take advantage of popular tourist attractions like the Maid of the Mist boat tour or get closer to the Falls by descending into the Niagara Gorge at the Cave of the Winds. Future guests also will be able to visit the nearby Robert Moses Niagara Power Plant to see how the Falls serves as a hydroelectric power source. The hotel will be developed by Plati Niagara Inc., which also owns a Quality Inn in

Niagara Falls

.
Cambria hotels are designed for today's time-starved travelers looking for moments to connect to people and places through modern conveniences. The Austin and Niagara Falls hotels will feature the following upscale amenities:
Locally inspired, contemporary design and sophisticated guestrooms, complete with modern fixtures, abundant lighting and plush bedding.
Immersive, spa-style bathrooms with Bluetooth mirrors.
Freshly made food, local craft beer on tap, wine, specialty cocktails and small bites.
Multi-function meeting space.
State-of-the-art fitness centers.
The

Austin

property will include an outdoor pool.
"As we close out a record year in which we opened 11 Cambria hotels — together representing 1,700 upscale rooms — these new franchise agreements are a sign that Choice will continue to bring the Cambria brand to even more top markets around the country," said Janis Cannon, senior vice president, upscale brands, Choice Hotels. "We've listened closely to our guests as the brand has grown, which is why we offer hotels in prime locations near corporate businesses and city attractions as well as upscale amenities that allow them to maximize their time on the road."
There are 50 Cambria hotels open across the U.S. in popular cities, like Chicago; Dallas; Los Angeles; Nashville, Tennessee; New York; Phoenix; and Washington, D.C.