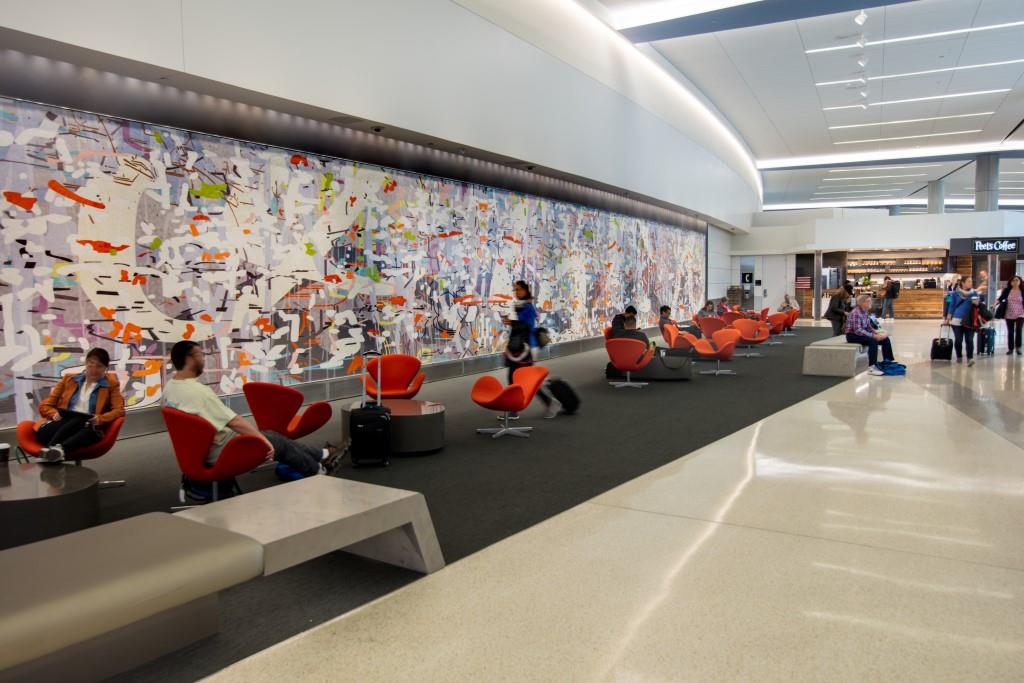 The San Francisco International Airport (SFO) announced the start of the holiday travel season, outlining travel tips, new facilities and destinations, and an event to illuminate the Airport exterior in holiday lighting. The holiday travel season will begin in earnest this week, and the peak travel day expected to be Friday, November 22, 2019, with more than 171,000 forecasted passengers arriving and departing SFO. In total, approximately 6.9 million travelers are expected at SFO between November 15, 2019, and January 1, 2020.
What's New at SFO for 2019 Holiday Season
First phase of Harvey Milk Terminal 1 is open
The first nine-gate section of the new Harvey Milk Terminal 1 is open, with nine gates operated by Southwest Airlines and JetBlue. The first section of this new facility features nine concession concepts, seven installations of public art, and an SFO Museum exhibit – Harvey Milk: Messenger of Hope, which features nearly 100 images, including photos, correspondence, and campaign materials, giving travelers a glimpse into Milk's life, including his activism and ascendance as a political leader in San Francisco, as well as his tragic assassination, and a legacy fighting for diversity, equity, and inclusion that lives on today. For more information, please visit www.flysfo.com/T1.
New on-airport hotel is open, linked seamlessly via AirTrain
The Grand Hyatt at SFO, the only hotel located on airport grounds, is open, featuring 351 rooms with 22 suites, 14,435 square feet of well-appointed meeting and event space, two distinct culinary concepts, and impressive art. The hotel is connected seamlessly via the AirTrain light rail system to all terminals, parking garages, rental car center, and BART station. For more information, please visit www.flysfo.com/grand-hyatt-sfo.
New gate numbering makes finding your way easier than ever
In October 2019, SFO launched a new airport-wide gate numbering system to make navigating easier than ever. The new system is alphanumeric, in which gates will be assigned both a letter and a number. The letter corresponds to the concourse, which SFO calls Boarding Areas, while the number refers to the specific gate within that Boarding Area. For more information, please visit www.flysfo.com/gate-renumbering.
New destinations for holiday 2019
For the 2019 holiday travel season, SFO offers new international destinations, including Norwegian Air service to Barcelona and Paris, new United Airlines nonstop service to Melbourne, Australia, and a second-daily United flight to Hong Kong. On December 5th United will also launch new daily nonstop service from SFO to New Delhi.