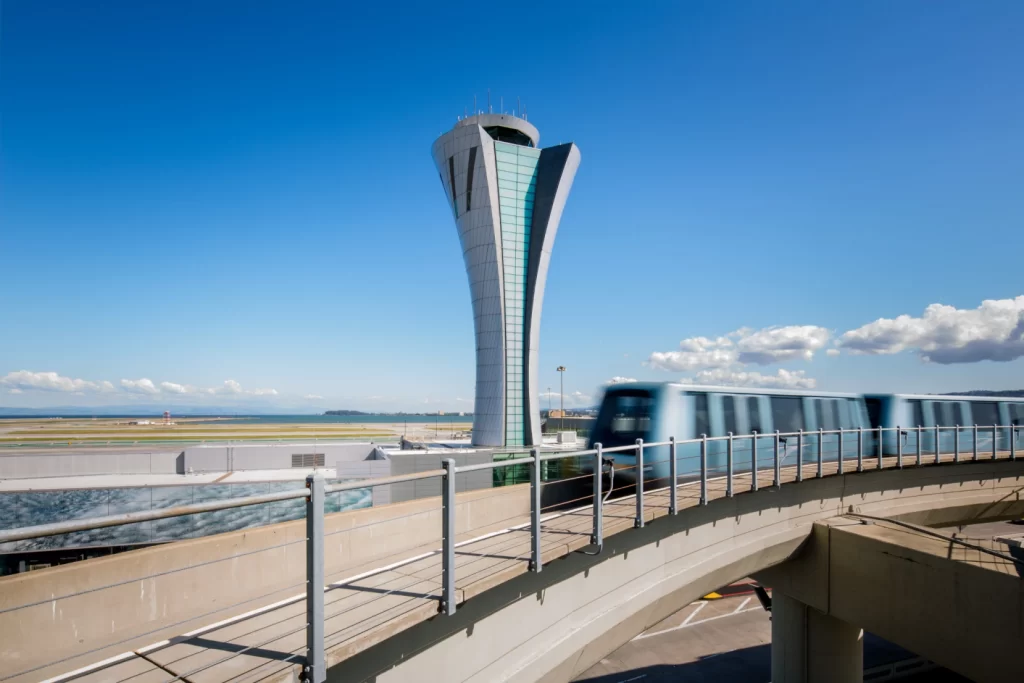 The San Francisco International Airport (SFO) announced it has recently received approval from the Federal Aviation Administration (FAA) to use a new landing technology. SFO hopes this new technology, the Ground-Based Augmentation System (GBAS), may eventually help reduce aircraft noise over nearby communities. GBAS uses a broadcast station located on Airport grounds to produce an enhanced Global Positioning System (GPS) signal more accurate than what satellites alone can provide. Properly equipped aircraft can utilize this system to land with a greater degree of precision than current systems.
With this approval, the system at SFO is available to replicate existing landing procedures, which paves the way for SFO to submit innovative new procedures, specific to GBAS, which it hopes will eventually help reduce noise in nearby communities in the future. The FAA has yet to formally adopt this technology on a federal level, but SFO hopes to demonstrate its effectiveness for use at airports across the nation.
"This is a major milestone in a journey that began over five years ago," said Airport Director Ivar C. Satero. "There are many potential benefits to GBAS, but our primary hope for this technology is to help reduce aircraft noise in our communities. We have much more work to do, but this is a critical first step. My sincere thanks go out to our project team, all the airlines who supported its development, United Airlines, who conducted real-world flight testing, and the FAA for certifying this system for use."
How it works
GBAS utilizes receivers and broadcast antennae to correct inherent errors in satellite-based GPS resulting from atmospheric conditions, minor clock errors and the position of the satellites. Using its highly accurate fixed position, it compares locational information from nearby satellites and produces a corrected GPS message which is broadcast to aircraft landing at SFO. Uncorrected, GPS is accurate to about 40 meters. With GBAS, the accuracy improves to within 2-3 centimeters.
Potential benefits
This precision offers multiple benefits, including improved safety and performance during bad weather, but also the potential for new landing procedures, which could potentially reduce community noise by approaching at higher altitudes or further offshore. SFO has initiated these innovative procedures for community review and comment, with the hopes of submitting a series of procedures to the FAA for evaluation. If approved, SFO plans to have innovative GBAS procedures for future airline use in the next few years.
Development, flight testing, and certification
SFO has been pursuing GBAS for over five years, working with airline flight crews and FAA technical staff to guide the siting, installation, and testing of the required hardware. These efforts included airline testing of GBAS procedures in flight simulators and real-world testing by United Airlines on non-passenger flights. The final phase involved FAA flight testing of the system to support operational use at SFO. The FAA also approved the use of the system to replicate existing procedures, a critical step before future innovative procedures can be pursued. SFO staff will conduct noise testing of existing GBAS flight operations to validate ongoing computer modeling.