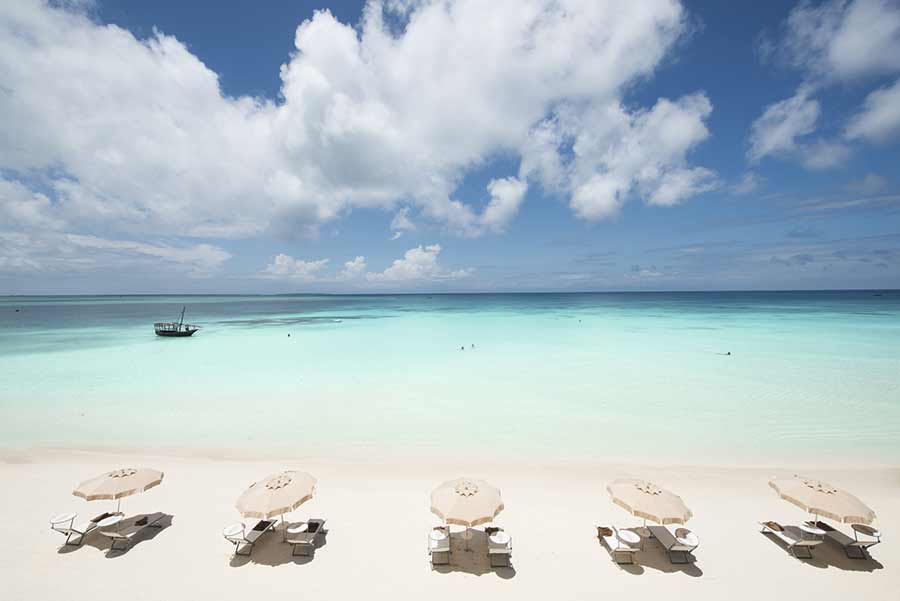 RIU Hotels & Resorts has just added Zanzibar to the catalogue of exotic destinations the chain offers to its loyal customers. The Riu Palace Zanzibar is a luxury hotel with 102 rooms and suites located on the northern tip of Unguja, the main island of the archipelago of Zanzibar, less than an hour from the airport and the capital, Zanzibar City, the centre of which is known as Stone Town.
RIU formalised the purchase of the hotel today, 18 April 2018, from the Emerald hotel chain, which up to now has operated the hotel as the Hideaway of Nungwi Resort & Spa. The New Riu Palace Zanzibar will be the perfect complement to RIU's offer in the Indian Ocean, where it offers two hotels in Mauritius and one in Sri Lanka.
The hotel belongs to the exclusive The Leading Hotels of the World collection thanks to its excellent location right on Nungwi Beach, one of the loveliest of the island, to the tasteful decoration on display in every room and space, and to its excellent service. It has three restaurants—the main one with a buffet serving international cuisine, an Asian restaurant and a grill—as well as two bars. And, the hotel has a full-service spa, a children's club, conference rooms, a gym and a tennis court.
RIU will maintain the characteristics of the hotel for this year's season and, in the coming 2018-2019 winter season, will introduce the RIU 24-hour, all-inclusive programme and adapt its offer to the exclusive line of Riu Palace Adults-Only hotels.
Zanzibar is a semi-autonomous zone of Tanzania that has become very popular with travellers as part of a trip that combines a safari in the Serengeti National Park with a stay on the marvellous beaches of the island. Zanzibar has a fascinating history influenced by Persians, Arabs, Muslims, Portuguese and the African continent itself. The historic centre of Zanzibar City, the birthplace of singer Freddy Mercury, is known as Stone Town and was declared a UNESCO World Heritage Site in 2000.