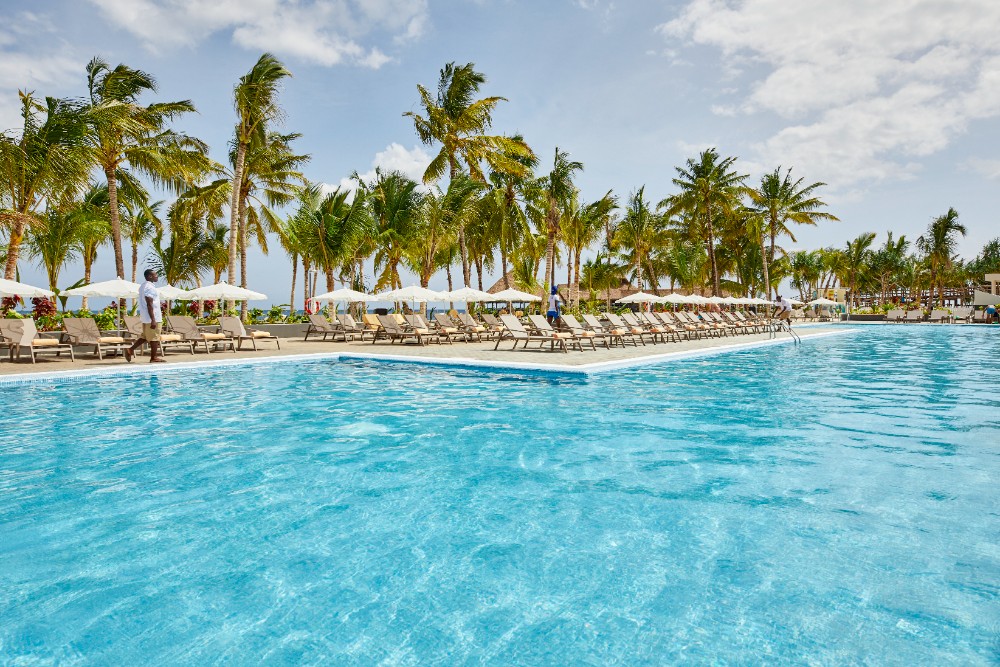 The hotel Riu Jambo has an unbeatable location in the north of Zanzibar's largest island, Unguja, on the idyllic Nungwi beach. The 4-star, 24-hour all-inclusive hotel has a total of 461 rooms. The main feature that sets it apart from other RIU hotels is the stilted structure that stretches out from the beach over the sea, where guests will find some of the hotel's dining services. The new Riu Jambo is right next to the Riu Palace Zanzibar, which was refurbished in 2019 and has luxurious facilities. This new opening enhances the chain's range of hotels in the destination with an establishment where guests can enjoy a family holiday.
The main building, with five and six floors, houses the hotel's reception and most of the rooms. It boasts a spectacular façade with murals inspired by African culture, and several of its towers are crowned with masks. Sustainability and energy efficiency also play an important role in this building. The lobby is completely open-plan with natural cross ventilation and plenty of natural light thanks to numerous openings, which also allow customers to see different areas of the hotel and the amazing views from the moment they arrive. Apart from its impressive height, the main showpiece in this area is a large skylight in the middle of the lobby. Natural materials are used in the furniture, decoration, floors and coverings alike.
The hotel has 461 rooms, 93 of which are at ground level on the seafront. These rooms are staggered so as to not obstruct views of the surrounding landscape. They are all fully equipped to ensure that customers enjoy maximum comfort during their stay. The rooms are decorated in earthy tones and wood once again plays a central role. This combination, along with paintings of typical Tanzanian scenes, creates a welcoming atmosphere.
The plot where this new establishment has been built was previously home to the La Gema dell'Est hotel, which RIU bought in 2019. Certain elements of the previous hotel have been maintained, such as the spectacular stilted structure.