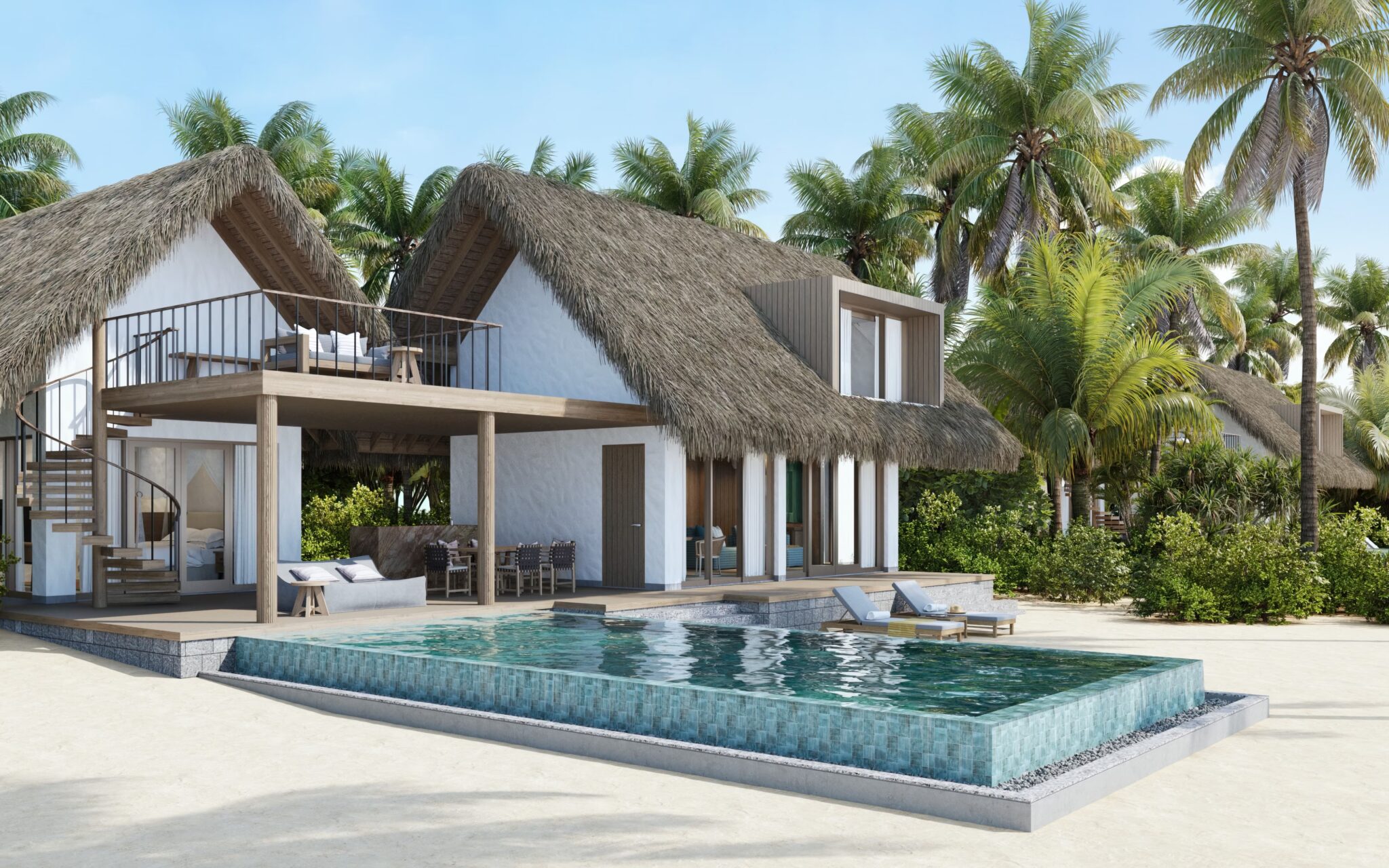 Six Senses Kanuhura, nestled in the pristine Lhaviyani atoll of the Maldives, has reopened its doors to welcome both new and returning guests to its idyllic island retreat. This luxurious haven boasts a long, palm-fringed, white sandy beach and two private islands, offering a natural paradise for those seeking relaxation, adventure, and sustainable living. Let's delve into the enchanting world of Six Senses Kanuhura and discover what makes it a must-visit destination.
A Tranquil Island Oasis
As you step onto the powdery white sands of Six Senses Kanuhura, you'll instantly feel the cares of the world melt away. This secluded tropical paradise boasts 91 beachfront and overwater villas, including the newly introduced one- and two-bedroom Beach Retreats and the lavish three-bedroom Beach Reserve, complete with private pools and direct ocean access. Whether you're a family seeking quality bonding time or a couple in search of a romantic getaway, Six Senses Kanuhura offers the perfect accommodation to meet your needs.
The island's elegant architecture is inspired by its laid-back tropical surroundings, while the interior design reflects the vibrant colors of the Maldivian nature. Each villa is a sanctuary of comfort and style, promising a restful retreat where you can unwind in privacy and luxury.
Crafting Timeless Memories
At Six Senses Kanuhura, every moment is an opportunity to create cherished memories. Stroll along the pristine beach at sunset, savor a family dinner under the starlit sky, or embark on a picnic adventure to a deserted island. The experiences here are thoughtfully curated to foster a sense of reconnection with nature and loved ones.
Families are well catered for with the Grow With Six Senses kids' club and the Island Hideout, designed for teenagers to enjoy quality time with new friends. Tailored experiences can be arranged, such as family picnics on secluded islands or private cinema screenings. There are also group activities like cooking classes, catamaran sailing lessons, and paper-making sessions at the Earth Lab.
Holistic Well-being
The soothing sounds of nature envelop you during your stay at Six Senses Kanuhura. From gentle breezes rustling through the coconut trees to the rhythmic waves breaking on the shore, the island's uninterrupted sounds immerse you in a tranquil ambiance. At Six Senses Spa, you can embark on a sound-healing journey with oceanic drums and singing bowls. For those seeking relaxation and rejuvenation, the biohacking lounge offers options to combat jetlag and promote post-activity recovery.
A Culinary Adventure
Six Senses Kanuhura presents a diverse culinary landscape that caters to every palate. Following the Eat With Six Senses concept, all dishes are crafted with fresh, sustainably sourced ingredients from the island's organic garden, local fishermen, farmers, and the wider region.
The Point entices with Spanish-influenced cuisine and a Mediterranean wine concept, while Bottega captivates with traditional Italian recipes. The Market offers a colorful array of dining options, incorporating flavors from Southeast Asia, Japan, and India. Sip & Sand invites you to indulge in poolside culinary adventures with charcoal-grilled meat cuts and the catch of the day. Don't miss the castaway lunch experience at Drift, tucked away in the lush tropical nature of Jehunuhura, where freshly caught local reef fish sizzle slowly on the grill, infused with herbs from the organic garden and local spices. The Sunset Point promises breathtaking sunset views and relaxed moments on overwater hammocks.
A Commitment to Sustainability
Six Senses' dedication to sustainability is reflected in every aspect of the resort, from its reinvented construction to its operations. The resort sources sustainable food ingredients, produces and bottles drinking water on the island, and cultivates vegetables in the organic garden. It actively contributes to marine conservation efforts on the island and within the Lhaviyani atoll.
Getting There
Six Senses Kanuhura is conveniently located in the pristine Lhaviyani Atoll, just 150 kilometers north of Male. Access to this tropical paradise is easy, with a short 40-minute seaplane ride from Velana International Airport (MLE). Upon arrival, you'll be transported to a world of luxury, relaxation, and unforgettable experiences.
In conclusion, Six Senses Kanuhura is the epitome of a tropical paradise reimagined. Whether you seek relaxation, adventure, or sustainable living, this idyllic island resort offers it all. From tranquil accommodations to holistic well-being, culinary delights to sustainable practices, Six Senses Kanuhura promises an unforgettable escape that celebrates nature, luxury, and cherished moments.