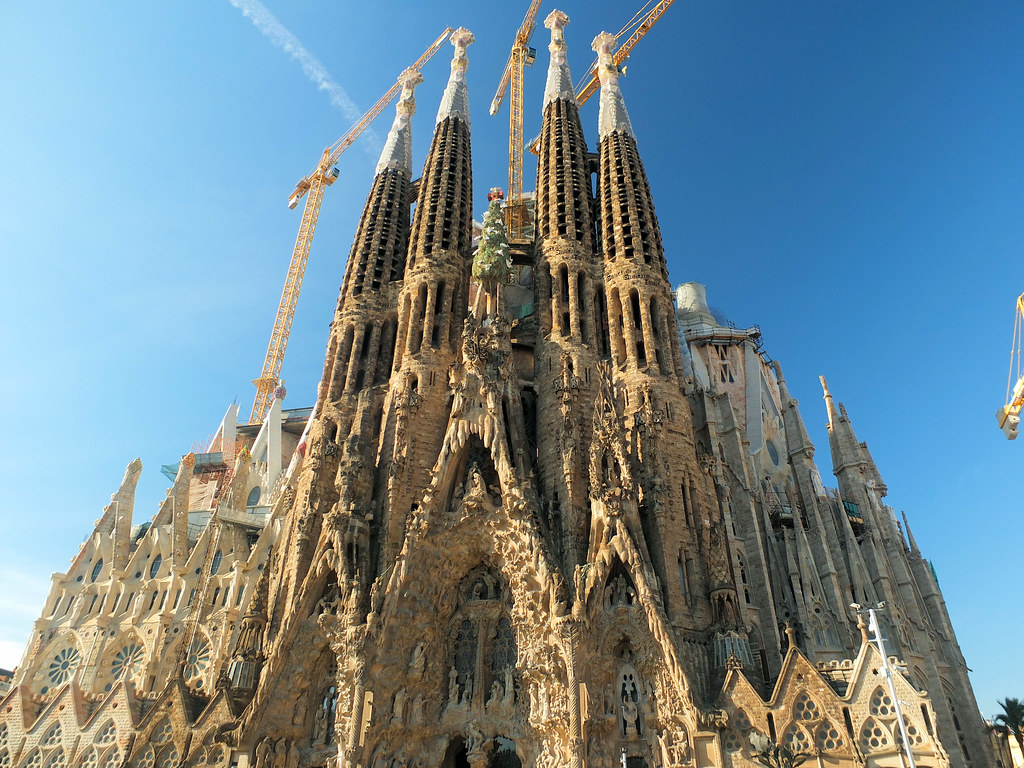 Discover the most captivating and awe-inspiring tourist attractions around the globe according to TripAdvisor's recently published list for 2023. These iconic destinations have been chosen based on the reviews and recommendations of travelers worldwide. In this article, we'll explore the top attractions that travel enthusiasts can visit, with a special focus on those accessible through direct flights from Moscow. Prepare to be amazed as we embark on a virtual journey to some of the world's most incredible landmarks.
Top 25 Must-Visit Tourist Attractions Worldwide in 2023:
Basilica of the Sagrada Familia, Barcelona, Spain: At the pinnacle of this year's list sits the Basilica of the Sagrada Familia in Barcelona. Its intricate design and breathtaking architecture make it a true masterpiece.
Colosseum, Rome, Italy: Step back in time at the Colosseum in Rome, an ancient amphitheater that stands as a testament to the grandeur of the Roman Empire.
Anne Frank House, Amsterdam, Netherlands: Delve into history at the Anne Frank House, where you can gain insight into the life and experiences of Anne Frank during World War II.
Dubai Fountain, Dubai, UAE: Experience the mesmerizing Dubai Fountain, the tallest musical fountain in the world, located amidst the enchanting Burj Lake. Its captivating water jets and choreographed performances are sure to leave you spellbound.
Empire State Building, New York City, USA: A symbol of the New York skyline, the Empire State Building offers panoramic views of the city from its observation deck.
Musée d'Orsay, Paris, France: Art lovers will be enthralled by the Musée d'Orsay, a renowned museum housing an extensive collection of Impressionist and Post-Impressionist masterpieces.
Eiffel Tower, Paris, France: No visit to Paris is complete without marveling at the iconic Eiffel Tower, an architectural marvel that offers breathtaking views of the City of Lights.
Trevi Fountain, Rome, Italy: Make a wish as you toss a coin into the enchanting Trevi Fountain, one of Rome's most famous landmarks and a true masterpiece of Baroque art.
Central Park, New York City, USA: Escape the bustling city streets and immerse yourself in the tranquility of Central Park, a vast urban oasis offering a myriad of recreational activities and scenic beauty.
Plaza de España, Seville, Spain: Discover the splendor of Plaza de España, a grand square in Seville known for its stunning architecture and picturesque surroundings.

Trevi Fountain

Milan Cathedral, Milan, Italy: Feast your eyes on the magnificent Milan Cathedral, a true masterpiece of Gothic architecture and one of the largest churches in the world.
Buen Retiro Park, Madrid, Spain: Indulge in the serene ambiance of Buen Retiro Park, a peaceful haven in the heart of Madrid where you can relax, stroll, and admire beautiful sculptures and monuments.
Kilmainham Gaol Museum, Dublin, Ireland: Uncover the dark history of Ireland at the Kilmainham Gaol Museum, a former prison turned museum that provides a fascinating insight into the country's struggle for independence.
Acropolis, Athens, Greece: Step into ancient history as you explore the Acropolis in Athens, home to the iconic Parthenon and other ancient Greek architectural marvels.
Sheikh Zayed Mosque, Abu Dhabi, UAE: Marvel at the grandeur of Sheikh Zayed Mosque, one of the world's largest mosques, renowned for its stunning architecture and intricate details.
Iguazu Falls, Brazil: Witness the sheer power and beauty of Iguazu Falls, a breathtaking natural wonder shared by Brazil and Argentina, where cascading waterfalls create a mesmerizing spectacle.
Angkor Wat, Cambodia: Embark on a journey through time at the Angkor Wat temple complex, a UNESCO World Heritage Site and the largest religious monument in the world.
Gardens by the Bay, Singapore: Immerse yourself in the tropical paradise of Gardens by the Bay in Singapore, featuring stunning futuristic gardens, vertical plant displays, and the famous Supertrees.
Iolani Palace, Honolulu, Hawaii: Experience the opulence of the Iolani Palace, the former royal residence of Hawaiian monarchs and a significant historical landmark.
Majorelle Garden, Marrakech, Morocco: Step into the enchanting Majorelle Garden, a serene oasis in Marrakech adorned with vibrant blue structures, exotic plants, and captivating art.
National Museum of Anthropology, Mexico City, Mexico: Delve into the rich cultural heritage of Mexico at the National Museum of Anthropology, where ancient artifacts and archaeological treasures are on display.
Stanley Park, Vancouver, Canada: Escape to Stanley Park in Vancouver, a sprawling urban park offering scenic beauty, a vibrant ecosystem, and a host of recreational activities.
Taj Mahal, Agra, India: Be mesmerized by the grandeur of the Taj Mahal, an architectural masterpiece and one of the New Seven Wonders of the World.
Petra, Jordan: Embark on an unforgettable adventure to the ancient city of Petra, renowned for its intricate rock-cut architecture and fascinating archaeological sites.
Seven Coloured Earths, Mauritius: Marvel at the natural wonder of the Seven Coloured Earths in Mauritius, where vibrant sand dunes create a surreal and captivating landscape.
These top 25 tourist attractions offer unparalleled experiences for travel enthusiasts seeking to explore the world's most iconic destinations. Whether it's immersing yourself in history, marveling at architectural wonders, or being mesmerized by natural beauty, these landmarks are sure to leave a lasting impression. With direct flights available from Moscow to several of these incredible locations, it's easier than ever for Russian travelers to embark on unforgettable journeys of discovery. Plan your next adventure and prepare to be amazed by the wonders that await you.