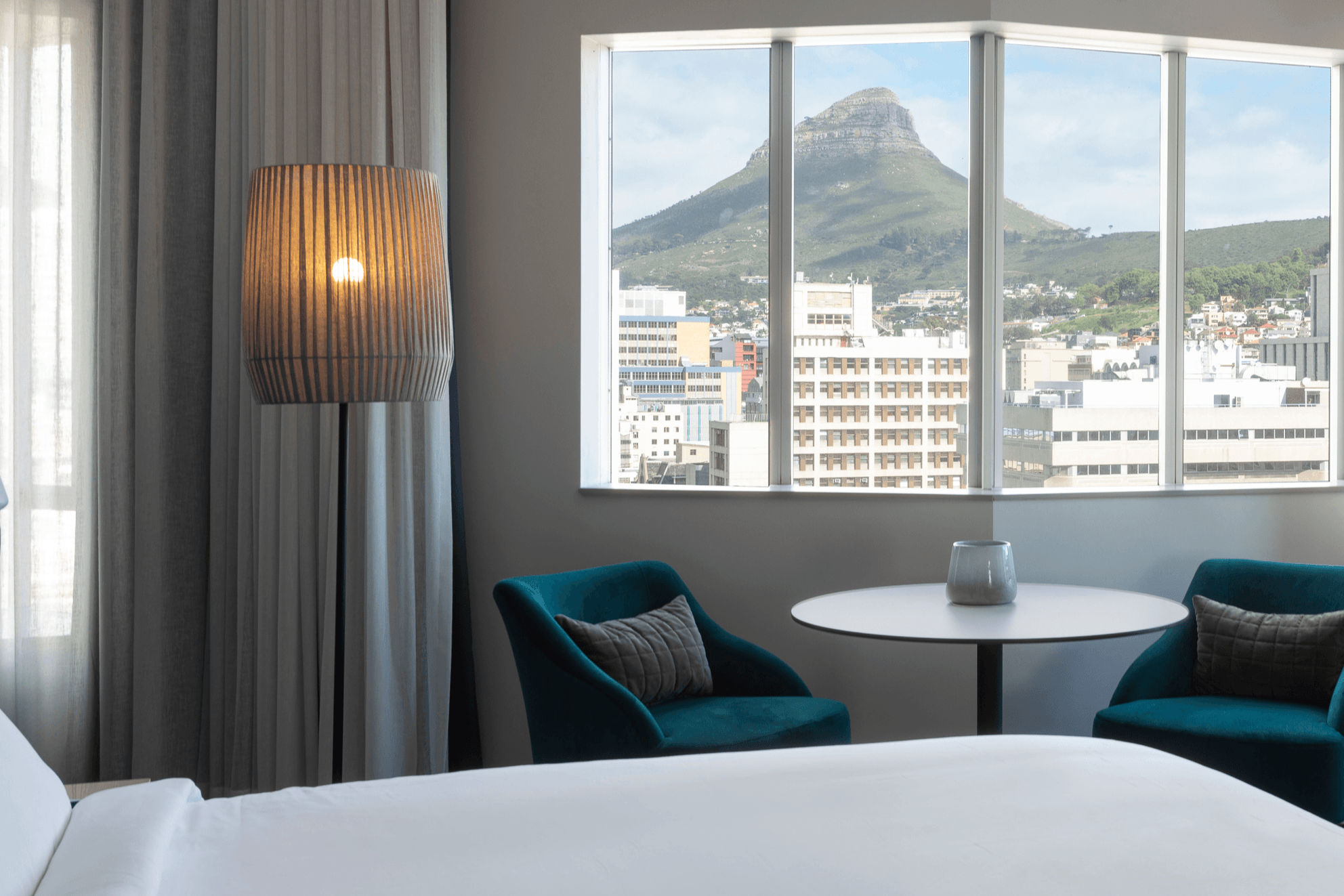 The first Pullman Hotels & Resorts property in South Africa takes residence in Triangle House, offering breathtaking vistas of Table Mountain, the Atlantic Ocean, and Cape Town's cityscape.
Pullman Cape Town City Centre, the latest addition to the Pullman Hotels & Resorts portfolio, has found its home in the iconic Triangle House skyscraper, a renowned architectural masterpiece towering at 104 meters. This strategically chosen location provides guests with unparalleled views of Table Mountain, the glistening Atlantic Ocean, and the captivating Cape Town cityscape.
Contemporary Urban Design Meets Timeless Luxury
Pullman Cape Town City Centre perfectly blends contemporary architecture, unforgettable experiences, and bespoke hospitality, all inspired by its urban surroundings. The distinctive cruciform or triangular design of the building, crafted by Murray & Roberts Construction (now Concor) between 1991 and 1993, ensures abundant natural light, invigorating coastal breezes, and breathtaking vistas from every room on every floor.
An Ideal Hub for Business and Leisure Travelers
Nestled in the heart of Cape Town, Pullman Cape Town City Centre offers stunning views of the city skyline and easy access to its vibrant cultural, entertainment, and business districts. Situated within a stone's throw from the prestigious Cape Town International Convention Centre (CTICC) and Bree Street, the city's culinary hub, this hotel is a top choice for both business and leisure travelers. It serves as a gateway to an array of attractions and enriching experiences.
A Growing Presence in South Africa
Paul Stevens, Chief Operating Officer, Premium, Midscale & Economy Division, Middle East, Africa & Türkiye at Accor, expressed excitement about Accor's growing presence in South Africa with the introduction of the first Pullman property. He highlighted that Pullman Cape Town City Centre encapsulates the essence of Cape Town, enticing guests with its blend of hidden gems, adventurous escapades, and innovative business prospects.
Enhancing the Iconic Building
Olivier Granet, Managing Partner and CEO of Kasada, and David Damiba, Managing Partner and CIO of Kasada, shared their enthusiasm about this new acquisition. They stated that Kasada would leverage its expertise and know-how to enhance the hotel's attractiveness to guests and the community. Plans include optimizing street frontage and improving meeting and workspace areas to make Pullman Cape Town City Centre a key business destination in the city.
Luxury Meets Functionality
The hotel's meticulously designed spaces pay homage to the vibrant and diverse city atmosphere that envelops it. Each room features state-of-the-art amenities that allow guests to personalize their experience by adjusting lighting and temperature settings. Beyond their accommodations, guests can savor various dining options, including fine dining, revitalizing lunches, gourmet pizzas at the pool bar and terrace, and scenic sundowners and nightcaps at the exquisite bars.
Meetings and Events with a View
Recognizing the need for a dynamic lifestyle that combines work and leisure, Pullman Cape Town City Centre offers extensive event and conference facilities. It boasts seven flexible meeting spaces suitable for both intimate gatherings and large-scale events. This seamless integration of productivity and relaxation ensures that every aspect of a guest's stay, whether for business or pleasure, is immersed in premium hospitality.
A Preferred Destination for Discerning Travelers
With its unrivaled location, exceptional amenities, and personalized service, Pullman Cape Town City Centre is poised to become the preferred destination for discerning travelers seeking an extraordinary stay in Cape Town. Whether for business or leisure, this luxurious urban retreat promises an experience that combines the best of the city with the comforts of Pullman hospitality.