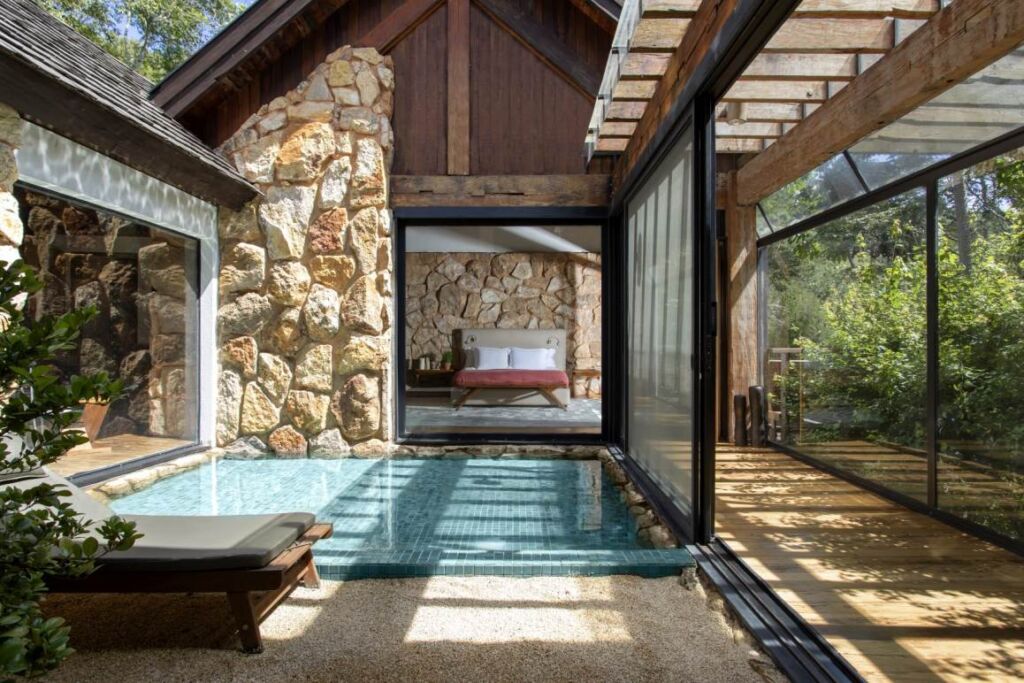 Six Senses Porto Heli is set to introduce the brand's renowned wellness and sustainability values to the charming Ermioni in the picturesque Greek Peloponnese region, overlooking the famous islands of Spetses and Hydra. The area is renowned for its tranquil coves, pristine bays with Aegean waters, and luxury amenities including marinas, exquisite summer residences, and boutique shops.
The Peloponnese holds a rich historical significance for Greece, housing significant archaeological sites such as Olympia, Epidaurus, and Mycenae. Situated about 200 kilometers from Athens, Porto Heli has evolved from a quiet fishing village into a sought-after destination for both elegance and outdoor adventure.
Scheduled for an opening in 2026, the LEED-certified Six Senses Porto Heli will feature approximately 60 rooms and suites, many with private plunge pools and personal terraces or gardens. The hotel will also include a three-bedroom retreat villa. Additionally, there will be 10 branded residential villas available for purchase, offering five to eight bedrooms.
The hotel's design will be seamlessly integrated into the landscape, ensuring harmony between the buildings and nature. The architecture will slope upwards from the shoreline to maximize sea views, encompassing elements such as a grand infinity pool, spa, and guest rooms spread across different levels. The residential villas will be nestled adjacent to the hotel, ensuring both privacy and a connection to nature. This concept, envisioned by Delogu Architecture from Rome and Arch Group from Athens, represents a harmonious interaction between the forest and the sea. Indoor spaces will seamlessly transition to the outdoors, creating a resort experience where guests can detach from the everyday and strengthen connections with loved ones.
The design elements will encompass contemporary aesthetics using natural materials like stone, wood, and bronze finishes. The local surroundings will influence the color palette and interior design by MuzaLab London, emphasizing interplays of light and shadow. The natural landscape featuring pine, olive, cypress trees, and fragrant lavender will also attract a diverse range of bird species.
The expansive Six Senses Spa, covering 1,600 square meters, will offer eight treatment rooms, thermal wet areas, indoor pool with ocean vistas, a Biohacking Lounge, boutique, outdoor fitness circuit, and spa herbal gardens.
A beachfront main restaurant, sunset bar with panoramic views, traditional Greek Kafeneio, private outdoor event spaces, and an organic vegetable garden will provide various dining options. The resort will include an Alchemy Bar, Earth Lab, outdoor pool, sports facilities, sound healing dome, and Grow With Six Senses play area for children. The beach area will feature a boat jetty and beach club offering water sports, beachside dining, and refreshment bars.
Six Senses CEO Neil Jacobs expressed enthusiasm about their second Greek property, saying, "Six Senses Porto Heli will establish a sanctuary of wellness and heartfelt hospitality along the enchanting Ermioni shores, providing breathtaking views of Spetses and Hydra. We aim to enrich the legacy of Peloponnesian heritage through this exciting endeavor, while introducing innovative approaches to holistic rejuvenation."
Six Senses has collaborated with a joint venture involving London-based real asset merchant bank CBE Capital, Golden Land Goutos, New York-based Taconic Capital Advisors, and London-based Cedar Capital Partners to bring this vision to life.