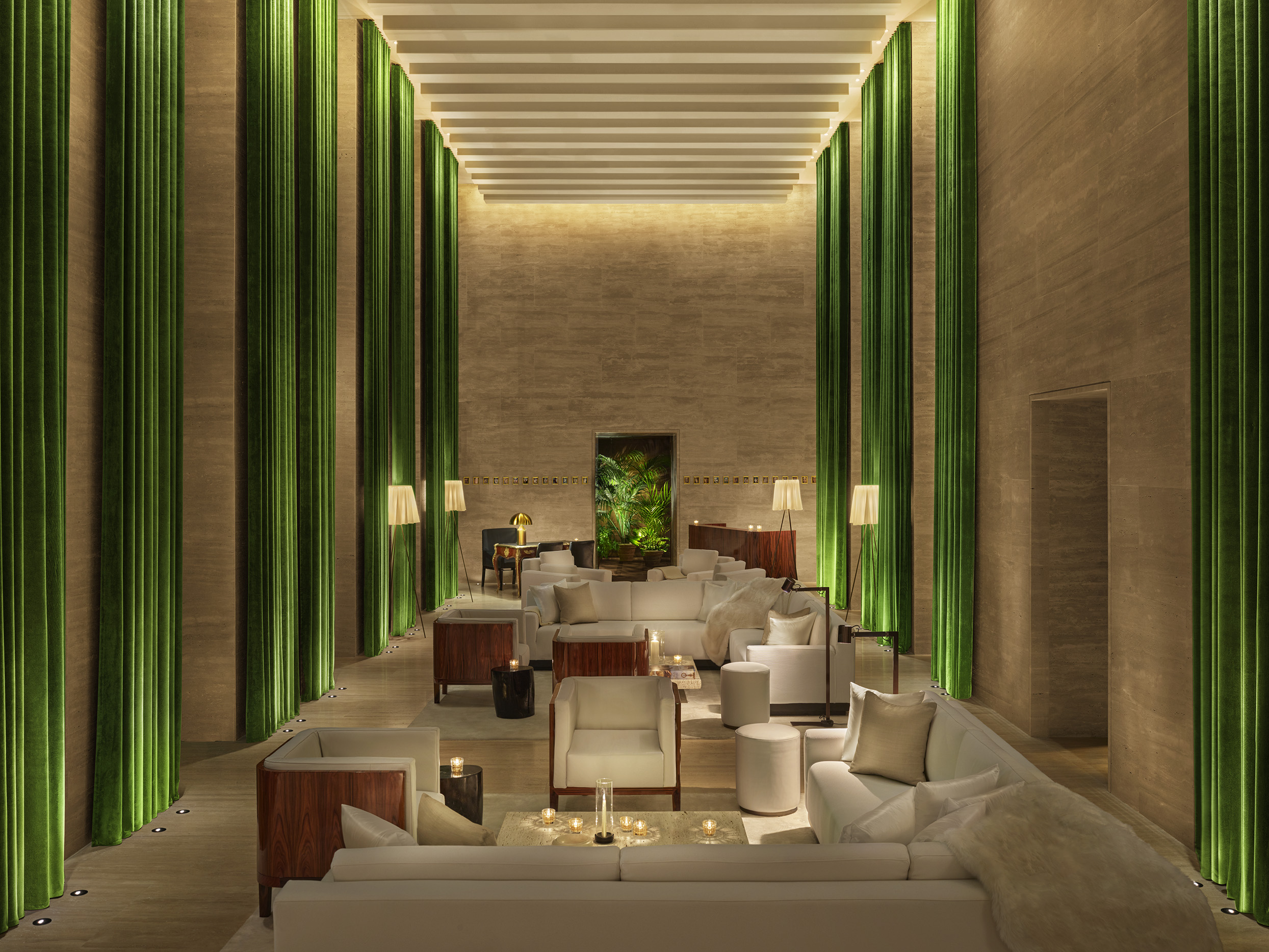 Discover the intimate and sophisticated Rome EDITION, a 91-room gem that redefines luxury in the Eternal City. Immerse yourself in its refined ambiance, meticulous attention to detail, and stunning design aesthetic, creating a vibrant meeting place for locals and travelers alike. Ideally situated just steps away from the renowned Via Veneto, Rome's most coveted street, the hotel captures the essence of Italian charm immortalized in La Dolce Vita. With easy access to major attractions like Piazza Barberini, the Spanish Steps, the Trevi Fountain, and the exquisite Borghese Gardens, this is the perfect base for exploring Rome's wonders.
Originally built in the 1940s as a prominent Italian bank, the hotel showcases the rationalist style, masterfully crafted by architect Cesare Pascoletti in collaboration with the renowned Marcello Piacentini. Retaining its original features, including central courtyards, statues, and lamps, the hotel exudes timeless elegance. Marvel at the breathtaking central staircase adorned with rare cipollino marble sourced from Apuane quarries, a testament to architectural genius.
Indulge in a unique culinary experience with three distinct bars, a rooftop lounge, a show-kitchen restaurant, and an urban wellness space featuring a well-equipped gym and luxurious treatment rooms. The lush courtyard garden offers a serene sanctuary to enjoy your favorite drink or savor the delectable creations of celebrated Roman Chef Paola Colucci, the hotel's esteemed culinary partner. The 91 beautifully appointed rooms, including 17 suites, boast the brand's signature design elements, combining muted tones, walnut wood accents, and custom-designed furniture for a truly immersive experience.
Food lovers will be enthralled by the hotel's focus on exceptional dining. The Rome EDITION takes pride in selecting a chef who embodies the city's culinary spirit, and they found a perfect match in Paola Colucci. With a passion for food nurtured throughout her life, Paola brings a wealth of experience, having spent 20 years in finance before following her dreams and opening her renowned restaurant, Pianostrada. Her open-fronted kitchen at the hotel's signature restaurant, Anima, allows guests to witness her culinary mastery firsthand. Discover her modern twist on traditional Italian dishes created with family recipes passed down through generations, enhanced by an international flair.
At The Rome EDITION, seasonality and freshness are paramount. Prepare your taste buds for tantalizing flavors at Anima, where Chef Colucci's creations include spaghetti with roasted tomatoes and veal with tuna sauce, alongside exquisite tomato and burrata dishes. The extensive wine list, primarily focused on Italian selections, complements the menu and emphasizes perfect food pairings. The light-filled restaurant, adorned with chartreuse and blue upholstered furniture, welcomes guests for breakfast, lunch, and dinner.
Embrace the enchanting Garden, a rare find in the heart of the city, serving as both a piazza and dining space. As you enter, you embark on a journey through the hotel, akin to acts in an opera. This indoor-outdoor oasis showcases a Roman streetscape leading to the heart of the hotel, enveloping you in lush greenery, featuring over 400 plants and cascading jasmine along the façade. Adorned with a dramatic bronze metal awning, teak wood banquettes, and free-standing furniture, this traditional Roman garden creates an inviting atmosphere. The Garden provides outdoor seating for Anima and a relaxed all-day terrace, offering a menu of light dishes available until late evening. Indulge in old favorites and new creations while sipping modernist cocktails inspired by Italian gardens and the Mediterranean.
EDITION Hotels is driving global expansion with the portfolio expected to double in size to 30 properties by 2027.