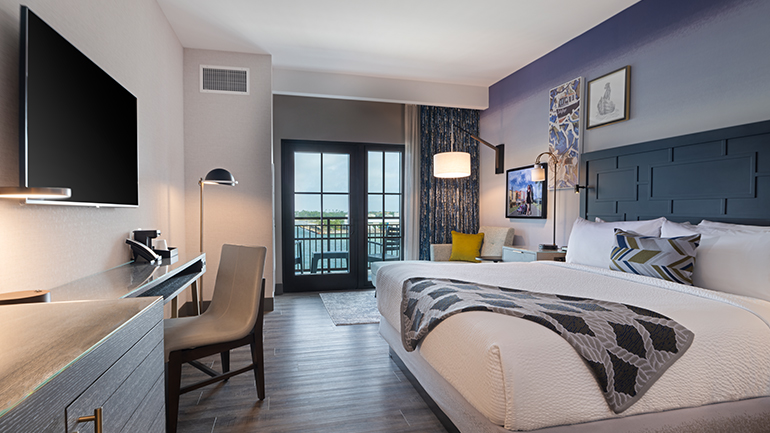 Hotel Indigo Panama City Marina, a new addition to IHG Hotels & Resorts' luxury and lifestyle portfolio, is now open in Panama City's historic waterfront district. This five-story hotel, owned by The St. Joe Company, offers 124 rooms and is conveniently located within walking distance of neighborhood restaurants, bars, and popular attractions like the Martin Theatre and Panama City Center for the Arts.
Situated along the picturesque St. Andrews Bay, Hotel Indigo Panama City Marina is a hidden gem that showcases the area's abundant aquatic life and natural beauty. With its saltwater flats, seagrass beds, and deep channels, the fishing grounds in this part of the Florida Panhandle are diverse and perfect for anglers of all skill levels. Guests can explore these stunning waterways by boat or kayak, immersing themselves in the region's unique ecosystem.
Hotel Indigo properties are known for their distinctive designs, each reflecting the character and essence of their respective neighborhoods. In line with this philosophy, Hotel Indigo Panama City Marina takes inspiration from the town's coastal charm and rich history. The hotel's interior features elements that pay homage to the indigo plants that once adorned the sandy shores, while nautical-inspired fixtures and artwork reminiscent of steam ships from the early 20th century create a sense of being at sea. The hotel also celebrates Panama City's original residents, including influential artist Harry Felix, whose spirit shaped the local creative community.
Located at a central spot near the marina and downtown area, Hotel Indigo Panama City Marina boasts two exciting dining venues that are set to become local favorites. Tarpons offers a Southern twist on coastal cuisine, while Steam on 5, the hotel's rooftop bar, serves fresh local seafood, light bites, and thoughtfully curated cocktails. Guests and locals alike can gather at these venues to savor delicious food and enjoy the vibrant atmosphere.
The hotel provides a range of amenities, including 1,033 square feet of event space with bay view windows, a 965 square-foot outdoor patio, a 24-hour fitness center, an on-site marketplace, an outdoor pool, and a bay-facing firepit. In addition, guests have easy access to nearby attractions such as Panama City Beach, Florida State University's Panama City campus, Gulf Coast State College, Naval Support Activity, the Port of Panama City, and Tyndall Air Force Base, all just a short drive away.
With its unique location, inviting accommodations, and exceptional amenities, Hotel Indigo Panama City Marina offers guests a memorable and immersive experience in the heart of Panama City's waterfront district.