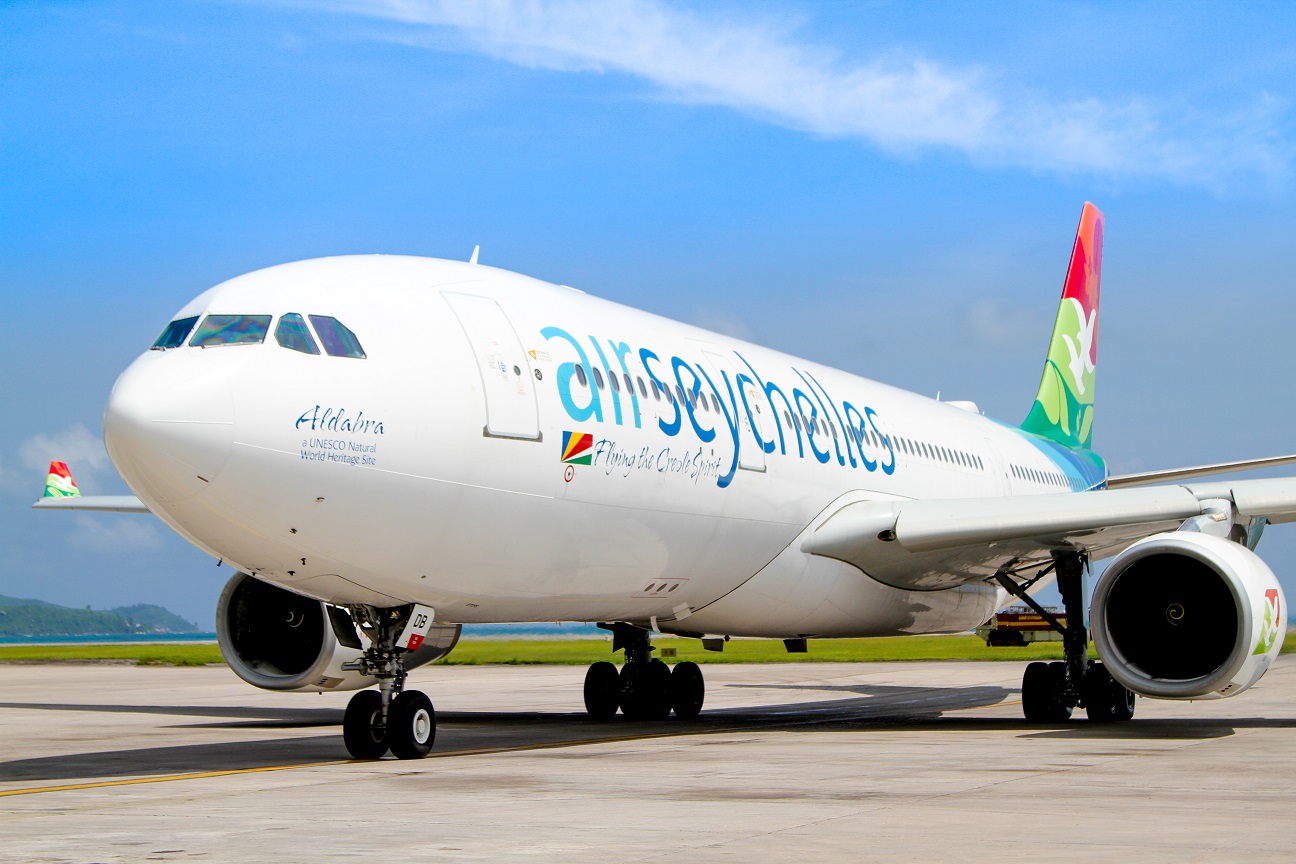 Air Seychelles, the national airline of the Republic of Seychelles, has successfully commenced its new service to Colombo, the vibrant capital city of Sri Lanka. The inaugural flight arrived at Bandaranaike International Airport in the early hours of Wednesday, June 21, 2023, after a short 4-hour journey from its base in Mahe. The arrival was greeted with a warm water cannon salute and a ribbon-cutting ceremony, symbolizing the start of the new partnership. The Sri Lankan Tourism Board went above and beyond to welcome the passengers, offering their famous tea and an enthralling traditional Kandyan performance by a local cultural dance troupe.
On this inaugural flight to Colombo, notable passengers included Mr. Sandy Benoiton, the Acting CEO of Air Seychelles, His Excellency Mr. Srimal Wickrewmasinghe, the High Commissioner of Sri Lanka, Mrs. Sherin Francis, the Permanent Secretary for Tourism, and Mr. Ralph Jean-Louis, the Permanent Secretary for Sport. The Airbus A320 aircraft named 'Veuve' was under the command of Captain Christophe Larue and First Officer Balaji Naidoo. The cabin crew, led by Cabin Manager Jerris Cadeau, included Suzanne Firmino, Angela Nicette, Ireney Cruise Wilkins, and Tessy Philoe. The flight accommodated a total of 110 passengers.
After landing, the aircraft remained on the ground for approximately an hour before commencing its return journey with over 2.5 tons of cargo, half of which were destined for Tel Aviv.
Sandy Benoiton, Acting CEO of Air Seychelles, expressed his enthusiasm about the new route, stating, "Colombo is one of the largest markets in our region that lacks a nonstop flight connection. Seychellois travelers have a strong affinity for Sri Lanka, especially for tourism and medical purposes. Additionally, there is a significant number of Sri Lankan expatriates working in Seychelles, primarily in the hospitality and construction sectors, who require easier access to their home country. Currently, the only option to fly between Seychelles and Sri Lanka is through one of the Gulf carriers, which can result in journey times of 10-12 hours and considerable expenses. Our nonstop flight reduces the travel time to approximately 4 hours."
To enhance awareness among Seychellois travelers about Sri Lanka as a tourist destination, the Sri Lanka Tourism Board is organizing familiarization tours for trade and media partners from Seychelles. These efforts aim to strengthen bilateral and business partnerships between the two islands.
In the evening, a travel trade event and dinner reception, in collaboration with Tourism Seychelles, provided an opportunity for top travel agencies from Sri Lanka, South Africa, and Seychelles to network. Representatives and owners from the hospitality and medical industries of Sri Lanka also attended, fostering the creation of new partnerships aligned with the new air service.
During the visit to Colombo, Mr. Benoiton officially inaugurated the Air Seychelles Office in downtown Colombo, in the presence of Mr. Robert Douglas, the newly appointed General Sales Agent (GSA) for Sri Lanka. The office, located at 377A/1 Galle Road, Colombo 3, will operate six days a week.
Air Seychelles flight details
Air Seychelles will operate twice-weekly flights to Colombo, departing from Seychelles on Tuesdays and Saturdays, and returning from Colombo on Wednesdays and Sundays.
With this new route, Air Seychelles aims to facilitate seamless travel and strengthen the ties between Seychelles and Sri Lanka, offering convenient connections for travelers and fostering economic and cultural exchanges